Saturday, January 19, 2013
By Cory K. Doviak
NJS.com Editorial Director
Nick Suriano (top) had one of Bergen Catholic's seven pins in its 69-6 win over Hackensack on Friday. Suriano, the No. 1 ranked 106-pounder in the nation, improved to 20-0 on the season.
ORADELL – A note to all good wrestling team in the state of New Jersey and beyond: Bergen Catholic is looking for you. Cramming as many top-flight opponents as he could find into a regular season schedule, BC head coach Dave Bell has succeeded in testing his team just about every time out. There was the early season trip to Pittsburgh, PA, the entrance into the Beast of the East Tournament in Delaware, last weekend's quad against Brick Township, Toms River South and Jefferson and Saturday's tri-meet against High Point and Roxbury. Bergen Catholic has sought out the best competition and when it shows up, the Crusaders are at their best.
A case in point came on Friday night when previously undefeated Hackensack made the trip to Oradell and left on the short end of a 69-6 score as Bergen Catholic took 13 of the 14 matches and secured bonus points in all but one of those victories.
"It's a balance between trying to wrestle as many good teams and get as many good matches in as you can and trying to stay healthy all the way through the season, but you can get hurt against anyone no matter who the opponent," said BC head coach Dave Bell. "We have had some good wins, but I still don't feel like we have wrestled our best match yet and hopefully that will come soon."
If Friday's match was not perfect, it certainly came close as the Crusaders got a major decision from Tyler Clementi at 113, the first match of the night, and never looked back. Matt Rose followed with a 13-7 victory, at 120 in the only outcome of the meet that did not come with bonus points. Troy Schaarfsma followed with a major decision victory, and JP Ascolese (132), Danny DiLorenzi (145) and Joe Grello (152) provided first period pins around a forfeit handed to Laurien Anghelina (138) to give Bergen Catholic a 35-0 lead after seven matches.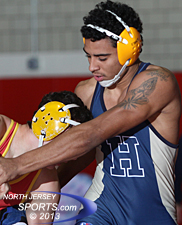 Michael Rodriguez scored Hackensack's six points with a pin late in the second period at 160.
Hackensack got on the scoreboard when Michael Rodriguez turned a close match against BC's Zach Spira, making his season debut after sitting out the 30-day transfer waiting period, into a pin 12 seconds before the end of the second period.
"We have a very tough schedule and we are off to a good start, but we knew that to be better wrestlers and to be a better team we have to go up against the best," said John Stallone, who has more than 200 career wins as Hackensack's head coach. "We didn't mind coming up here and testing ourselves and the kids knew that Bergen was very tough. They worked hard all week to get ready and this was the result. We can live with that."
Gianni Hallak got BC back in shape with his 13-5 major decision win at 170 and Bergen Catholic then closed the night with five straight pins, three in the first period and two in the second. The first came from defending state champion Johnny Sebastian, who had 5-0 lead after the first period before pinning with a head lock 37 seconds into the second.
"I think the best part about our team is that we all support each other, we all work hard together and we all learn from each other in the room. We didn't take Hackensack lightly, they were tough and in their last match I think they shutout Ramapo so they were confident," said Sebastian, a junior and three-time BCCA Holiday Tournament champion who ran his season record to 22-1. "This is a third year here and I am used to wrestling a rigorous schedule. For me it is fun, but for some of the younger guys maybe it is a little nerve-wracking. We had great wins last weekend, tomorrow we have High Point and Roxbury, Wednesday it is St. Joe's and we have [Don] Bosco and Bound Brook, which is No. 2 in the state right now, coming up. We've wrestled a lot of good teams but it feels like we are just getting started."
While Sebastian is comfortable being in the spotlight match after match, that comes with the experience of having done it before. Christian Jenco, BC's junior 195-pounder, is going through it for the first time as an everyday starter and has adjusted quite well. His pin eight seconds before the end of the first period gave him his 13th of the season upped his overall record to 19-3.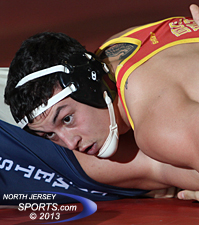 Bergen Catholic Junior Christian Jenco improved to 19-3 on the season with his pin at 195 pounds.
"It's definitely an adjustment because here there is a lot more pressure. We are here for this. We are not at a public school wrestling with whoever is in the room," said Jenco. "We pay to come here and to be a part of this so there is pressure that goes along with that."
Sophomore Conner O'Brien is trying to force his way into the lineup and doing that means sometimes putting himself at a disadvantage from the get-go. He weighed in on Friday at just over 190 pounds and took found himself under Hackensack's Brendon Faison for just about the entire first period at 220 pounds. Had the first period been maybe one second longer, Faison would probably have finished the match as O'Brien was on his back as the buzzer sounded, but, trailing 7-1 early in the second period, he counter a Faison shot and pinned in 2:38 in just his fifth varsity match of the season.
"I was giving up a lot of weight, so when he took me down I just tried to wrestle through everything and try to tire him out. When he took me down I just tried to keep getting back up," said O'Brien, who is now 2-3 on the season with four of those decisions coming at 220 and all against top competition. "In the second period I knew what he was going to do. When he was riding me I just did what I practiced. I put my weight on my left hip and spun to the head and he was off balance."
Carmine Goldsack pinned at 285 before Nick Suriano closed out the match in style with a second period pin at 106. Suriano, the freshman who is the No. 1 ranked 106-pounder in the nation, improved to 20-0 in his first high school season.
Neither team had much time to dwell on Friday's results as BC got ready to host High Point and Roxbury and Hackensack (9-1) had an early wake-up for a bus ride to Newton where it was to face the host school and Northern Highlands in a tough tri-meet.
"This was just one day in our season and our kids will work hard to put things back together," said Stallone. "We'll leave this one here, we'll get them on the bus early and pump them up on the way to Newton and we'll be there ready to wrestle. It's a new day."
FOR MORE PHOTOS OF THIS EVENT OR TO BUY A COLLECTOR'S PRINT OF THIS GAME STORY, PLEASE VISIT 4FeetGrafix.com.