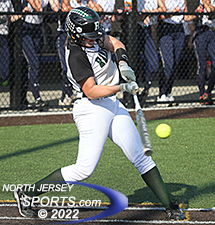 McKenna Lont making contact with the double that kicked off a 3-run rally in the bottom of the seventh inning that gave Ramapo a 4-3 win over Old Tappan in the Bergen County Tournament semifinals.
WOOD-RIDGE – When McKenna Lont headed for the plate in the bottom of the seventh inning of Saturday's Bergen County Tournament semifinal defending champion Ramapo still had hope, but little else. There were two outs, the bases were empty and, after Northern Valley/Old Tappan put together a three-run rally in the top of the frame, the Green Raiders were trailing by two runs and facing the end of their eight-game county tournament winning streak.
"In that at bat I knew I just wanted to keep [the game] going. I didn't want to be the one to end it," said Lont, a four-year starter and the winning pitcher in last year's county championship game. "It's a game that we all wanted so badly so I wanted to give our team at least a chance to come back."
And then…BOOM!
Lont doubled into the left-centerfield gap to kick off an amazing two-out, three-run rally that took Ramapo from the verge of seeing its season and the high school careers of nine senior who have meant so much to the program pushed to the brink, to an improbable 4-3 victory at the Wood-Ridge Athletic Complex.
What started with Lont's (2-for-3, R) double ended with Sophia Delbuono careening across the plate with the winning run and there was so much in between. Sydney Samuel followed up Lont's double with one of her own for the RBI that raised the pressure on the Old Tappan defense, which gave away a base to the next hitter as Victoria Cunningham reached on an error while Samuel (1-for-4, RBI, R) scored the tying run from second base.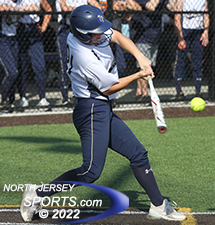 Tina Chugranis' two-run single in the top of the seventh gave Old Tappan a 3-1 lead.
Cunningham is Ramapo's starting catcher, Delbuono is her courtesy runner and the sophomore speedster pulled off a straight steal of second that put the winning run 120 feet from home plate.
"With two outs I knew I was going to get the steal sign. I always backdoor slide, so I knew what I was going to do that. I did not want to miss the base and I did not want to get thrown out," said Delbuono, who did neither. "I was very happy when I was safe and then I just had to wait for the hit that could get me home."
The responsibility for that hit fell to senior Jenna DeLuccia.
"I was waiting for a pitch to be right there. [Old Tappan's] Raegan [Germano] is a great pitcher, but I knew it was a stressful situation for everyone and I knew that I was going to get a pitch to hit. I swung and I was happy with the result," said DeLuccia. "I felt like I hit it hard and I was a little confident. Worst case scenario I end up on first, Sophia on third and we have [Ella Saxton] up next. Our team has full trust in one another. With two outs when McKenna hit the double we knew that we were going to be okay."
Ramapo was okay for the first six innings as Lont (7 IP, 3 R, 2 ER, 7 H, K, 3 BB) was close to making the slimmest of leads stand up. Ramapo's first hitter in the bottom of the first inning, Savannah Ring, singled up the middle and scored on Amy Psota's double into the gap. That 1-0 lead held all the way until third-seeded Old Tappan's final turn at bat.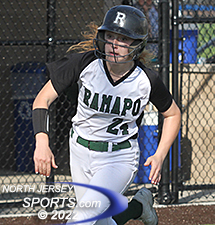 Sophia Delbuono racing home with the game-winning run for Ramapo, which will play top-seeded IHA in the county final.
The Golden Knights, who stranded six runners on base through the first six innings, got a leadoff walk to Grayson Housley to start the seventh and she stole second in front of Isabella Chugranis' infield single. Olivia Cataldo reached on an error, which allowed Housley to tie the game at 1. Tina Chugranis than stroked a two-run single to give Old Tappan its first lead of the game, 3-1, heading into Ramapo's last licks, which started with a strikeout and a line drive into the glove of Averi Galloto at third base.
Then Lont came to plate and panic had still not set in for the Raiders.
"We had two outs, but we had the right people coming up. [Lont] had a great at bat and then she doubled and Sydney doubled and it built from there," said Ramapo head coach Darren White. "[Cunningham] legged one out and Sophia [Delbuono] is a weapon as a runner. She stole second and I can't say enough about Jenna [DeLuccia]. She is the ultimate team player. For her to come through in that situation is unbelievable, so happy for her. Never say die and we had to make them get 21 outs."
So, where do the Raiders stand now? They will play top-seeded IHA in the county final next Saturday also in Wood-Ridge and on Monday they have at least one inning of a state tournament game to play. The top-seed in North, 1, Group 3, Ramapo was tied, 1-1, with No. 9 Morris Knolls, which had a runner on base with no outs in the top of the seventh inning. That game will resume on Monday at 4:15.
"I have been coaching long to realize the abruptness of how a great season can end. We lose today and then have a bad inning half-an-inning on Monday and the season is over," said White. "To be able to keep going, to get back to the county final and win our ninth straight county game, that speaks for itself. Now we have to go have a good inning on Monday, hopefully get to play Montville [in the section semifinals] and then get ready for IHA."
The loss was a tough one for Old Tappan (22-6), but not a season-ender. The Knights, the No. 3 seed in North 1, Group 3, got their state sectional quarterfinal game in on Thursday, a 9-0 win over Paramus, to advance to the semifinals against second-seeded and defending champion Roxbury on the road on Tuesday.
FOR MORE PHOTOS FROM THIS EVENT PLEASE CLICK HERE. TO BUY A COLLECTOR'S PRINT OF THIS STORY PLEASE VISIT 4-FeetGrafix.com.