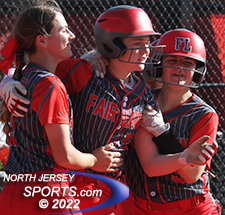 Katelyn Welch (center) tripled and scored on a sac fly in the bottom of the ninth to give Fair Lawn a 2-1 win over Dumont in the Round of the 16 of the Bergen County Tournament on Mondaty.
FAIR LAWN – With a relatively inexperienced roster, Fair Lawn's softball team has experienced plenty of highs and lows over the course of this season, but now, beyond the halfway point and into the Bergen County Tournament, the pressure has increased for this young team to come of age and show their true potential. To do so, they would have to get past a Dumont team that pulled off one of the bigger upsets in the history of the Bergen County Tournament over No. 6 seed Ramsey in the first round.
With a berth in the Bergen County Quarterfinals at stake, both teams refused to budge. It set up a old school showdown that had plenty of twists and turns before one team finally emerged victorious.
With the score tied in the bottom of the ninth inning, Katelyn Welch tripled then scored on a sacrifice fly off the bat of Isabella Grassi as 11th-seeded Fair Lawn advanced to the Bergen County quarterfinal round with a 2-1 triumph over No. 27 Dumont on Monday afternoon in Fair Lawn.
"Games like this make us closer as a team when we show what kind of fight we have," said Fair Lawn's Kendall McNamara. "We had so much energy today and we worked through good moments and bad moments. We kept telling each other that we believe we can win. Every pitch mattered in every at-bat and we had each other's back. No matter what was happening on the field we were going to keep pushing through until we found a way to win."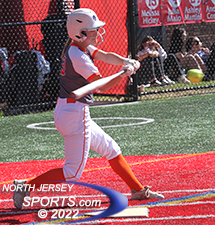 Emily Reilly drive in Dumont's run.
Although the game was a low-scoring affair, there were plenty of scoring chances on both sides. The Cutters had a chance to pull ahead in their first at-bat when freshman Morgan Hayes just missed a homerun on a double to left. Dumont's Daniella Velluzzi wiggled out of trouble, one of several times the senior right-hander would do so on the afternoon.
Fair Lawn's Kendall McNamara matched zeros Velluzzi before helping her own cause in the bottom of the fourth inning. She ripped a screwball to the fence in right-center then turned on the jets. The sophomore showed off her elite speed and slid under a tag play at the plate for the solo HR and a 1-0 lead.
Dumont took advantage of the lone Cutters' errors and got some timely hitting when Emily Reilly lined a single to center, scoring pinch-runner Eva Gressner to tie the game at 1. As the innings passed, the intensity picked up a few notches.
Fair Lawn had a chance to win when they loaded the bases in the bottom of the seventh with one out. It looked bleak for the Huskies after the potential second out of the inning on a pop-up in foul territory was dropped. It was atoned for just two pitches later. With the infield drawn in, freshman shortstop Charlotte Keatings made a nice play in the hole then threw a perfect strike to the plate to get the force out. Then first baseman Halle Richard went into foul ground to haul on a fly ball to help Velluzzi escape the jam.
Dumont had a chance to go ahead in the eighth inning after a leadoff double by Kelsey Boyhen. Then on a hard ground ball up the middle, another freshman shortstop made a game-saving play. Fair Lawn's Morgan Hayes laid out to make the stop. She was not able to throw out the runner at first, but she did prevent the go-ahead run from scoring. McNamara followed with an inning-ending strikeout to keep the game tied.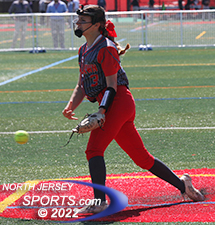 Kendall McNamara picked up the win by striking out 11 and also hit a homer for Fair Lawn, which will play third-seeded Old Tappan in the quarterfinals.
The Lady Huskies answered right back with some fantastic defense of their own. Left fielder Sarah Koster made two great catches and second baseman Alenia Garcia then snared a ground ball in short right field and made a strong throw for the third out of the inning. What seemed like just another Bergen County Tournament game was quickly turning into a classic.
Dumont once again got the leadoff batter on the top half of the ninth inning. That did not last long thanks to Fair Lawn's Melissa Hickey. The senior possesses one of the strongest backstop arms in North Jersey and showed it off by gunning down a would-be base stealer and the Cutters headed to the bottom of the ninth looking to be aggressive and avoid having to play with the international rule going into effect in the top of the 10th inning.
After Velluzzi got the first out, Welch stepped to the plate. She was hitless in three at-bats before providing some extra-inning heroics. The sweet-swinging lefty clubbed an inside fastball that one-hopped the fence in right field. Dumont executed a perfect relay and the throw to third got there just as Welch did. It was a bang-bang play but on the slide Welch's foot was able to jar the ball loose from the third baseman's glove and she was ruled safe.
"I was telling myself that my team was depending on me and I had to be ready for the moment," said Welch. "This was a really intense game and I just had to calm myself down going into that at-bat. I had to be more aggressive and if I didn't get a hit I would have been really mad at myself. So I just went after anything that was close and I got a good pitch to hit."
Grassi came up to the plate with a job to do and wasted no time in doing it by lifting a ball to center field. Welch went back to tag then slid across the plate as her teammates quickly poured out of the dugout to mob her in celebration of an unlikely BCT quarterfinal berth.
"Coach (Benjamin) just told me to hit the ball to the right side of the field so that was my goal," said Grassi. "It ended up going more towards centerfield, but overall it was a good at-bat and it got the job done."
McNamara not only homered but also picked up the complete game win for Fair Lawn (9-9). She allowed just four hits with six walks and 11 K's in a 173-pitch effort.
Velluzzi took the hard-luck loss for Dumont (7-6). She scattered seven hits with two walks and four strikeouts.
Fair Lawn now moves onto the Bergen County Quarterfinals to face third-seeded Northern Valley/Old Tappan. Heading into county tournament play, the team was happy to escape with an 8-7 first-round win over Bergenfield. Now with two thrilling county wins and nothing to lose heading into the BCT quarters, the Cutters are excited for the opportunity to keep things rolling.
"We always known we've can battle, but we've gotten better and better in terms of finishing games," said Fair Lawn head coach Sue Benjamin. "Everyone stepped up in some way and made positive contributions in this win. It hasn't been a straight shot to get to where we are now. There has been a lot of pain along the way, but there has also been a lot of progress as well. We are very excited and honored to be in the Bergen County quarterfinals. But we're not just happy to be there. I believe this team is capable of great things and we feel our best game is still in front of us."
FOR MORE PHOTOS FROM THIS EVENT PLEASE CLICK HERE. TO BUY A COLLECTOR'S PRINT OF THIS STORY PLEASE VISIT 4-FeetGrafix.com
---