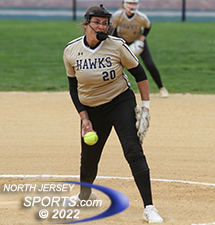 Junior Gabby DeGroart has emerged into one of Bergen County's best two-way threats and is a big part of River Dell's 10-3 start after a 13-1 win over NV/Demarest.
DEMAREST – Gabby DeGroat had a good 2021 season, a sophomore who was a first team all-league player on a pretty good River Dell team. Things have certainly changed over the court of one calendar year as DeGroat, now a junior, has stepped up to the All-County type of level, the hard-throwing centerpiece for a really good River Dell team that improved to 10-3 on Monday with a 13-1, 5-inning win on the road at Northern Valley/Demarest.
The difference? There is a pretty simple explanation.
"Confidence," said DeGroat. "Last year I feel like I was not that confident. It was not easy as a sophomore, but now I have some experience and we are having success as a team," said DeGroat, who threw just the opening inning against Demarest before moving over to third base. "The pitcher is the center of attention all the time and so you have to hold your head high, keep your shoulders back and show people what you can do."
The list of contributors to River Dell's solid start does not end in the circle, however. It took head Brian Calabrese a while to break it all down and then asked to continue the conversation to throw in some more names that have aided the cause. That was understandable after Monday's performance where every hitter in the River Dell lineup reached base at least once.
"It's always about defense about our defense plays so hard behind [DeGroat]. Sophia Firneno is the anchor at shortstop. She is a competitor, the same for Apple Cartelli in the outfield," said Calabrese. "And we don't go very far without No. 21. That is our catcher Bella Molina. Now, we haven't played everybody, of course, but we have not played anyone yet that has matched her. Arm strength, the way she moves behind the plate, nothing gets by her."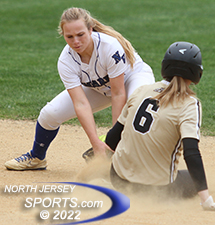 Grace Hamlin (left) drove in Demarest's run with a two-out double in the fifth.
The above quote could have extended into a second or third paragraph as Calabrese went through the contributions made by everyone in gold jerseys all year and one of them is second baseman Kasey Ziegler, a freshman who has been anything but overmatched on the varsity level.
"I am new to the team and I was definitely nervous at first, but all of the girls welcomed me. They've taught me a lot, our shortstop Sophia Firneno has helped me so much and every game I get more comfortable," said Ziegler. "Coming into the season I knew that Coach [Calabrese] was going to give a position to someone that showed the effort and worked I hard. I tried to do that and here I am."
Ziegler had three hits, drove in four runs and stole a base against Demarest. Was this the kind of production he was expecting from her in her first month as a high school softball player?
"Absolutely not. What I explained to Kasey before the season was that she was not going to play much at all. I wanted her up on the varsity because she could learn more. I would find some situations for her to run [the bases] and get her in games where I could," said Calabrese. "Then I saw that we could use her range at second base and your defense is only as good as your middle and we have a solid middle now all the way through with Sam Campos also doing a great job for us [in centerfield]."
Now for Monday's other standouts: Helena Marcus drew two walks, scored a run and stole a base out of the leadoff spot. DeGroat (1-for-4) crushed a fifth inning double off the left centerfield fence and scored a run. Campos (2-for-2, 3 R, RBI) reached safely in all four of her plate appearances. Molina, aided by courtesy runner Malayna Leopold, drove in a run and scored twice. Firneno had a two-run single in the third inning. Grace Basil (2-for-3, 3 R) had a big day at the plate with two extra base hits and she also picked up the win with four innings of one-run relief.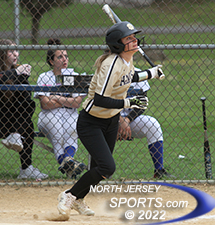 Sam Campos was 2-for-2 with 3 runs scored and an RBI for River Dell.
Taylor Troncoso (1-for-2) walked twice, stole a base and scored two runs and Liz Krautheim was solid on defense at first base for River Dell, which should garner a solid seed in the Bergen County Tournament while fighting for a league title. The Hawks are 3-1 in league play the first time around with the only loss coming against Ramsey.
Demarest is a bit further away in its development, but the Norsewomen are making strides. The attitude around the dugout is positive under head coach Rob Petrella as they attempt to retool against a brutal Big North schedule and stiff out of league competition.
Senior Grace Connolly had two of Demarest's four hits against River Dell and senior shortstop Grace Hamline drove in the Demarest run with a two-out double in the fifth inning. Sophomore left-hander Lily Hamlin is a battler in the circle and she is throwing to a freshman catcher in Kiera Bianchi. First baseman Ava McLaughlin is a freshman and third baseman Rosalia Ruggiero is another promising sophomore.
"We are competing a little more and that is good to see. We made some plays, but we have to get better at the routine stuff so we can build toward the next level," said Petrella. "We have some core players that are gaining experience, they will be back and they will be her for a while. That is the positive."
FOR MORE PHOTOS FROM THIS EVENT PLEASE CLICK HERE. TO BUY A COLLECTOR'S PRINT OF THIS STORY PLEASE VISIT 4-FeetGrafix.com.