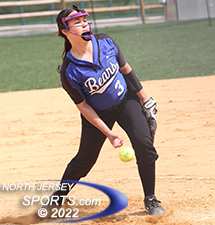 Hawthorne freshman Karlie Stier went all five innings to pick up the win for Hawthorne, which improved to 7-2 on the season with an 11-1 victory over Elmwood Park,
HAWTHORNE – After winning just three games last season and with a freshman stepping into the circle this year there were plenty of question marks about whether Hawthorne could take a leap forward towards being a competitive team. Having put in the work over the off-season and now believing a win is a possible every time they step on the field, the victories are starting to pile up as a result.
The Bears took advantage of several errors by Elmwood Park to put up four runs in both the fourth and fifth innings to close out an 11-1, five-inning triumph over the Crusaders on Thursday afternoon at Rea Avenue Field in Hawthorne,
"In the beginning we weren't as confident as we are now, but now we're starting to play well," said Hawthorne catcher Emily Barbire. "Going into [the Passaic County Tournament] we want to make a run, something Hawthorne hasn't done in a while."
Throughout the contest Elmwood Park gave away extra outs but was able to navigate through it early behind the pitching of sophomore Annali De Dios. Ava Maccone's RBI single in the second inning put Hawthorne in front. The Crusaders answered right back in the top half of the third with an RBI single from Sarah Tester to tie the game.
After another run scored on an error Emily Bakker lined an RBI single to give the Bears a 3-1 lead before they broke the game wide open. On the first pitch of the bottom of the fourth, Dani Sancho slugged a triple down the right-field line and scored on an error on the play. Two more errors in the inning were followed up by a double by Emily Barbire that plated two runs to make it 7-1.
"We gave away too many plays that should have been outs, against a good team this is how it will end up when you make as many errors as we made today," said Elmwood Park head coach Artie Zilz. "The girls are working hard and keeping their heads up. We're going to keep grinding and we'll get to where we want to be, it's just going to take some time."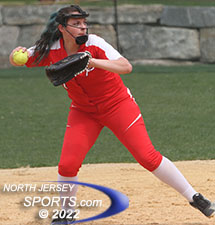 Sarah Tester had two hits for Elmwood Park.
Elmwood Park had a chance to cut into the lead in the top of the fifth, loading the bases with one out. Freshman right-hander Karlie Stier showed the poise of a senior with the heart of the order coming up. She shrugged off the potential pressure situation by getting back-to-back strikeouts to end the inning. She rewarded herself in the bottom half of the frame with a bases-clearing triple then was brought home on a single by Nicolette Sasso to put the mercy rule into effect that closed out the Bears' fifth win in their last six games.
"We took advantage of opportunities today, but we still need to play tighter than we did today," said Hawthorne head coach Mook Iannacone. "We have a nice little winning streak going and we're gaining confidence with each win. Now we're trying to build off this momentum and get ready for the Passaic County Tournament coming up."
Stier went all five innings to pick up the win for Hawthorne (7-2). She allowed just three hits and one run with three walks and nine strikeouts along with her season-high three RBI's. Sancho, Sasso, and Jacklyn Palmer each collected two hits.
Tester had two of the three hits for Elmwood Park (1-4), and De Dios finished with eight K's in the circle.
With Glen Rock and Rutherford on deck next week and the Passaic County Tournament right around the corner, the Bears will be tested but they will be ready to show that their early-season form was no fluke.
"We're feeling pretty good and we're confident when we get ahead," said Stier. "I'm feeling good pitching wise. But even when I'm struggling, I know the girls have my back and they'll make all the plays. We're playing together better now than we were earlier in the season and we're excited for the games we have coming up."
FOR MORE PHOTOS FROM THIS EVENT PLEASE CLICK HERE. TO BUY A COLLECTOR'S PRINT OF THIS STORY PLEASE VISIT 4-FeetGrafix.com
---