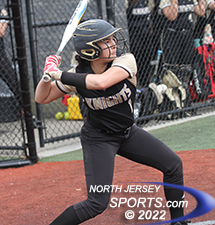 Trinity Hanson lined a two-out, two-strike RBI single to center to plate the winning run as Bergen Tech kept its undefeated record intact with a 2-1, 10-inning triumph over previously unbeaten Rutherford.
WOOD-RIDGE – Although in different divisions and different state sectional groupings, Bergen Tech and Rutherford have been mirror images of one another this season. In the early weeks both teams have easily dispatched the opposition en route to undefeated starts. While their records were unblemished the question that still was unanswered going into their showdown was, how would each team handle adversity when faced with a pressure situation?
They both got to find that out and then some when they faced one another at the Donna Ricker Tournament on Saturday.
In a game that went from an old school pitcher's duel to one with a bevy of big plays it quickly took on the feel reminiscent of a county or state tournament atmosphere as the game needed extra innings to decide a winner. There were several twists and turns throughout. Bergen Tech was down to its last strike in the eighth before some alert baserunning allowed the tying run to score.
Two innings later, Trinity Hanson lined a two-out, two-strike RBI single to center to plate the winning run as Bergen Tech kept its undefeated record intact with a 2-1, 10-inning triumph over previously unbeaten Rutherford at 14th Street Field in Wood-Ridge.
Both teams put runners in scoring position in the first inning but came up empty. Rutherford freshman Giana Yaniero and Bergen Tech sophomore Riley Sobel each got strikeouts to get out of the jam. It was a sign of things to come as both pitchers had everything working and showed why the both the present and the future looks awfully bright for their respective programs.
"My job is to get outs and we all just pick each other up," said Sobel. "It was really intense in those last few innings. In the heat of the game, we found a way to keep making plays and getting big hits. We're ready to go this season and we're excited to play games like this."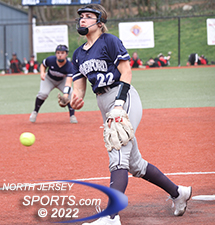 Rutherford freshman Giana Yaniero finished with a career-high 14 strikeouts.
Both pitchers were dealing when a strange, unfortunate occurrence took place. In the bottom of the sixth inning a foul ball hit the fence so hard right in front of where the Rutherford scorekeeper was sitting that it appeared the iPad she was holding was deflected up; causing a laceration that required medical attention and the game was delayed for 10 minutes.
(Writer's Note: I was right there when it happened and it was pretty scary stuff. She handled it like a trooper though and seemed ok afterwards. Of course, our best wishes for a speedy recovery.)
While the two pitchers were still throwing up zeros, both teams started to put together quality at-bats following the delay and into extra innings.
In the top of the eighth, Natalie Virone led off with a first-pitch single and Lauren Pfluger followed with one of her own. When Leah Finelli's dropped in for a bunt single, Rutherford had the bases loaded and nobody out after having just one runner in scoring position over the first seven innings. Bergen Tech sophomore shortstop Nina Sarlo made several outstanding plays with her glove on the afternoon, but none bigger then dropping down to smother a hard shot off the bat of Rutherford's Rachel Dray and quickly throw home to get the force out.
Julie Cimillo then lifted a sac fly with Virone giving an unorthodox hook slide to avoid the tag and put the Bulldogs in front before Sobel wiggled out of further damage.
Needing at least one run to keep the game going, Sarlo led off the inning with a base hit. She was on second with two outs when a potential game-ending ground ball turned into an infield error. Sarlo never stopped running on the play and scored to knot the score at 1.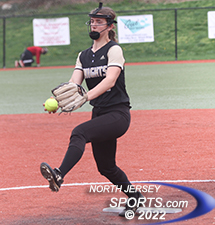 Sophomore Riley Sobel finished with a career-high 16 strikeouts for Bergen Tech, which improved to 8-0 on the season.
The 10th inning provided just as much drama as the eighth inning did with the international rule going into effect with the last batted out of the previous inning starting on second base. Rutherford started with a runner in scoring position but that was quickly erased by catcher Emily Rossi, who gunned down the runner trying to steal third. That throw ended up being huge and saved a run as Virone doubled to deep center two pitches later before being stranded and giving the Knights a chance to win it in the bottom half of the inning.
With runners on the corners and two outs, Hanson stepped up the plate hitless in her previous four at-bats but ready to hack with the game on the line. When the count ran full, the junior kept her approach simple and shortened up her swing. She lined the 3-2 offering into centerfield to plate to being home the game-winning run and bask in the celebration of a team that feels the sky is the limit for this season.
"There was no choice here and she had to throw a strike, I had to be ready to swing," said Hanson. "Whatever it took to get the run home is what I had to do. I was grateful for the opportunity, and I had to take advantage of it. We're having so much fun and we have so much momentum going that we really wanted this one. Most of our team has returned since last year. Riley is our go-to player and we stick with her. She has supported us all season with great pitching, and we had to have her back today."
Sobel finished with a career-high 18 strikeouts for Bergen Tech (8-0). Her counterpart, Yaniero, also notched a career-best with 16 K's.
Bergen Tech will not get much time to rest. With eight games scheduled over the next 12 days, the Knights will need all of their youth exuberance to match the talent they have displayed thus far in the hopes of getting a high seed in the 2022 Bergen County Tournament.
"We played great defense as a team and didn't give away any extra outs," said Sarlo. "We now know what we're capable of and what we have to work on. It's more momentum to keep going, keep pushing each other and see how far we can go."
FOR MORE PHOTOS FROM THIS EVENT PLEASE CLICK HERE. TO BUY A COLLECTOR'S PRINT OF THIS STORY PLEASE VISIT 4-FeetGrafix.com
---