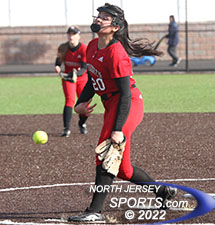 Sophomore Savanna McHale struck out 14 for Weehawken, which improved to 4-0 on the season with a 5-0 win at Wood-Ridge.
WOOD-RIDGE – Last season Weehawken made a surprising run to the North 2, Group 1 state sectional tournament semifinal before dropping a heartbreaking 1-0 loss to eventual state finalist Whippany Park. After losing seven senior starters it seemed a tall task to repeat that success, but with sophomore sensation Savanna McHale in the circle, a do-everything senior captain in Morgan Tomlinson, and a bevy of talented freshmen this year's team will not just be happy to make a run, it wants championships.
With a win already in hand over perennial power Immaculate Conception and facing an equally hungry Wood-Ridge team on Monday, Weehawken is quickly showing that despite the heavy loss to graduation that this team remains a force to be reckoned with.
McHale was overpowering in the circle and battery mate, freshman Envey Duran, had RBI hits in the first and third innings as Weehawken remained unbeaten and handed Wood-Ridge its first loss of the season in the process, with a 5-0 triumph at the Wood-Ridge Athletic Complex.
In McHale's previous 10 varsity starts, she had not allowed more than one run in any of them. So when Duran drove in McHale with a first-inning triple to give Weehawken a lead in the top of the first, it was exactly what McHale needed to settle in.
"Having teammates I trust behind me and getting an early lead makes me feel comfortable right from the first pitch," said McHale. "Getting run support in the first inning or two is huge. I can focus on finding the zone and throwing strikes. Even though we have such a young team we're strong mentally and that's been really impressive so far."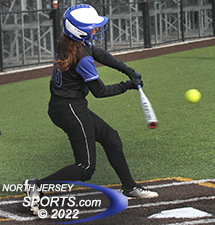 Senior Victoria Drotos had a hit for Wood-Ridge, which is off a a 3-1 start.
Weehawken broke the game open in the third with a leadoff single from No. 9 batter Giovanna Notaro being the spark. Tomlinson followed with a single and a double steal put both runners in scoring position. Brooke McHale brought home a run with a sacrifice fly and her sister followed with a two-run single before Duran added an RBI single for a 5-0 lead.
"Being Savanna and I were the only two returning players, we had to get the freshmen girls prepared for how to approach this level of pitching," said Tomlinson. "Even though a lot of the girls are brand new to varsity they've worked hard and adjusted quickly. Those girls are off to a great start and they're only going to get better as the season goes on."
Wood-Ridge showed its heart throughout the game and had its best chance to score in the bottom half of the third. They had runners on first and second and sent a runner to the plate on a fielder's choice. The throw from first baseman Brooke McHale was a perfect strike to the plate with Duran making the tag to keep the Blue Devils off the scoreboard.
McHale was a strikeout artist all last season as a freshman (she had at least nine strikeouts in every start) and is doing so again as a sophomore. She had a strikeout in every inning in this game, including striking out the side in the seventh to end it.
McHale finished with 14 Ks for Weehawken (4-0). Duran paced the offense going 3-for-3 with two RBIs.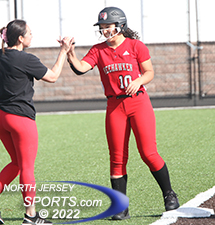 Freshman Envy Duran drove in a pair of runs for Weehawken.
Wood-Ridge (3-1) suffered its first loss of the season, but there were some positives that came out of it. The five hits were the most McHale has allowed in a game in her career. Jayda Lynn Grullon, Sofia Diaz, Ava Rizos, Victoria Drotos and Brianna Stellato had the hits for the Blue Devils. Freshman Brooke Stellato settled down after a rough start and finished with 8 Ks without walking a batter.
Weehawken has little time to rest in its quest for the NJIC-Meadowlands Division crown. Whether it is the team to beat or not will be decided today when they take on defending league champion Becton Regional. Having found their groove early in the season, Weehawken is believing that the best is yet to come.
"Our biggest weakness right now is inexperience, but that is something we will through together," added Tomlinson. "The more reps we get in practice and the more tough games like this that we play will only help us in the long run. It's not talked about enough how well team chemistry contributes to the success of that team. We're best friends on and off the field. I'm very happy with where we are now and very excited for what the future holds."
FOR MORE PHOTOS FROM THIS EVENT PLEASE CLICK HERE. TO BUY A COLLECTOR'S PRINT OF THIS STORY PLEASE VISIT 4-FeetGrafix.com
---