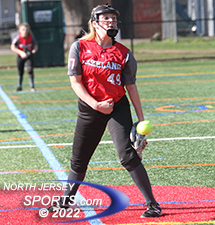 Natalie Reitema threw a complete game and hit a three-run homer for Lakeland, which improved to 3-1 with a 10-1 win over Fair Lawn on Friday afternoon.
FAIR LAWN – Lakeland has high hopes for the 2022 season, championship-type aspirations. Despite finishing just a game over .500 a year ago, the Lancers have returned most of the key players from that team and possess a pair of key contributors in the middle of the lineup where the experienced battery of senior pitcher Natalie Rietema and junior catcher Emily Ricci provide some pop.
Facing Fair Lawn, a league rival that has won every one of their meetings since 2017, Rietema and Ricci showed both their leadership and why this team can be so dangerous come county and state tournament time.
Rietema was solid in circle and helped her own cause with a three-run homer. Ricci, who had just four extra-base hits in the 2021, slugged two triples and a three-run homerun as Lakeland scored nine unanswered runs in a 10-1 triumph over Fair Lawn on Friday afternoon at Fair Lawn High School.
"We got used to the zone and got more comfortable the second time through the order," said Ricci. "We're a really close team and we have great chemistry. That definitely helps us relax and just play our game knowing we have each other's backs."
Both teams tallied a run in the opening frame with Ricci tripling and scoring to give Lakeland the lead. Fair Lawn answered in the bottom half of the inning. Kendall McNamara hit a long triple off the fence in left field before scooting home on a safety squeeze by Melissa Hickey to tie the game.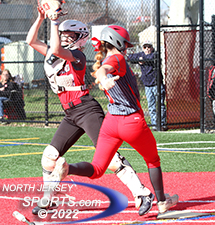 Kendall McNamara racing home with Fair Lawn's lone run.
The score was still 1-1 in the top half of the third inning with McNamara just one strike away from escaping trouble. With runners on first and second with two outs and facing an 0-2 count, Rietema made an adjustment and it worked out to the Lancers' benefit. She went with an outside screwball and drilled it down the right-field line and past the Cutters' diving right fielder with everyone coming around to score to put Lakeland in front, 4-1.
"Their pitcher was throwing outside the entire game, I had to be ready for it and hit the ball where it was pitched," said Rietema. "We knew if we kept hitting the ball hard that we'd find some holes in the infield and outfield to get on a roll."
The Lancers' one big newcomer, freshman Olivia McCormick, also made an impact on sheer hustle. With two outs in the fifth, she busted it down the line on a routine ground ball to short and beat it out to keep the inning alive. She then stole second and took third on an errant throw before scoring on an RBI single by Frankie Medici to make it 5-1.
The lone chance for Fair Lawn (2-2) to get back in the game came in the bottom half of the fifth when they had two runners in scoring position. Rietema showed her poise and wiggled out of the inning without any damage. Her team did not take long to reward her for that with Ricci providing the knockout blow with a three-run, inside-the-park homerun.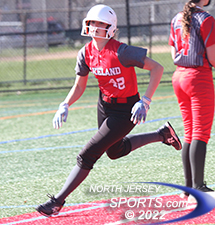 Lakeland's Emily Ricci slugged two triples and hit a three-run homerun
"We're such a determined team and it has changed our outlook going into each game," added Rietema. "Now instead of hoping we'll play well and win, now we go in the expectation that we're going to play our best and win."
Paige Togiera, Lexi Callahan, and McCormick also drove in runs for Lakeland (3-1),
Although Lakeland is off to a strong start this season, the true test of whether they are a contender for a county title this season will come on Monday. The Lancers will be at home to take on defending Passaic County Tournament champion Passaic Valley (3-0). With hard work put in the during the off-season, a solid lineup top to bottom, and a senior workhorse in the circle, the Lancers feel it is finally their time to shine.
"We have to focus on the basics and doing them well, so far this we've done that," said Junta. "With having some power and some speed it allows us to get creative with what we're doing. I think we have one of the better pitchers in the county and everyone is making the plays behind her. We have pieces to the puzzle on this roster. When we make them fit together we feel we can compete with the best of them."
FOR MORE PHOTOS FROM THIS EVENT PLEASE CLICK HERE. TO BUY A COLLECTOR'S PRINT OF THIS STORY PLEASE VISIT 4-FeetGrafix.com
---