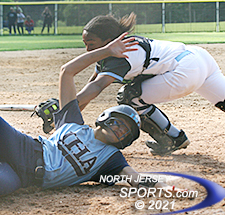 Annabella Martino hook-sliding home with the tying run before IHA completed it sseventh inning comeback in a 4-3 win over Mt. St. Dominic in the Non-Public A final on Monday in Caldwell.
CALDWELL – "Never give up." "Always play until the last out." "It's not over until it's over."
These are all generic quotes that a coach says to their players when trying to keep their team's hopes for a win alive against the bleakest of odds. Chances were pretty slim for Immaculate Heart Academy when facing state tournament rival Mount St. Dominic. The Blue Eagle were only losing by a run and had the tying run on base. However, they were down to their last out in the top of the seventh inning against one of New Jersey's top pitchers. Despite the daunting task they never lost faith in themselves or each other. Two swings later, everything changed.
Cara Kochakian slugged a triple off the fence in right-center with Annabella Martino using a hook slide to evade a tag and touch the back of the plate to tie the game. Noelle Urbaniak followed with a bloop single to center to bring home Kochakian for the lead. Pitcher Jocelyn Moody then shut the door in the bottom half of the seventh as second-seeded IHA stunned top-seeded Mount St. Dominic to win the Non-Public A North section title with a thrilling 4-3 triumph on Monday afternoon in Caldwell.
The two teams met earlier this season. It was a one-sided affair with Mount St. Dominic taking control early, knocking Moody out of the circle in the fourth inning with Lions' pitcher Sophia Kiseloski tossing a shutout in cruising to a 6-0 win. This game looked to be more of the same early with Alexa Raphael leading off the game with a single and freshman Olivia Bibbo reaching on a catcher's interference. Raphael scored on a sac fly to open the scoring. Bibbo looked to be hung up in a potential rundown between third and home on another short fly ball. But as the throw went from third to home there was a miscommunication with the speedy Bibbo scooting home with a head-first slide to give the Lady Lions a 2-0 lead.
It seemed like that would be enough run support as Kiseloski ripped through the IHA order the first time through, allowing just one hit and striking out the rest. The player who got the lone hit the first time, Gabby Park, did so again in the top of the fourth. Moody then helped her own cause by clobbering a two-run homer to center that tied the game. IHA had a chance to go ahead but a leaping catch by shortstop Olivia Sasfai likely saved two runs and ended the inning. Mount St. Dominic pulled ahead in the bottom half of the frame when Alex Cruz stroked a leadoff double and pinch-runner Diana Yturbe came on a groundout to put the Mount ahead, 3-2.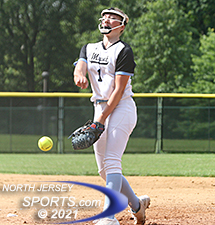 Sophia Kiseloski struck out 12 and had three hits for Mt. St. Dominic.
The Blue Eagles put together better swings as the game went on but still faced the prospect of having to score off the flame-throwing Kiseloski in their last at-bat to keep their season alive. Senior Gianna Stirone lined a leadoff single to right to put the tying run on base. Kiseloski was able to get two quick outs and put IHA's season on the brink of extinction. With Kochakian now at the plate and the count 2-1 IHA head coach Diana Fasano called time and put in Martino as a pinch-runner.
"I have to give credit to (IHA assistant coach) Diana Schraer, she was the one who convinced me to make that move," said Fasano. "This team plays for each other, and we prepared ourselves to be ready for any game situation that comes up. This is truly a special group of young ladies. We had to build up to getting these kinds of opportunities and everyone contributed when those opportunities came."
The move proved to be a shrewd one. On the very next pitch, Kochakian got a fastball over the outer half of the plate and crushed it into the right-centerfield gap. Martino was flying around the bases, but a textbook relay forced a play at the plate. The throw was on the money, which forced Martino to alertly go wide around the catcher to touch the back end of the plate for the tying run.
"My only job there was to run, once I saw the ball off the bat I had to run as fast as I could and just go for it," said Martino. "I was thinking backslide the whole way and had it in my mind when I was being waved home. We stayed in the game mentally and everybody was ready to do their job."
"That was a great slide by (Martino) and I was really pumped up that we tied it," said Kochakian. "Most of the pitches I saw in the game were outside pitches. I've hit those pitches really well lately, so I felt ready if I was pitched there. We were the underdog today and it was a little weird because that isn't what we are used to. This whole season has been a learning process for us. The coaching staff has really helped us along and got us ready for this moment. Once we tied it, we felt like it was our time."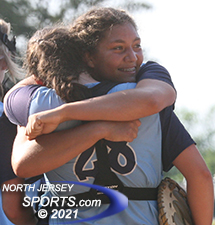 Jocelyn Moody gets a hig after picking up the win for IHA, which will play Donovan Catholic in the Non-Public A final.
Brimming with confidence after watching Kochakian tie the game, Urbaniak stepped to the plate and delivered in the clutch. She got enough of her bat on the ball as her flare to center landed between three charging Lions allowing Kochakian to score the game-winning run. Kiseloski singled to put the tying run on base in the bottom half of the 7th. Moody never got rattled and got the final out as the IHA players mobbed her celebration of a win that seemed so unlikely just minutes earlier.
"Normally I go up the plate with an idea in mind, but I went up to that last at-bat not thinking anything honestly," said Urbaniak. "I just kept a clear mind and wanted to make good contact to get Cara to score. After our first time up as a team we knew we had to shorten up and change our approach.  After missing last year for a lot of our players it was their first year on varsity or in a bigger role. It feels amazing that this happened and the way that it happened makes it even better."
Kochakian, Urbaniak, and Park each had two hits for IHA (26-4). Moody scattered eight hits with two walks and six strikeouts to pick up the win.
Kiseloski took the hard-luck loss for Mount St. Dominic, which finished its season with an Essex County title and a 28-4 record. She had 12 Ks and collected three of the Lions' eight hits.
With a section title in hand, IHA will now prepare for one final game with a Non-Public A state title on the line. The opponent is formidable one in Donovan Catholic, the No. 1 ranked team in the New Jersey and a 2-0 winner over St. Thomas Aquinas in the Non-Public A South championship game on Monday. The Blue Eagles are embraced their rare role as underdog in this game and look forward for another opportunity to do so on Friday afternoon at Ivy Hill Park on the campus of Seton Hall University.
"We've played everyone we possibly could this year to get us ready for making a run like this," added Fasano. "We grinded this one out and came out on the upside. This shows we are not afraid of the big stage against the best teams in the state. We'll need another total team effort on Friday and we'll be ready for a battle."
FOR MORE PHOTOS FROM THIS EVENT PLEASE CLICK HERE. TO BUY A COLLECTOR'S PRINT OF THIS STORY PLEASE VISIT 4-FeetGrafix.com.