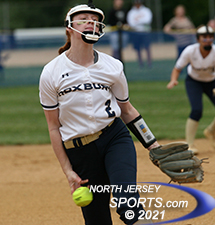 Freshman Hailey Errichiello carried Roxbury to its first state sectional title since 1992 with a 5-1 win over Passaic Valley on Saturday
ROXBURY – Passaic Valley has been as exciting as any softball team in North Jersey this season not only for the wealth of talent and senior leadership, but mostly for the Hornets' penchant for late comeback victories in big games. So, when taking on a similarly talented squad in Roxbury with a section title at stake there was no panic when they quickly fell behind. It was a position the Hornets had been in before and thrived in throughout one of the best seasons in school history.
Only this time the hole was simply too deep to dig out of.
The right arm of freshman sensation Hailey Errichiello, some timely hits and air-tight defense proved to be too much as second-seeded Roxbury put together a masterful performance in all aspects of the game to end Passaic Valley's season and win the North 1, Group 3 title with a 5-1 triumph on Saturday afternoon at Roxbury High School.
"When we got the lead it really helped me relax," said Errichiello. "This was our goal and we did it. I am so proud of each and every one of our teammates. We're not done and I want to continue this journey with this team as far as we can go."
Errichiello set the tone right out of the gate by striking out Taylor Hill, one of the state's best hitters, on three pitches to open the game with a 1-2-3 opening frame. In the bottom half of the inning, there were two runners on and two outs when Paige Donnelly stroked a double into the left-center field gap to get the Gaels on the scoreboard first. Then potential third out of the inning on a groundball was thrown away, allowing two runs to score and giving Roxbury a 3-0 lead after one inning.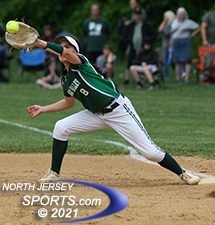 Devyn DiPasquale and the talented group of Passaic Valley seniors finished the season as Passaic County champions with a 25-3 record.
"As a senior, I knew this could be my last game and every at-bat was important," said Donnelly. "It meant everything to get that first run and I had to trust my hands. We are a team that normally when we get ahead, we stay ahead. We stayed composed and we kept our energy up the whole game just as we've done throughout the state tournament."
The Gaels played great defense throughout the contest starting with a big play in the second inning. With a runner on first and one out, a PV runner tried to take third on a single by Rachel Alecci. Roxbury's Maddy Svenningsen threw a strike to third and Natalie Otto slapped on the tag for the out. The Gaels escaped damage there and soon after padded their lead with one swing of the bat. In the third inning, Jayden Pennella scorched a ball to straight away center that just cleared the fence for a two-run homerun that gave Errichiello plenty of cushion with a five-run lead.
"I wasn't looking for any pitch in particular, just something over the plate," said Pennella. "I didn't want to overthink. My approach was to keep it simple and hit the ball hard. Our team energy was there right from the beginning. After losing in the (Morris County) final we really wanted this game. It's incredible that we came together the way we did and got the job done."
Errichiello pounded the strike zone all game long and helped herself with some nifty glove work in the third inning. She reacted quickly to a popped-up bunt to make an over-the-shoulder catch and fired to first for an inning-ending double play.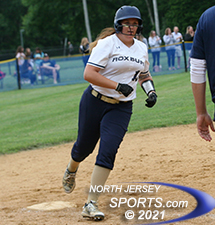 Jayden Pennella hit a two-run homer for Roxbury, which will play Cranford in the Group 3 semifinals on Tuesday.
After a rough go-round the first time through the order, the Hornets started to put together some quality at-bats and finally got to the otherwise dominant Errichiello in the top of the fourth. Savannah VanWinkle had one just one career varsity homerun coming into the game. She matched that total by touching up Errichiello for a homer to center that trimmed the lead to 5-1. Devyn DiPasquale followed with a screaming line drive back through the middle for a single and it looked like the Hornets were up to their comeback magic again.
However, that was not to be as Errichiello relied on her defense and it came through in big ways. After a long battle with Hill in the sixth inning, Pennella made a nice play on a hot shot before stepping on first for the out. Then in the seventh, second baseman Cam Fehsal made a pair of outstanding plays. The latter of which where she slid to make a backhanded stop up the middle, then in one motion popped to her feet and threw to first for the out. Errichiello then induced a fly ball for the final out and the long overdue celebration was on as the Gaels won their first section title since 1992.
Errichiello twirled a three-hitter with one walk and nine K's for Roxbury (20-6). Donnelly, who also made a nice play deep in the hole at short in the 5th inning, was the only player from either team to have multi-hit game. The Gaels now head to the Group 2 semifinals on Tuesday when they will travel to face Cranford, which upset top-seeded Nutley in the North 2, Group 3 final.
DiPasquale came on in relief and kept Passaic Valley (25-3) in the game. She threw four scoreless innings, giving up two hits with one walk and four strikeouts.
This marked an end of an era for Passaic Valley. This senior-laden squad, most of which started as freshmen, concluded their careers as Passaic County champions and with a 25-3 record.
"This is the most amazing bunch I've ever coached in 30 years of coaching," said Passaic Valley head coach Kathy Hill. "They've been together since they were eight years old. It's not just about winning the league, winning the counties, or competing in a state section final. What they have experienced is something super special. They have life memories that they're grateful for and I'm happy for that."
FOR MORE PHOTOS FROM THIS EVENT PLEASE CLICK HERE. TO BUY A COLLECTOR'S PRINT OF THIS STORY PLEASE VISIT 4-FeetGrafix.com.