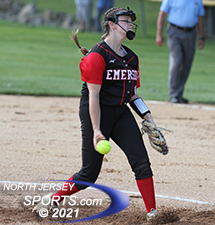 Sophomore Natalie Graham allowed just five hits and did not walk a batter for Emerson, which earned a spot in the section final for the first time since 2003 with a 3-2 win over Cedar Grove.
EMERSON – Emerson has a rich softball tradition, one of those Group 1 programs that turns out quality teams just about every season. As the long-time host of the former EDSAF Tournament, an in-season showcase that brought in some of North Jersey's top teams for a weekend of high-level play and fundraising, so many talented players have stepped between the baselines at Barbara Barlow Field over the years, many of them wearing the black and red of the home team.
Emerson is kind of a softball town and that is why it is a little surprising to find out that the Cavos have not been to a section final since 2003, at least until Ashlyn Sterinsky positioned herself under a looping liner with two outs in the seventh inning on Wednesday against Cedar Grove.
"I knew I had to catch that ball and I knew that if I caught it we were going to the finals," said Sterinsky, Emerson's senior second baseman. "We were right there. We were so close. I was just thinking catch this ball and let's go to the final."
Sterinsky did indeed glove the final out of top-seeded Emerson's 3-2 win that moves it into Saturday's North 1, Group 1 state sectional championship game where it will host third-seeded Kinnelon on Saturday.
And it was a nail-biter from start to finish.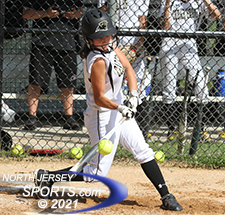 Paige Lemongello's RBI single in the second inning gave Cedar Grove a 1-0 lead.
Cedar Grove is a deceiving No. 12 seed. The Panthers came in with an 8-15 record, but that was compiled against a brutal schedule that would have been tough for any public school to navigate, let alone a Group 1. They applied almost immediate pressure on the hosts by manufacturing a run after Keanna Grande reached on an error leading off the top of the second inning. She advanced two bases on outs made to the right side and then scored on Paige Lemongello's clutch two-out single that gave the Panthers the 1-0 lead.
Neither starting pitcher, Cedar Grove's Paige Scheid nor Emerson's Natalie Graham, issued even a single walk in the game and both defenses were pretty close to air tight. Cedar Grove used one Emerson miscue to plate its first run, while Emerson did more with its opportunity in the bottom of the third as Tiffany Leuck forced a throwing error by hustling out of the box and down the first baseline.
Emerson then laid down two bunts, the first by Kelty Manning turned into a base hit and the second by Amanda Salemi put runners at second and third. Bella Del Valle got Emerson even with a groundball to the right side for an RBI fielder's choice as Leuck beat the ball to the plate. Del Valle (1-for-3, RBI) stole second before Jamie Falotico (1-for-3, 2 RBI) came through with a two-run single to the opposite field to make it 3-1. Shortstop Katie Peterson limited the damage by picking off a smoked line drive off the bat of Joya Mattera (1-for-3), who hit the ball on the screws in all three of her at bats.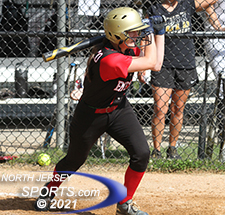 Jamie Falotico drove in two runs for Emerson, which will host Kinnelon in the North 1, Group 1 final on Saturday.
Then it was up to Graham (7 IP, 2 R, 1 ER, 5 H, 2 K, 0 BB) the sophomore right-hander, to make that lead stand up. She worked a 1-2-3 third inning, fielded a hard come-backer for the final out of the fourth to strand two runners and worked around a two-out single by Mia Nadiello in the fifth.
"The best thing about our team is our team chemistry and I trust every single person out there. I know that wherever the ball is that we have someone there that is going to make the play," said Graham, who did not allow an extra base hit. "My defense always has my back and they made all the plays today."
That did not mean that Emerson was home free by any means as Scheid (6 IP, 3 R, 0 ER, 4 H, 0 K, 0 BB) kept Cedar Grove close and the Panthers really applied the pressure in their final two turns at bat. Katie Peterson led off the sixth with a single, went to second when Grande was hit by a pitch and scored Lemongello's sacrifice bunt forced an errant throw that allowed Peterson to score. That made it 3-2 and Cedar Grove had runners on second and with nobody out.
"My heart has never beat that fast before," said Graham, who then proceeded to work her way out of the jam. She fielded a come-backer and froze the runner for the first out, Sterinsky made an over-the-shoulder grab in not-deep-enough-to-tag rightfield for the second out and Del Valle fielded a ground at first base for out No. 3.
Scheid retired the final 11 hitters she faced, setting down the side in order in the fourth, fifth and sixth innings, and Cedar Grove, which left eight runners on base, got a leadoff single from Scheid (2-for-4) to start the seventh. A sacrifice bunt put the tying run at second, but Tiffany Leuck made a nice running catch in rightfield for the second out and Sterinsky then settled under out No. 3 to send Emerson (20-4) into the section final for the first time in 18 years.
Did head coach Nancy Graf see this year's team as the one that would end that drought?
"Yes, I did. Natalie [Graham] is a sophomore who missed her freshman season. It took her a little time to acclimate to high school softball, but she has. She is a kid that is really athlete and has just gotten so much better as the season has gone on," said Graf. "With younger players that is the way it works, but she is a gamer. She is a great player and the kind of pitcher that I thought could get us to this level."
FOR MORE PHOTOS FROM THIS EVENT PLEASE CLICK HERE. TO BUY A COLLECTOR'S PRINT OF THIS STORY PLEASE VISIT 4-FeetGrafix.com.