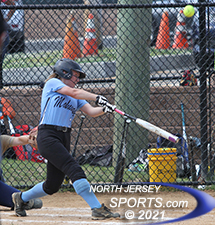 Emily Morra's two-run homer in the top of the fifth inning was a part of Mahwah's 16-hit barrage in a 14-2 win over Indian Hills in the semifinals of the Bergen County Tournament on Sunday.
MONTVALE – Cayla Nista: Base hit. Jessie Sandusky: Base hit. Emily Amell: Base hit. Annmarie Morra: Base hit. Those were the first four hitters of the game and their results for Mahwah in the semifinals of the Bergen County Softball Tournament on Sunday. The outcome of such a blazing start was an early two run lead that set the table for what was to come over the next five innings.
Third-seeded Mahwah sent seven hitters to the plate in the first inning, eight in the second, 10 in the fifth and eight more in the sixth in a 16-hit barrage that resulted in a 14-2, 6-inning victory over No. 2 Indian Hills. The win sends Mahwah into the county championship game for the first time in its history.
"From the get go we said we needed to go out there with high energy. We went out there with a lot of energy and it helped us in those first at bats. We came out with our bats ready to go, bats on fire," said Morra, Mahwah's senior catcher who will play next season at Utica College. "Every single girl on this team has worked towards the county of winning the county [championship] and every single girl on this team deserves this opportunity."
And every single girl in the lineup contributed. Nista (4-for-5, 3 R, 3 RBI), Sandusky (2-for-5, 2 R, SB), Amell (2-for-4, 2 RBI), Annmarie Morra (3-for-4, 3 RBI) and Emily Swedelson (2-for-4, 2 R) all had multiple hit games. Erin Pryor had a hit and scored a run, Sydney Hesser was 1-for-4 with 2 RBI and a run scored and Emily Morra crushed a two-run homer and scored twice. The only Mahwah starter without a hit was sophomore Alexa Seidner, who instead drew two walks and scored twice.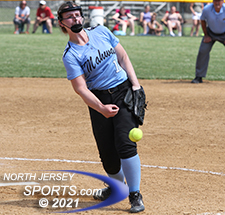 Emily Amell pitched Mahwah into the Bergen County final for the first time in program history.
"We were confident coming in here, but I am going to be honest, I did not see [14-2] coming. We lost to [Indian Hills] in a really close game the last time we played them, so this was more than I could have imagined. Everyone was down when we lost to them, but we knew that if we got a chance to play them again that we would come back strong," said Sandusky, Mahwah's junior shortstop. "I knew this team was special, I know we have the potential to go all the way and I could not be prouder of this team."
To win its first ever Bergen County championship, Mahwah is going to have to get past the hottest team in North Jersey and one of the most in-form squads in the state.
With its 9-5 win over top-seeded IHA in the first game of Saturday's semifinal doubleheader at Pascack Hills High School, Ramapo (26-4) won its 16th straight game and punched its ticket to the championship round for the first time since the last of its three straight titles from 2006-08.
"A big part of this is that I honestly don't think that there is another team that gets along as well as we do. That is really important because ultimately it is a team sport and we would be nowhere without each other," said Sydney Samuel, the junior third baseman who hit one of Ramapo's three home runs in the game. "There is just so much love on this team."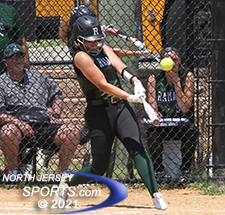 Sydney Samuel hit one of three home runs for Ramapo, which raced out to an 8-1 lead.
Ramapo, the No. 4 seed, came out swinging. The Green Raiders got home runs from Savannah Ring, Samuel and Victoria Cunningham and blasted its way to an 8-1 lead through five-and-a-half innings over top-seeded IHA, which managed only one unearned run in the bottom of the first.
"We have had a lot of different kids step up. Our lineup is very balanced. Today we got home runs from our No. 1, No. 4 and No. 7 hitters," said Ramapo head coach Darren White. " It's not easy to pitch to our lineup."
Savannah Nowak had a three-run double as part of the Raiders' four-run second inning that gave the Raiders the lead for good. Cunningham, just back from an ankle injury, hit a solo homer with one out in the third to make it 5-1. Ring's blast came with one on and two out in the fifth to make it 7-1 and Samuel's dinger came leading off the sixth to build what looked like an insurmountable seven-run cushion.
McKenna Lont, Ramapo's junior right-hander gave up just one hit and did not walk a batter through five innings, but IHA got it together in the sixth when Cara Kochakian led off with a home run and, four hitters later, Jocelyn Moody hit a three-run shot to get the Blue Eagles back to within 8-4.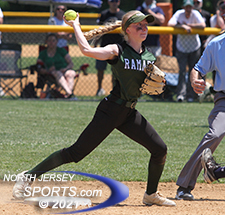 Savannah Nowak drove in three runs for Ramapo, which has now won 16 straight games.
Samuel's sac fly in the top of the seventh pushed the Ramapo lead back to five runs, but it was anything but smooth sailing as Gianna Stirone drew a leadoff walk in the bottom of the seventh. Chelsea Lapp doubled in a run with one out to make it 9-5 and Kochakian worked the count to 3-1. A walk there and IHA could have had the tying run in the on deck circle, but Lont battled back for a strikeout and then a little pop up into the mitt of first baseman Macy Eglinton-Manner was the final out.
"Walking the first batter of the seventh inning was obviously not what I wanted to do, but I just tried to keep my focus on throwing strikes, getting groundballs, getting outs. When you adrenalin is this high you have to focus on your mechanics," said Lont, who also went the distance on Saturday as Ramapo stayed alive in the North 1, Group 3 state sectional tournament heading into the semifinal round. "We are all just so excited to be in this position and we can't wait for the next one."
Ramapo and Mahwah will play for the Bergen County championship on Saturday at Mahwah High School, the predetermined site, although the day and start time may change depending on state tournament results this week.
FOR MORE PHOTOS FROM THIS EVENT PLEASE CLICK HERE. TO BUY A COLLECTOR'S PRINT OF THIS STORY PLEASE VISIT 4-FeetGrafix.com.