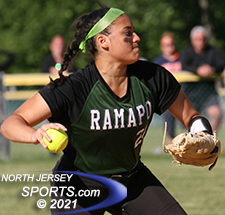 Sydney Samuel scored the tying run in the bottom of the eighth inning of Ramapo's wild 9-8 win over NV/Old Tappan in the quarterfinals of the Bergen County Tournament on Monday in Franklin Lakes.
FRANKLIN LAKES – As Ramapo took the field to start the seventh inning in the Bergen County Tournament quarterfinals a semifinal berth was all but assured. The Green Raiders had gotten four straight scoreless innings out of starting pitcher McKenna Lont and had tacked on three insurance runs to take a commanding lead. They had plenty of reason to be confident needing just three outs with a five-run lead.
However, those three outs proved to be elusive as Old Tappan put together a huge rally to knot the score at 7. Things went from bad to worse for the Green Raiders as they fell behind in the 8th inning and were, all of a sudden, on the other end of being three outs away from elimination. There was no panic, no finger-pointing, just constant encouragement knowing that somehow the players would feed off another to keep their county championship hopes alive.
Macy Eglington-Manner drove in Sydney Samuel for the tying run. Four batters later, Amy Psota drew a four-pitch walk as fourth-seeded Ramapo survived and advanced to the Bergen County semifinals with a wild 9-8, eight-inning win over No. 5 seed Northern Valley/Old Tappan in a Memorial Day matinee at Ramapo High School in Franklin Lakes.
"Old Tappan is the defending Bergen County champion (they won the last Bergen County Tournament back in 2019) for a reason, they kept fighting and we had to keep fighting ourselves," said Ramapo head coach Darren White. "This felt like a heavyweight fight at the end. This could have gone either way and there were pressure situations all over the place. It is a huge win for us, our 12th in a row and one that puts us in the county semifinals. After these girls lost a game in extra innings in this round of the county tournament two years ago it felt good for them to be on the other side of that."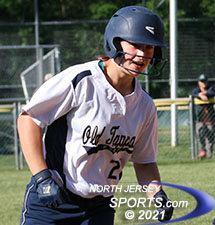 Tina Chugranis' home run gave Old Tappan an 8-7 lead in the top of the eighth inning.
Old Tappan took advantage of consecutive errors with Olivia Cataldo coming across to score the game's first run in the top of the first. Ramapo tied it in the bottom half of the frame before Cataldo lined an RBI single in the second inning to put the Golden Knights back in front.
Through the first six innings though it was Lont who made an impact in every aspect of the game. She helped her cause with a two-run single in the third before driving in another run with a single in her next at-bat to give Ramapo a 4-2 lead.
Old Tappan threatened in both the fifth and sixth innings with the Green Raiders barely escaping damage. In the top of the fifth with runners on first and second, Lont caught a screaming line drive before wheeling and firing to second for an inning-ending double play. Then in the sixth, Cataldo by a smidge got under a fastball that Ramapo centerfielder Mikayla Shepard caught at the fence to preserve the lead.
Savannah Ring kept the momentum going by leading off the bottom half of the sixth with North Jersey-leading 12th homer of the season. A pair of errors helped two more runs come across to make it a 7-2 lead going into the seventh inning. It appeared the game was all but over. It turned out though that the game was not only not over it was just getting started.
The lead seemed safe as Ramapo had not allowed more than three runs in an inning all year, Tina Chugranis led off with a single and took second on an error before coming around to score one pitch later on a single by Josephine Morales. After a Lont strikeout, a single and a walk loaded the bases and brought the tying run to the plate. Grayson Housley struckout looking twice and had a weak pop-up to second in her previous plate appearnaces, but in her biggest at-bat of the game she came up clutch, stroking a ball into the left-centerfield gap to score two runs and trim the lead to 7-5. Old Tappan kept putting the ball in play and took advantage of another error to remarkably tie the game.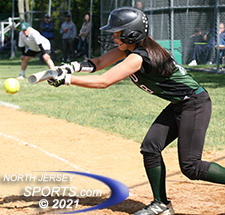 Freshman Amy Psota drew the walk that forced in Ramapo's winning run.
All that rallying was nearly swept away in one swing of the bat as Ring drove a ball to deep centerfield. Bella Chugranis tracked it down and robbed what would have been a walk-off homerun and helped send the game into extra innings. Leading off the top of the eighth, there would be no robbing a shot off the bat of Tina Chugranis. She hit an absolute bomb to straightaway center that landed well beyond the fence to give Old Tappan an 8-7 lead. The Golden Knights had a chance to pad that lead with two runners on and one out, but Lont wiggled out of further trouble and gave her team a chance to win it in the bottom half of the inning.
"Going into the seventh I was pretty confident, but they put a few runs together and it came apart on us real fast," said Lont, a junior. "We could have dropped off when they took the lead but that's not how we are. We can hit up and down the lineup and we all pick each other up. Every at-bat was huge and we kept our energy up. Once Sydney got on to lead off the eighth, we felt like we were in good position to win."
Sydney Samuel, one of North Jersey's premier homerun threats, showed she could be equally as efficient without the benefit of the long ball. Leading off Ramapo's final at-bat she squibbed one off the end of the bat and legged it out for an infield single before moving into scoring position on a passed ball. Old Tappan right-hander Raegen Germano threw a good pitch off the outer half of the plate, but Eglington-Manner was ready for it. She kept her hands back and drove the ball into right field to score Samuel with the tying run.
Eva Purvin followed with a single and Brennan Tosney walked to load the bases. No. 9 batter Amy Psota stepped to the plate looking to take the first strike. She watched as all four pitches were out of the zone and Eglington-Manner walked home with the game-winning run to finish off a zany 2-hour, 45-minute slugfest.
Lont picked up the win and had a stellar day at the plate going 3-for-4 with three RBIs and two runs scored for Ramapo (22-4). Cataldo, Tina Chugranis and Morales, the 2-3-4 hitters in the lineup, each had two hits for Northern Valley/Old Tappan (17-5).
Ramapo moves into the Bergen County semifinals where top-seeded Immaculate Heart Academy awaits. The two teams met back on May 8 with the game tied through four innings before IHA pulled away for a 5-2 win. The Green Raiders know it will be a daunting task but one that does not intimidate them.
"We have to come into that game just like we come into every other game, with a lot of confidence," said Ring. "We have to be a little bit cleaner in the field, a little more patient at the plate, and play the way we know we can. Our game last time against IHA we lost but we were right with them. So we feel like we come up big against them this time around."
FOR MORE PHOTOS FROM THIS EVENT PLEASE CLICK HERE. TO BUY A COLLECTOR'S PRINT OF THIS STORY PLEASE VISIT 4-FeetGrafix.com.