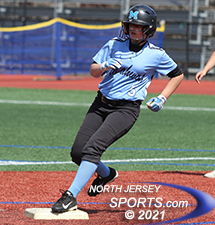 Senior Emily Swedelsonpulling into second on her two-run double that put Mahwah in front for good in an 8-2 win over Glen Rock in the Bergen County Tournament quarterfinals on Monday.
DEMAREST –  Mahwah's Emily Swedelson had the first chance to come through in a big spot. Mahwah, the No. 3 seed in the Bergen County Tournament, had the bases loaded in the bottom of the second inning against Glen Rock, the 11th-seeded underdog, but not a team that the Thunderbirds would have wanted to let off the hook. The Panthers brought a nine-game winning streak into Monday's rescheduled quarterfinal and Swedelson had a chance to dent Glen Rock's momentum.
Two straight singles to start the inning by AnnMarie Morra and Erin Pryor and a walk drawn by Emily Morra left the sacks full for Swedelson, who fell behind in the count.
"There was so much nerves. I took the first pitch, I went down 0-2 and then I took the third pitch that I thought might have been strike three," said Swedelson, Mahwah's second baseman. "I took a deep breath, fouled a couple off and whenever I get up with the bases loaded I just want to get something to the outfield to at least get one run home. Then I got a pitch I could hit and just drove it."
Swedelson smacked a double to straightaway centerfield to score two runs, Alexa Seidner added a sacrifice fly later in the inning and Mahwah (23-4) had all the runs it needed in what turned into an 8-2 victory at Holy Angels Academy on Monday afternoon. The T-Birds move into the semifinals where they will play No. 2 Indian Hills, a 5-2 winner over Tenafly, on Saturday at Pascack Hills High School.
It was actually Glen Rock that had the game's first scoring chance. An error that allowed Vivienne Dietrich to reach safely and a bunt single by Libby Martin gave the Panthers two one-out baserunners, but Mahwah hurler Holly Amell was up to the challenge. The senior right-hander got a pop-up and strikeout to end the threat then further signaled her intentions by striking out the side in the top of the second.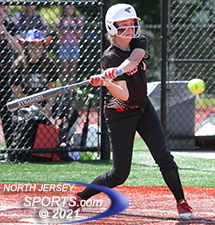 Libby Martin drove in the first run for Glen Rock, which was making its first quarterfinals appearance since 1987.
In all, Amell when the distance on a three-hitter. She walked three struck out 11.
"I am just really happy that we were able to even have this opportunity. I really missed high school softball last year even though I was able to play club. It's nice to be able to go through this with these girls," said Amell. "As Swede[lson] said we have been playing together since third grade, so we are hoping to finish this chapter on a good note and it is happening with the way the season is going."
A leadoff double by Jessie Sandusky led to a run in the top of the third and a bases loaded triple by Sandusky (3-for-4, 3 RBI, 2R), who finished just a home run short of the cycle, was the big blow in a four-run fourth that put Mahwah up 8-0.
Glen Rock (17-6), making its first appearance in the quarterfinals since 1987, battled with energy throughout and got a run in the top of the fifth on a Martin (2-for-4, RBI, 2B) double that scored Dietrich (1-for-4, R) and another in its final turn at bat on a Natalia Danyluk ground ball. Lindsey Santaella had the other hit for the Panthers.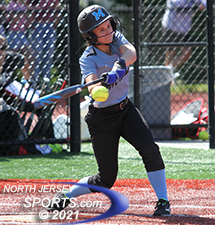 Jessie Sandusky had 3 hits, 3 RBI and 2 runs scored for Mahwah, which will play Indian Hills in the semifinals on Saturday.
"We needed a few innings to get used to Holly [Amell]. Unfortunately we do not consistently see pitching like that and she did a great job. We had some errors and we did not play as clean as we usually do, which we needed to do against a team like Mahwah and a pitcher like Holly," said Kelly Dowell, who is in her 18th season as Glen Rock's head coach. "We did put some pressure on eventually and it was a great experience, all we could ask really. This is my first time in the quarterfinals, I was not the coach in 1987. We won nine in a row coming in here, we made a nice run and this was a bonus for is that I am glad the girls got to enjoy."
Glen Rock will now head into the North 1, Group 2 state sectional playoffs where they are the No. 6 seed and will host No. 11 Mountain Lakes in the opening round on Tuesday afternoon.
Sandusky, AnnMarie Morra (2-for-4, R) and Swedelson (2-for-3, 2 RBI, R) all had multi-hit games for Mahwah. Cayla Nista had a hit and scored a run, Amell (1-for-4, RBI) drove in a run in the four-run fourth and Erin Pryor and Alexa Seidner had the other hits for the T-Birds, the top seed in North 1, Group 2 who will get their state run started at home on Tuesday against No. 16 Sussex Tech.
"We have seven seniors and we knew that our senior season could be special," said Swedelson. "We didn't know how special or that it would have this much intensity, but we kind of saw it coming and we want to keep it going as long as we can."
FOR MORE PHOTOS FROM THIS EVENT PLEASE CLICK HERE. TO BUY A COLLECTOR'S PRINT OF THIS STORY PLEASE VISIT 4-FeetGrafix.com.