Gaby Linde, who had 7 RBI in Tenafly's win over Ramsey in the Bergen County Tournament this past weekend, drove in two more on Tuesday as the Tigers closed the regular season with a 9-1 win at Demarest.
DEMAREST – Pick an emotion and there it was on full display around the Tenafly softball program in the last couple of days.
Here are a few:
Jubilation? See Sunday's win over Ramsey in the Bergen County Tournament's Round of 16 . Anticipation? Tenafly is heading to the county quarterfinals for the first time 2006 and will play on the road at perennial powerhouse Indian Hills.
Disappointment? There was Monday's loss to Northern Valley/Old Tappan, just the third of the season for the Tigers. Want some satisfaction? That was on exhibit as the Tigers closed out a 9-1 win on Tuesday to finish the regular season with a 16-3 record.
And then there is the story of senior Meghan George, who started and finished the game from inside the circle four years after nearly giving up the sport all together. Her emotions were all over the place as she headed to the postgame interview shortly after throwing a three-hitter.
"Are you going to make me cry again? I was already over there crying, my mother is crying and I might start again," said George, who got the spot start in place of junior Claire Guitmann, who moved over to start at second base. "I looked over at the scoreboard in the seventh inning and I wished we could go back to the beginning of the game. I was really glad to get to pitch my final game with such amazing teammates. I wouldn't be so emotional right now if I did not love them so much. That is why I am so emotional right now, but it was a good run."
And it was a good game, too, at least for the first few innings as NV/Demarest, with a bunch of injuries and four freshmen in the starting lineup, battled as it has all the way through a rebuilding season. George was perfect through the first three innings, but she was just about matched by Morgan Trado, Demarest's starting pitcher and one those freshmen learning on the job. Only an unearned run scored by Anne Schuermans in the top of the third inning separated the two teams at that point.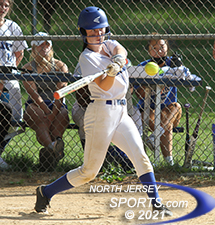 Grace Connolly drove in Demarest's run with a two-out single in the fourth.
Two more unearned runs in the top of the fourth gave Tenafly some breathing room before Demarest scratched out its final run of its season. Freshman Kayla Sanchez singled leading off, stole second and scored on Grace Connolly's two-out single.
"We missed out on a lot last year. We had a class of 10 seniors that never got to play their senior years and that junior class missed out on the opportunity to play with them. The nice thing about this season is that with all of the freshmen we have, this current senior class really supported them and really welcomed them as part of the team," said Rob Petrella, who was named Demarest's head coach last season but did not get to coach an actual varsity game until about five weeks ago. "No matter what the scores were they all supported each other and this is what I am most proud of. With four freshmen, every day was a learning process and I am looking forward to next year with this group."
Demarest had just three seniors, Leah Neils, Alexandra Papadopoulos and Samantha Rathberger, on the roster and just two in the starting lineup on Tuesday. The battery of Trado and Rosalia Ruggiero are both freshman as was the right side of the infield with Sanchez at second base and Lillian Hamlin at first. There are better days ahead for the Norsewomen, who picked up two wins in a 23-game season compressed into six weeks.
Their last rally came in the bottom of the fifth with two one-out base runners, Emily Lambert and Rathberger, but George (7 IP, 1 R, 1 ER, 3 H, 7 K, 1 BB) stranded them there and the Tigers broke the game open by sending 10 hitters to the plate and scoring six times. Every spot in the Tenafly lineup reached base safely at least once. Gigi Linde (1-for-4, 2B, R, 2 RBI), Gaby Linde (1-for-4, R, 2 RBI, SB), Guitmann (1-for-3, 3B, RBI), Alex Bugner (1-for-4, R, SB), Kendal Gordon (1-for-4), and Schuermans (1-for-2, R, RBI) all contributed at the plate in a balanced attack.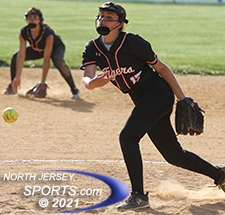 Megan George, a senior making her final high school start, went the distance on a three-hitter with 7 strikeouts and just one walk..
Gaby Linde, Tenafly's starting shortstop and No. 3 hitter, had 7 RBI in the Bergen County Tournament win over Ramsey on Sunday. Similar production would be a welcomed this weekend against second-seeded Indian Hills.
"We have worked really hard all season. In games, at practice, we always have each other's back. We support each other and work together as team," said Gaby, a junior who teams up with her twin sister to form the left side of the Tenafly infield. "We have to have the confidence that we are as good as whoever we play. We have to work together and we can win."
Guitmann will take the ball back for the 10th-seeded Tigers in Oakland on Saturday for their first quarterfinal game since 2006. A softball junkie who keeps up with the competition as best she can and plays with many on the club circuit, she knows exactly what is going on around the Bergen County softball scene.
"Ramsey is a top tier team with a lot of great players like Bella Sebastian and Sophie Cunningham and pitching to them in the county tournament was, honestly, one of the best experiences I have ever had. I don't know if they knew me, but I know so much about all of those girls. I watched all of them in the county championship a few years ago," said Guitmann. "I know a lot of the girls on Indian Hills, too, so it going to be really fun to finally get the experience of playing at that higher level in high school."
FOR MORE PHOTOS FROM THIS EVENT PLEASE CLICK HERE. TO BUY A COLLECTOR'S PRINT OF THIS STORY PLEASE VISIT 4-FeetGrafix.com.