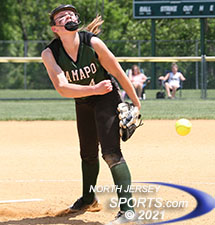 McKenna Lont threw a two-hit shutout and went 3-for-3 at the plate for Ramapo, which advanced to the quarterfinals of the Bergen County Tournament with a 16-0 win over Emerson on Sunday in Franklin Lakes.
FRANKLIN LAKES – After brutal losses earlier this season to both Indian Hills and Mahwah, Ramapo has learned that it needs to not only start fast but finish strong. The fast start part falls on the shoulders of leadoff batter Savannah Ring.
Facing upstart Emerson in the Bergen County Tournament, the last thing the Green Raiders wanted was to give the Cavos any hope of pulling the upset. The power-hitting shortstop showed that just one swing of the bat can be the spark.
On the very first pitch of the game, Ring hit a solo shot to right-center to put Green Raiders ahead. It did not take long for their lead to grow exponentially. They tacked on 10 more runs in the first inning alone as fourth-seeded Ramapo rolled over No. 13 seed Emerson, 16-0, in five innings in the Bergen County Tournament's Round of 16 on Sunday afternoon at Ramapo High School.
Emerson (13-4) came into the game on a high after a hard-fought win in the first round over Lyndhurst. That feeling quickly evaporated as Ring stepped to the plate with a mindset to be aggressive on the first pitch. She got just what she wanted, a fastball over the outer half of the plate. The junior ripped it over the fence in right field for her ninth homer of the season.
"I always want to set the tone so I'm ready to attack anything out over the plate," said Ring. "We all need to stay confident and be aggressive at the plate but also stay patient and wait for the pitch we want. We have a lineup where everybody can hit so we have to have good at-bats and keep the pressure on their defense to make plays."
Ramapo starting pitcher McKenna Lont helped her own cause with two hits in the opening frame, a double and a single, both of which drove in runs. Macy Eglington-Manner, Victoria Cunningham, Jenna DeLuccia, and Amy Psota all had RBI singles with the Green Raiders putting up their biggest inning of the season to take an 11-0 lead after one.
Lont was on cruise control from there both in the circle and at the plate for Ramapo (17-4). She not only twirled a two-hit shutout with two walks and three strikeouts but also added a three-run homer to go 3-for-3 with five RBIs.
The Green Raiders move onto the quarterfinals where they will face a familiar foe in fifth-seeded Northern Valley/Old Tappan, a 7-2 winner over Dumont. They squared off a few weeks ago with Ramapo scoring three first-inning runs en route to a 5-1 win. But facing one of North Jersey's leading strikeout artists in Old Tappan pitcher Raegan Germano, this team knows that one poor performance will spell the end of their county title hopes.
"You can't do better in setting the tone than (Ring) did today with a homer on the first pitch," said Lont, a junior right-hander. "Everyone really came together and we made it a point to jump on them early. The games get really tough from here on out and we'll be ready. The losses to Indian Hills and especially against Mahwah showed that nothing us going to be given to us and we have to earn everything."
FOR MORE PHOTOS FROM THIS EVENT PLEASE CLICK HERE. TO BUY A COLLECTOR'S PRINT OF THIS STORY PLEASE VISIT 4-FeetGrafix.com.