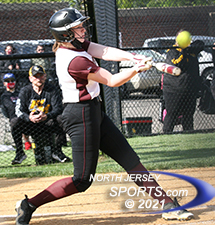 Kate Louer and the Clifton offense had it rolling in a 12-1 win over West Milford in the quarterfinals of the Passaic County Tournament on Wednesday.
CLIFTON – After a promising start this season, Clifton hit quite a skid over the past week. Three straight losses, including a 9-0 drubbing at the hands of Lakeland, humbled the Lady Mustangs. They felt the best way to get back on the right path was to get back to basics. Good pitching, solid defense, and being aggressive in the batter's box and on the basepaths is the recipe to success.
Facing West Milford in the Passaic County quarterfinals, Clifton did all of the above and put it all together at the right time.
Third-seeded Clifton pounded out 11 hits and sophomore Morgan Lesler shook off a tough first inning to settle into a groove. She got plenty of run support as the Lady Mustangs scored half of their runs in the third inning to easily advance to the Passaic County Tournament semifinals with a 12-1 win over No. 6 seed West Milford on Wednesday afternoon in Clifton.
"Morgan (Lesler) pitched well, we swung the bats, and this was our first game of the season that was error-free, that's a coach's dream," said Clifton head coach Ish Falcon. "I think once Morgan got adjusted to the wind and we made the adjustments at the plate everything fell into place."
West Milford (5-6) showed patience at the plate in the top half of the first inning, Samantha Araujo worked a nine-pitch walk and came around to score on a single by Allison Stein to grab the lead.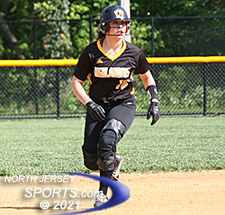 Samantha Araujo walked leading off the game and came around to give West Milford an early 1-0 lead.
However, it did not last long as Clifton came out swinging. Sherliyn Serrano and Chassidy Rodriguez each had run-scoring singles to put the Mustangs ahead, 3-1. They plated three more runs with RBI hits from Kate Louer and Lesler to pad their lead to 6-1 after two innings before continuing the onslaught in the third.
"After the first inning when my team got a few runs for me I felt more confident going back out there," said Lesler. "I missed out on playing in the county tournament my freshman year and want to make the most of it this season. If we play our game we feel we can keep going in this tournament."
Lesler settled in and took control in the circle while her team behind her made the plays and kept adding run support. Angie Gonzales, Amanda Bruno, Lesler, and Serrano all drove in runs with singles as Lesler closed out the five-inning contest and lifted Clifton into the Passaic County Tournament semifinals for the first time in five years.
Lesler allowed four hits with two walks and four strikeouts to pick up the win for Clifton (6-4). Serrano, Lesler, Gonzales, and Kiara Coy each had two hits.
The Lady Mustangs advance to the PCT semis, where they will face No. 2 seed Passaic County Tech. The two teams already played a classic contest earlier this season with Clifton earning a 9-8 victory. With that win in hand and a solid performance in all aspects in this game, Clifton head coach Ish Falcon feels this team is a threat to become Passaic County champions.
"This is a good win for us that we did a little bit of everything and everyone contributed," added Falcon. "We just have to continue to play smart and build off of this win. When we play like we play today we feel we can compete with anybody in Passaic County."
FOR MORE PHOTOS FROM THIS EVENT PLEASE CLICK HERE. TO BUY A COLLECTOR'S PRINT OF THIS STORY PLEASE VISIT 4-FeetGrafix.com.