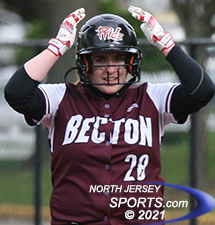 Emma Romano drove in the winning run in the top of the 10th inning for Becton, which knocked off perennial power Immaculate Conception on Monday afternoon.
LODI – Coming into the 2021 season Becton head coach Joe Coffaro knew his team had the potential good…really good. However, there is a difference between a competitive squad and one that is striving to win championships. Although the Lady Wildcats reeled off seven straight wins following an extra-inning loss to Nutley on the first day of the season, there was still a question of whether this team was a true post-season contender.
A win over Paramus last weekend was a positive step forward for the program, but the true measuring stick would come against Immaculate Conception, the class of the NJIC-Meadowlands Division and a Top 5 team in New Jersey.
If there were any questions left as to whether Becton is for real or not were answered in a game that played more like a county final than a regular-season game in mid-May.
Carly Polmann was masterful in the circle in her duel with IC's Daphne Santos. The teams combined for just four hits, but Becton got one of those just at the right time. Emma Romano's single brought home Caitlin Nozka in the 10th inning before Polmann slammed the door shut on one of the most surprising Bergen County upsets in recent memory and arguably the biggest win in the history of Becton softball with a 2-1, 10-inning win to hand Immaculate Conception its first loss of the on Monday afternoon at Hilltop Elementary School in Lodi.
"We just beat the top team in the Bergen County and this shows what I've been saying, I feel we can play with anybody when we're at our best," said Coffaro. "Now we're showing that we can win these kinds of games. Playing against this kind of competition feeds us and we constantly want to prove ourselves against the best teams around. Now we're one of them."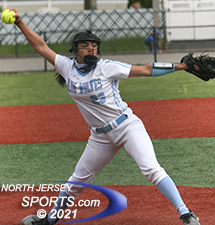 Immaculate Conception's Daphne Santos struck out a whopping 22 batters.
Becton came into the game on a high after the Paramus win and looked to set the tone early. The Wildcats had two runners on with one out in the opening frame but were unable to cash in. Santos' devastating change-up was effective all game long and struck out a pair of batters with it to wiggle out of trouble. All five of Santos' strikeouts in the first five innings came via her off-speed pitch.
Santos quickly settled in only to be matched by Polmann, who had everything working from her first pitch to her last. Against a balanced lineup with a couple of homerun threats in the middle, the poised senior right-hander knew that every pitch was important.
"Getting ahead in the count against them was so important because they have such a talented lineup," said Polmann. "We know a lot of their players from club ball. I had to get ahead and stay ahead in the count if I was going to keep them off-balance."
Polmann breezed through the first time in the order with her defense making the routine plays behind her before running into trouble in the bottom of the fourth inning. Santos helped her own cause with a leadoff double before coming around to score on an error to give IC a 1-0 lead. With the way Santos was dealing it appeared the one run might be all she would need. As the game wore on, Becton started to have better at-bats and that ultimately led to the game-tying run.
In the top of the sixth, No. 9 batter Demi Dembinski worked a leadoff walk and moved to third when a laid down bunt was thrown away. A game that was largely uneventful changed in one crazy play that featured Dembinski scoring the tying run, two different rundowns, and IC catcher Maddie Weir making a diving tag on Polmann to prevent any further damage.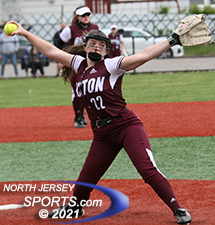 Carly Polmann allowed just two hits in 10 innings in picking up the win for Becton.
The game moved to extra innings and eventually to the international tie-breaker rule to start the 10th inning where a runner is placed on second base to start the inning. Nozka moved to third on a bunt bringing Romano up to the plate with the go-ahead run 60 feet away. Santos quickly got two strikes, but Romano hung tough before finally getting a pitch she could handle. She laced a fastball on the outer half of the plate over a drawn-in infield and into right-center to bring Nozka home and give the Wildcats a 2-1 lead.
"There was already a runner in scoring position, so I just wanted to get the bat on the ball," said Romano. "I knew if I got the bat on the ball the runner would have a good chance to score so that was my focus."
Polmann largely relied in working the count in her favor and trusting her defense to make routine plays behind her. Just three outs away from by far the biggest victory of her career, the senior reared back from something a little extra in the bottom of the tenth. She retired the side 1-2-3, including a strikeout to end the game and give Becton a victory that will give them plenty of respect but inside and outside Bergen County borders.
"We had nothing to lose and we had to keep doing what we were doing," added Romano. "This is awesome. We played like a team today and we got the job done."
Polmann allowed two hits, walked just one, and struck out seven in going the distance to pick up the win for Becton (8-1).
Santos took the hard-luck loss, striking out an eye-popping 22 batters for Immaculate Conception (7-1).
With two huge wins in the last three days, Becton is no longer a team hunting for respect. Now they are a team that has league and section titles in its sights.
"This is the best point of my career and this has been a major event for us together as a team," said Polmann. "We're so excited that we won and we're excited for the rest of the season. We're playing really well right now, but we have more to accomplish and we're just getting started."
FOR MORE PHOTOS FROM THIS EVENT PLEASE CLICK HERE. TO BUY A COLLECTOR'S PRINT OF THIS STORY PLEASE VISIT 4-FeetGrafix.com.