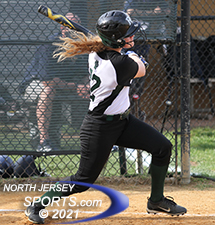 Eva Purvin's seventh inning homer capped the scoring in Ramapo's 5-1 win over Old Tappan on Wednesday afternoon.
OLD TAPPAN – It was hot, like summer hot, for the first time this year. The bus was late and when it finally arrived, the ride was a long one. None of that slowed the enthusiasm of the Ramapo softball team, which bolted off the aforementioned delayed bus and put up a three-spot in the opening inning against Old Tappan in Wednesday afternoon's marquee matchup.
As it turned out, that was more than enough for the Green Raiders, who are making up for lost time with a whirlwind schedule in a season that is not yet two weeks old. Ramapo improved to 6-1 on the season with a 5-1 victory over the last team to win a Bergen County championship.
The first batter of the game, Savannah Ring, hit a dipping liner that fell just in front of a diving defender, stole second and went to third on Savannah Nowak's perfectly placed bunt that went from a sacrifice attempt to an infield single. Nowak than stole second base and both she and Ring scored on McKenna Lont's two-run single to the opposite field.
Three hitters into the game Ramapo had a 2-0 lead, Lont later scored from third on a wild pitch and a three-spot in the opening frame was the perfect start for the Raiders.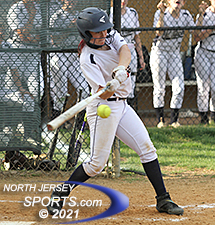 Tina Chugranis drove in Old Tappan's run with a two-out single in the third inning.
"That was huge to get off to a start like that against a team the caliber of Old Tappan. Ring getting on, Nowak executing the short game and then McKenna Lont getting the big hit there we…perfect start. Just being able to push those runs across early let us relax and play with the lead," said Darren White, in his second year as the Ramapo head coach but the first in which he actually has games to coach. "That gave the McKenna the confidence to just go out there and pitch and not worry about making a mistake or two against a team with a great lineup."
Lont worked around a leadoff single in the bottom of the first by Isabella Chugranis, Old Tappan's tough-to-get-out leadoff hitter, who singled and reached scoring position in each of her first three at bats. Lont (7 IP, 1 R, 0 ER, 9 H, 8 K, 0 BB) had two of her nine strikeouts in that opening frame to side-step trouble and Ramapo nearly busted the game open in its second turn at bat.
Again it was Ring (2-for-4, R, 2 SB) who got it started by beating out an infield single with one out before stealing second. Lont (2-for-3, 2 RBI, 2 R) followed with a two-out single and Sydney Samuel loaded the bases when she was hit by a pitch for the first of two times in the game.
It was right about then, however, that Old Tappan hurler Raegan Germano settled in. Germano, a junior right-hander who was the winning pitcher in the 2019 Bergen County final as a freshman, got a strikeout to leave 'em loaded and then started buckling some back legs with the expanded use of her well-disguised change up.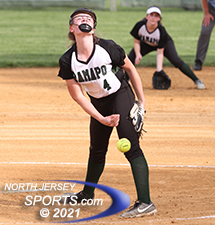 McKenna Lont struck out 8 and did not allow an earned run for Ramapo, which improved to 6-1 on the season.
Germano, who struck out 14 in the game, retired 7 of 8 hitters from the second through fourth innings with only a walk to Victoria Cunningham interrupting the streak. Then, in the fifth, Germano hit the first two batters of the inning before striking out the next three to keep her team in the game.
Old Tappan (5-1) snuck to within 3-1 in the bottom of the third inning when Germano reached on an error leading off and Isabella Chugranis' single put two on and Tina Chugranis got the Golden Knights on the board with a clean single to right field. With runners on the corners, Ramapo got the final out when Nowak threw through to start a 2-6-3 rundown that resulted in a tag by first baseman Macy Eglington-Manner before Isabella Chugranis could make it to the plate.
Eva Purvin capped the scoring Ramapo as the senior rightfielder cracker her first-ever varsity home run, a two-run shot over the leftfield fence in the top of the seventh inning.
Lont made Old Tappan earn every baserunner as she did not walk a batter and allowed just the unearned run for Ramapo, which has been building toward this crescendo for the last few years. This current group of seniors and juniors have been varsity contributors since their respective freshman years. They have more experience than most teams even with the lost season of 2020 and gave it a real go against Mount St. Dominic, the state's No. 1 team, this past Sunday. The Raiders trailed 3-2 in the sixth in that game and had the tying run in scoring position before losing for the only time so far this season, 4-2.
"[Former head coach] Frank Baldino and his coaching staff did a great job with this program. He got them organized and built a solid foundation and we are trying to expand on that," said White, who built a perennial contender at Group 1 Saddle Brook in his long coaching tenure there. "These kids are so coachable. They are so enthusiastic and it is a pleasure to show up to the field and work with them every day. We throw a lot at them and they just absorb everything with a great attitude."
FOR MORE PHOTOS FROM THIS EVENT PLEASE CLICK HERE. TO BUY A COLLECTOR'S PRINT OF THIS STORY PLEASE VISIT 4-FeetGrafix.com.