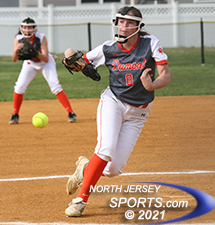 Heather Dloughy hit a clutch single in the bottom of the fifth inning and went the distance in the circle for Dumont, which beat a much-improved Cliffside Park team, 8-3, on Wednesday afternoon
DUMONT – Working through several seasons of tough games and learning from seniors is the time-honored way to build a program. The pandemic interrupted that cycle and in Dumont, a talented group of sophomores in 2019 is now a senior class thrust into a leadership role without much preparation for the job.
These seniors are learning on the fly, and, locked in a tie game with a vastly improved Cliffside Park squad with the first place in the Big North-American Division on the line the Huskies needed a spark and got one at the right time.
Heather Dloughy helped her own cause in the circle by lining a go-ahead two-out, two-run single in the bottom of the fifth inning. Dumont went on score three more runs in the frame and Dloughy slammed the door shut on an 8-3 triumph over Cliffside Park on Wednesday afternoon at Selzer School Field.
"We're still having some growing pains and we're still trying to work through some things during our first few games," said Dumont head coach Kendal George. "These girls are learning on the go, especially with the seniors learning how to be leaders. The last time these girls all played together they were sophomores. But we're really stepping up into our roles and we're getting better every day."
Cliffside Park has made major strides already in the program. After winning just four games in their past two seasons, the Red Raiders already have three this season. While Dumont has had its way with them in recent years, it took just one swing of the bat to let the Huskies know this game was going to be different. Freshman shortstop Ashley Bustamante crushed her first varsity homerun, an absolute bomb to left-center in the first inning to stake Cliffside Park to a 1-0 lead.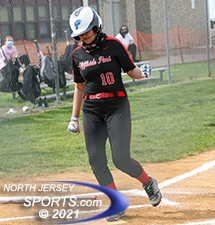 Cliffside Park freshman Ashley Bustamante touching the plate after her first varsity home run.
Defensively was where the Red Raiders struggled and it showed both of Dumont's two big innings. In the bottom of the second inning three errors wrapped around an RBI by Liz Robredo allowed Dumont to take the lead. But the Red Raiders did show flashes of good defense, including gunning down speedy Kiera Reilly at the plate to end the inning and limit the damage to just three runs.
Cliffside Park kept grinding away and evened up the game in the top of the fifth when an RBI single by No. 9 batter Dariana Sanchez brought Mattingly Rodriguez around to score. The Red Raiders could have been in a better position if not for Dumont senior catcher Gia Diaz throwing out a runner trying to steal third to end the top of the fourth inning before applying a slap tag on a play at the plate in the fifth.
In the bottom of the fifth, Kelsey Boyhen drew a one-out walk and went to third on a double by Diaz. Cliffside Park right-hander Ariana Hartman then induced a pop-up before Dloughy stepped to the plate. With a base open the Red Raiders elected to pitch to the sweet-swinging lefty. Dloughy made them pay by ripping a ball through the hole in the left side of the infield to score both runners for a 5-3 lead.
Three more runs came around to give Dloughy plenty of cushion in the circle going into the final two innings. She also benefitted from consecutive great defensive plays to end the game, one on a diving catch by Boyhen in center and the other on a running catch against the fence by first baseman Kiera Joyce.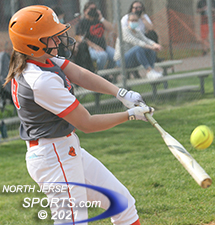 Gia Diaz had three hits for Dumont, which improved to 5-1 on the season.
"Their pitcher was throwing a lot of outside pitches so that's what I was looking for when I came up to bat," said Dloughy. "I made sure I went with the pitch instead of trying to pull it."
Dloughy did not walk a batter and struck out six to pick up the win for Dumont (5-1). Diaz led the way offensively with three hits.
Kaylyn Benitez, Bustamante, Rodriguez, and Sanchez each had two hits for Cliffside Park (3-3).
"We just gave away too many extra outs today and it caught up with us," said Cliffside Park head coach Brooke Bigler. "We have no seniors this year and we're working hard to build this program up. Dumont is the best team in our league, and we had a shot to win today. It's a game that we can learn a lesson from and it will make us better in the long run."
With three games ahead against quality competition coming up this weekend, highlighted by a tilt against Mahwah on Friday, the Huskies feel it is a measuring stick of how deep this team can go in both county and state tournaments this season.
"We picked up our momentum late in the game, but we can't wait to get going in the games we have coming up," said Diaz. "There are things we still need to work on, especially with a game against Mahwah on Friday. We need to decrease the errors in the field and get our bats going earlier than we did today. If we do that and we continue to work together then we'll be fine."
FOR MORE PHOTOS FROM THIS EVENT PLEASE CLICK HERE. TO BUY A COLLECTOR'S PRINT OF THIS STORY PLEASE VISIT 4-FeetGrafix.com.