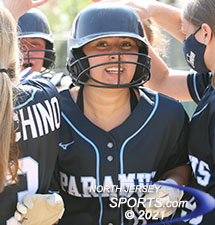 Katie Koutros hit a two-run homer and pitched out of trouble in the seventh inning for Paramus, which beat Ramsey, 9-5, in the opener of the HOFS Classic on Saturday in Franklin Lakes
FRANKLIN LAKES – After having her junior year wiped away due to the pandemic Paramus pitcher Katie Koutros has relished the thought of living in the moment and making the most of getting back on the diamond in 2021. Facing off against perennially tough Ramsey, Koutros watched her early four-run lead whittle down to a single run. The Rams had all the momentum going into the final two innings only for the energetic senior to change that with one swing of the bat.
Koutros slugged a two-run shot then wiggled her way out of a seventh-inning jam as Paramus picked up a quality win to open the HOFS Classic with a 9-5 triumph over Ramsey on Saturday morning at Ramapo High School in Franklin Lakes.
"We're a young team and not playing last year has taken a number on our young girls, so we're still working through some things," said Koutros. "Nothing is for certain this season and every game could be your last. It's not just that we're a winning program, but it's a desire to continue that tradition and get better every day. The talent is there on this team. We're a little rough around the edges right now but this is a big win for us and it's a step in the right direction for this team."
Katie Murray helped set the tone for the Spartans in the top half of the opening frame. She fought off a tough pitch and got enough of her bat on it to bloop it to center for an RBI single. Then, on a potential inning-ending double play ball, she hustled off the ping of the bat and caused an errant toss for the force at second. That allowed two runs to score and Murray later came around to score herself as Paramus jumped out to a 4-0 lead.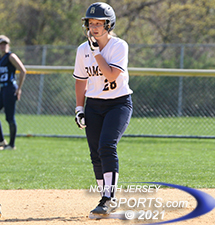 Sarah Pitcher had two RBI doubles for Ramsey.
Ramsey took advantage of numerous Paramus errors throughout the game. Scoring two runs on errors alone along with an RBI double by Sarah Pitcher (one of her two RBI doubles on the day) to help move the Rams back within striking distance.
The deficit was just a run when Ramsey put the tying and go-ahead runs in scoring position in the bottom of the fourth. Koutros did not have her best stuff but made key pitches when she needed to, preserving the lead by stranding both runners.
The score was still 4-3 in the top of the sixth with a runner on third and one out when Koutros stepping to the plate. Although there was a base open the Rams elected to pitch to Koutros and she made the most of the opportunity. She got a fastball over the outer half of the plate and crushed it to right-center for a two-run homer to pad the lead to 6-3.
"I went up to the plate with an open mind and wanted to make good contact," said Koutros. "I knew if I got one out over the plate that I needed to drive it. I got a good pitch to hit and went with it."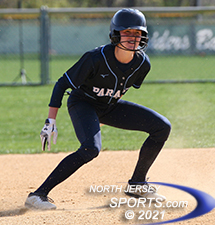 Katie Murray helped get Paramus's offense going in the opening inning
In the top of the seventh, the Spartans scratched their way to plate three insurance runs for a seemingly comfortable five-run lead. However, that comfort slipped away quickly for the Spartans as three straight errors to open the inning loaded the bases with nobody out. Koutros never wavered in her confidence or her ability to pound the strike zone. She allowed just one of those runners to score as Paramus held on to improve to 2-1 on the season.
"This was a quality team we played and quality win for us," said Paramus head coach Brian Hay. "I thought we came up with some timely hits but we what did we have seven errors? As we move on in the season we won't be able to get away with it. You have to learn to win. A lot of these kids are still getting their feet wet on the varsity level. Once we get a better understanding as a whole of what it takes to win and how we have to play to do it then we'll be a better team."
FOR MORE PHOTOS FROM THIS EVENT PLEASE CLICK HERE. TO BUY A COLLECTOR'S PRINT OF THIS STORY PLEASE VISIT 4-FeetGrafix.com.