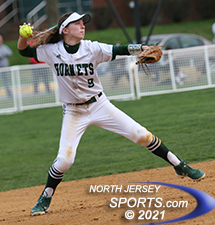 Taylor Hill hit a key double in the sixth inning to help lead Passaic Valley to an 8-6 win over Fair Lawn in the season opener for both teams..
LITTLE FALLS – With a seasoned group of veteran players taking the field this season for one last shot at championship glory it appeared that Passaic Valley hit the ground running. The Hornets quickly forged a 5-0 lead only to watch it evaporate completely against Fair Lawn going into the bottom half of the sixth inning.
With the top of the lineup coming up it represented the Hornets best shot to swing the momentum back in their favor. They leaned on a trio of seniors and all of them came through when it counted.
Taylor Hill led off the sixth with a double and scored the tying run. Later in the inning with two outs, Rachel Alecci lined a double to bring home the go-ahead run before Devyn DiPasquale slammed the door shut in the circle as Passaic Valley delivered the final blow in a see-saw battle with the Hornets eventually holding on for an 8-6 win over Fair Lawn on Opening Day in Little Falls.
"This game felt like our season-opening game two years ago when Taylor hit that walk-off grand slam to end it, it was a lot of fun," said DiPasquale. "I trust my defense and when we get into the dugout to hit we never feel we're out of it. Today we felt like us, how we're used to playing. It was a good test and a nice way to roll into the season."
Setting a tone is something Passaic Valley head coach Kathy Hill constantly preaches to her team. They did just that with some clutch hitting in the opening frame of the season. DiPasquale lined a two-out single and starting pitcher Sophia Payne helped her own cause by lining a shot to the centerfield fence for an RBI double. The Hornets kept the hot bats going two innings later with a four-run outburst. Half of those runs came on a double by Savannah VanWinkle to cap the inning and put PV ahead, 5-0.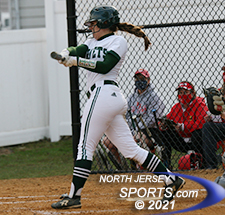 Rachel Alecci drove in the winning run for Passaic Valley.
Fair Lawn scratched its way back within striking distance before pulling ahead with three runs in the top of the sixth. The Cutters had patient at-bats throughout working a pair of walks that forced Hill to make a move in the circle to DiPasquale. But the first batter she faced, Fair Lawn's Ashley Martini, was able to get a hold of one and drive an outside fastball to right field for a two-run double that gave Fair Lawn a 6-5 lead still with just one out in the inning. DiPasquale was able to escape further trouble by stranding a pair of runners in scoring position.
As the Hornets jogged off the field in between innings there was no panic and only positive banter between them. They knew what they had to do; it was time to refocus their energy towards gaining back the lead.
Hill, the University of Hartford-bound shortstop, was held in check by Fair Lawn right-hander Kylie McNamara, a rarity for one the best hitters in New Jersey. A player like Hill though can only be contained for so long. She led off the bottom of the sixth by lacing a double to left-center field gap before coming around on a DiPasquale single to tie the game. It looked like it was just a matter of time before PV regained the lead with runners on second and third and nobody out.
With the runners going on contact, Payne ripped a shot that could have scored two if not for Fair Lawn centerfielder Kayla Gauthier. Not only did she make a nice running catch but had the presence of mind to fire to second for the double play with the runner from third staying put.
That meant that Alecci stepped to the plate needing a hit to score the go-ahead run. She eventually got a pitch to handle and drilled a double that put PV in front, 8-6. Fair Lawn got the tying run to the plate by DiPasquale closed the door with finesse with a nasty change-up for the game-ending strikeout.
"I was just thinking about hitting the ball hard and getting it in play," said Alecci. "Whenever I think too much about a situation it doesn't seem to go my way. It's always best for me to keep things simple. You just have to settle back in and trust yourself."
With a 1-2 pitching combo, a solid defense and lineup that can hit from top to bottom the Hornets are poised to make deep runs at a league title along with Passaic County and North 1, Group 3 section titles. While this is a quality win to start the season, there is a long way to go and plenty of work still ahead.
"This group has been together a long time and I'm glad that experience showed today," said Passaic Valley head coach Kathy Hill. "The calmness we have was definitely a positive thing once we got down and that comes with experience. They just put their minds to it and got the job done. I think once that offensive seal breaks off and we string some innings together we'll be a fun team to watch for the rest of the season."
FOR MORE PHOTOS FROM THIS EVENT PLEASE CLICK HERE. TO BUY A COLLECTOR'S PRINT OF THIS STORY PLEASE VISIT 4-FeetGrafix.com.