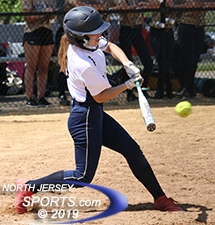 Kiera DeNichola hit a bases clearing double that blew the game open as Northern Valley/Old Tappan advanced to the Bergen County championship game for the first time in school history with a 9-4 win over Indian Hills on Saturday afternoon.
PALISADES PARK – Despite a strong run through the Bergen County Softball Tournament thus, Northern Valley/Old Tappan was flirting with danger because of slow starts in each of its three tourney wins. Facing an Indian Hills team that already beat them earlier in the year the Golden Knights knew that another late-inning comeback was going to be unlikely. With that in mind and school history at stake, Old Tappan pounced on scoring opportunities early and often.
The Golden Knights had five straight hits in the top of the first inning. Kristen Brown capped the outburst with a two-run single as ninth-seeded Northern Valley/Old Tappan jumped out to a four-run lead and led wire-to-wire for its first county final berth in school history with a 9-4 win over No. 4 seed Indian Hills in the Bergen County semifinals on Saturday afternoon at Overpeck Park in Palisades Park.
"We're the type of team that if we don't have fun we don't play well," said Northern Valley/Old Tappan senior shortstop Rebecca Clyde. "Coach (Melissa) Landeck has really impressed upon us how important it is to score early and set the tone. Our approach was to get on top early and try to hold them down from scoring runs. This is such a joy to be a part of this and we're enjoying this run while we can."
It looked like another slow was imminent as the first two batters in the Old Tappan lineup were retired. With this being their last go-round in the Bergen County Tournament, the Golden Knights' seniors came through in the clutch. Megan Weis got things started with a single and Cynthia Gordon singled on a full-count to send Weis to third. Calista Zahos followed by punching a single to right to give Old Tappan the lead. A fourth straight senior hitter reached safely when Gabby Ramundo doubled to right to bring home another run and put two runners in scoring position. Brown, a sweet-swinging lefty, roped a fastball through the right side to score both Zahos and Ramundo to put the Golden Knights ahead 4-0 before the Indian Hills even stepped to the plate.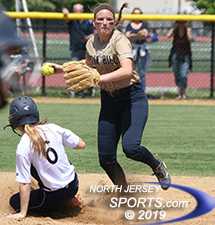 Kelly Hoover trying to spin a double play for Indian Hills, which fell to 20-7 on the season.
"We didn't have anything to lose so we were loose and we had fun," said Zahos. "We all just looked for our pitch and didn't try to do too much with it."
Between her success in the circle as of late and the early run support freshman right-hander Raegan Germano was on cruise control early. She got ahead of batters consistently and kept the Braves off-balance as the Old Tappan continued to pad its lead. The big blow came in the fifth of the bat of red-hot No. 9 batter Kiera DeNichola. She followed up a 3-for-3 performance in a state tournament win over Parsippany Hills on Thursday by rocking a bases-clearing double to left-center that boosted the Golden Knights lead to 9-0.
Indian Hills showed no quit and rallied to get three runs back in the bottom half of the fifth. They had a chance to cut the lead even further with two runners on but Weis made a nice running catch in right-center to end the threat.
"We knew we had to have good at-bats and make some plays if we wanted to win," said Weis. "I thought our approach at the plate was great all day. Until you find that one pitch you want don't swing. We focused on getting our pitch in our spot then going after it."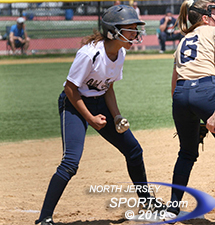 Rebecca Clyde and Old Tappan will face two-time defending chanpion Ramsey in the county final next weekend.
The Braves made one last stand in the bottom of the seventh by getting the first two runners on. Germano once again showed the poise of an upperclassman by getting three straight outs including a pop-up to Zahos at second to end the game and send Old Tappan into the Bergen County final.
Gordon paced the offense onslaught going 3-3 for Northern Valley/Old Tappan (18-8). Sinead Albelli, Weis, and Ramundo each added two hits. The win was Germano's third straight in the Bergen County Tournament.
Nicolette Perrone had two hits, a run scored, and an RBI for Indian Hills (20-7). In an odd twist to the game, each team's seed number matched the number of runs they scored in this game. The only silver lining for the Braves is that they will not have to wait long for a shot at revenge. The two teams square off again tomorrow in the North 1 Group 3 quarterfinals of the NJSIAA state tournament.
For Northern Valley/Old Tappan playing in a Bergen County final is completely uncharted territory. Facing two-time defending county champion Ramsey the Golden Knights will try to add one last chapter to their improbable run.
"We've had a tough schedule to get to this point and we've had to beat some really good teams to get here," said Northern Valley/Old Tappan head coach Melissa Landeck. "Our kids have worked really hard and we've made steady improvement throughout the season. To make the county final for this group is a really special accomplishment."
FOR MORE PHOTOS FROM THIS EVENT PLEASE CLICK HERE. TO BUY A COLLECTOR'S PRINT OF THIS STORY PLEASE VISIT 4-FeetGrafix.com.