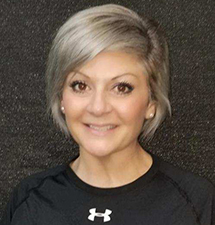 Leslie Korkgy-Valenti will coach a 12U team at the USA Softball Hall of Fame Stadium, the same place where the College Softball World Series is played, in Oklahoma City, OK this coming June.
LODI – When former Leonia High School and Muhlenberg College star Leslie Korkgy-Valenti finished her professional playing career internationally she wondered just how and where her life-long softball odyssey would take her. There have been many twists and turns throughout her professional career and her life in softball. Throughout the past 20-plus years she has developed into a figure that is revered in softball circles not just locally, but nationally as well.
Recently, Korkgy-Valenti was selected to coach one of the Northeast Regional teams for the USA 12U Softball All-American Games sanctioned by the ASA. The games will be played at the USA Softball Hall of Fame Stadium, the same place where the College Softball World Series is played, in Oklahoma City, OK this coming June.
Having been in and around softball since fourth grade, Korkgy-Valenti forged many relationships along the way from her days at Leonia through her time at Muhlenberg, where she eventually got involved with one-on-one instruction. Among her many friends in the game and one of her best is current East Stroudsburg University head coach Jamie Wohlbach.
"We worked together and became instant friends, the passion we have for the game made me realize that I want to do more at some point," said Korkgy-Valenti. "We have stayed close ever for quite some time. We have a great friendship, a great working relationship, and it has certainly opened some doors; none bigger than the opportunity with coaching at the 12U All-American Games."
Currently, Korkgy-Valenti is the founder of AllStarz Baseball & Softball practice facility in Lodi. Along with the private instruction that Korkgy-Valenti provides, the facility features the PX2 ProSimulator that is used by a slew of Major League baseball players both as a batting machine as well as being used for defensive drills.
The other feature at AllStarz is the StrikeOut Pro. A machine that simulates a batter being in the batter's box with 'hot zones' along with each pitch and location being charted on a tablet. It can even set up a simulated game against a particular batting order.
"At AllStarz we preach old-school fundamentals," added Korkgy-Valenti. "It's about doing things the right way, keeping kids safe, and keeping them confident as well. The PX2 is in Yankee Stadium and professional players rave about it, and the StrikeOut Pro is very beneficial for pitchers trying to hone their skills and hit their spots. AllStarz is a grassroots facility that always aims to keep the kids interested and incorporate the parents in all lessons to help with their development."
Korkgy-Valenti's path has led her all over the world for softball and will lead to Oklahoma City from June 8th-10th. There will be three teams representing the Northeast Region with Korkgy-Valenti at the helm of one of those squads, who will play at least four games. She knows it is an once-in-a-lifetime opportunity and is prepared to enjoy every second of her time there.
"The top 12U softball players from all over the country playing on the same field where the College World Series is held, so this is the real deal," said Korkgy-Valenti. "The competition will be great and it's an experience that kids nor I will ever forget."
TO BUY A COLLECTOR'S PRINT OF THIS STORY PLEASE VISIT 4-FeetGrafix.com.