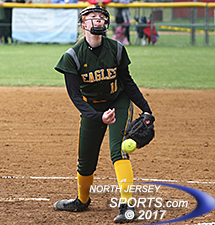 Senior Brooke Wiarda struck out 10 in a complete game 6-hitter as Morris Knolls won the North 1, Group 4 state sectional title with an 8-2 win at Fair Lawn.
FAIR LAWN - To put into perspective just how successful of a season it had been for the Fair Lawn softball program heading into Tuesday's North 1, Group 4 state sectional final for which it was the host team, head coach Sue Benjamin was asked to run down the list of accomplishments.
"We had a lot of firsts this season. It was a season where we accomplished a lot of things that we didn't even exactly set out to," said Benjamin. "We beat IHA twice, we beat West Milford twice, we won the league, we beat Ridgewood for the first time in recent program history, we had a 19-game winning streak, we made it to the semis of the Bergen County Tournament, which we had never done in my tenure, and we got the state sectional final, which we hadn't done. Those are a lot of things that we are very, very proud of."
Fair Lawn also earned the No. 1 seed in the state sectional tournament and hosted the final on Tuesday, but it was there that the Cutters ran into an opponent that was not taking part in its first state tournament rodeo. Morris Knolls has been to each of the last four North 1, Group 4 championship games, but having lost the last two, the Eagles were on a mission to halt that streak of disappointment.
An experienced club with plenty of motivation, Morris Knolls set the tone early as it scored five times in the first three innings on the way to an 8-2 victory at the Dubrow Complex in Fair Lawn.
"This is the fourth year in a row that we have been here, but we have not won since 2014. We lost the last two, 2-0 to Ridgewood in 2015 and last year to Livingston, which beat us pretty good. This one feels better than the last two, definitely," said Morris Knolls head coach Keith Heinemann. "The approach was we were going to be patient. We didn't care if we took strike one. We knew we were going to put the ball in play and we wanted patient at bats."
Danielle Jurcevic, who had two of Fair Lawn's six hits, about to land on the plate after her sixth inning home run.
Melissa Ackerman, the third batter of the game, stuck to that game plan and cranked a two-run homer over the rightfield fence to give her team the lead for good. CJ Shaw (2-for-4, 2 R) led off the top of the first with a single and scored ahead of Ackerman's two-run bomb.
"The first two pitches were low and Coach [Heinemann] told me before the game even started to be patient and to wait for a pitch that I could drive," said Ackermann, MK's senior centerfielder. "The first two were low, the third one came up a little bit and the fourth one was right where I wanted it; middle in and I knew just to drive it hard somewhere."
Morris Knolls showed off its diverse offensive attack as it built its second-inning run. Breanna O'Shea beat out a bunt single leading off, Brooke Wiarda bunted her into scoring position and Jess Heitmann, the daughter of former Fair Lawn head coach Joe Heitmann, singled. An errant throw allowed O'Shea to score to make it 3-0 and O'Shea added a two-run double with two on and two out in the top of the third to make it 5-0.
The early cushion lessened the stress for Wiarda (7 IP, 2 R, 1 ER, 6 H, 10 K, 1 BB) Morris Knolls' senior starting pitcher who pounded the strike zone all game long. She faced the minimum over the first two innings and the first trouble she got into was self-created. Wiarda hit Lauren Burke with a pitch leading off the third inning and courtesy runner Caitlin Carney moved up a base on an error before scoring on Danielle Jurcevic's two-out single. The only other damage against Wiarda was a Jurcevic's solo home run leading off the bottom of the sixth.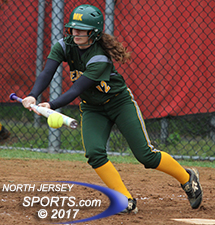 Breanna O' Shea had three hits and 2 RBI for Morris Knolls, which will play either North Hunterdon or Bridgewater-Raritan in the Group 4 semifinals.
Fair Lawn's come-from-behind win over state power IHA in the regular season certainly raised eyebrows across the state. Wiarda was aware of it.
"We knew that this team could come back. We knew that because of that game they played when they came back to beat IHA, so we really wanted to get on them early and just keep going. Our goal was to win every inning and keep building a lead," said Wiarda. "I just had to make sure I really hit my spots and kept spinning the ball. My curveball was curving a lot today and that was really helpful."
Ackerman (3-for-4, HR, 4 RBI, 2 R) added to her big day at the plate with a two-run single in the fourth and Wiarda drew a bases loaded walk to force home the Eagles' final run in the top of the fifth. Shaw, Ackerman, Meaghan Thompson (2-for-4, R) and O'Shea (3-for-4, 2 RBI, SB) all had multi-hit games for Morris Knolls (24-4), which will play the winner of North 2, Group 4 final between Bridgewater-Raritan and North Hunterdon, which was postponed on Tuesday and will be played on Wednesday.
"They are both very good teams and it doesn't get any easier, but we are there so we have a chance," said Heinemann. "Hopefully we can find a way to win and keep this season going a little longer."
The season is over for Fair Lawn but the final result of the final game of the season should not put a damper on all the Cutters accomplished this year, which might just lay the ground work for what is to come in 2018. Seniors Lauren Burke, the left-handed catcher, and Danielle Burke, the stand out shortstop and Fair Lawn's clean-up hitter, will both be missed, but the rest of the starting lineup will return intact, including both pitchers that the Cutters used on Tuesday, Alyssa Schmidt and Emily Meerholz.
"It is always a tough day when you lose in a big game that ends the season, but it doesn't take away from the season with did have and all of the things that we accomplished," said Benjamin, whose team finished with a 24-4 record. "It just wasn't our day today."