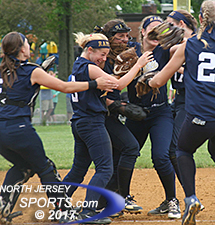 Ramsey celebrated the programs first Bergen County title since 1994 and the first for any small school since 1997 after its 13-4 win over Immaculate Conception on Saturday at Mahwah High School.
MAHWAH - Ramsey head coach Chris Caserta set up his team's schedule this season to make sure his talented team faced adversity early in often in order to toughen up his team for what he hoped would be deep runs in county and state tournament play. However, the well-rounded Rams got off to a hot start and never cooled off.
They won their first 26 games, which included 14 shutouts, 10 wins via the mercy rule and, remarkably, they only trailed in four of those games with all of those deficits lasting all of half an inning). As dominant as the Rams have been, their season will be defined by the amount of hardware the collect in late May and early June.
Their first opportunity came on Saturday against a hungry Immaculate Conception team in the Bergen County Tournament final. With a long-awaited county title on the line, Caserta's squad was faced with its biggest deficit of the season when the Blue Wolves struck for four early runs. That only proved to be a bump in the road though as Ramsey slugged its way out of trouble and into Bergen County folklore with a total team effort.
The comeback started in the bottom half of the second inning with a two-out homer by Victoria Sebastian that tied the game at 4. An inning later, Gabby Marchisin's two-run single gave Ramsey the lead for good. Victoria Sebastian, a sophomore, and sister Olivia, a freshman centerfielder, had perfect days at the plate combining to go 8-for-8 at the plate as top-seeded Ramsey pounded out 19 hits and scored 13 unanswered runs to win its first Bergen County title since 1994 with a 13-4 romp over third-seeded Immaculate Conception at Mahwah High School.
"We prepared mentally for some adversity today and we were able to overcome it," said Caserta. "Everyone is going to talk about Victoria's homerun and rightfully so, But we got a couple of two-out hits that set up the homer. We had everyone contributing and we got the team effort we needed to win. Our lineup is designed to have balance and we showed that today. For us to be a Group 2 school in a stacked tournament to cash in the way we did today, I couldn't be more proud of what we've accomplished."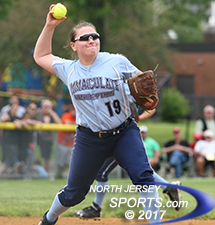 Freshman Faith Camilleri drive in three of Immaculate Conception's four runs as the Blue Wolves took an early lead.
Immaculate Conception was making its first-ever appearance in a Bergen County final. The Blue Wolves made it clear early that they were not just happy to be there. They used a keen eye at the plate and took advantage of a tight strike zone to get runners on base before Faith Camilleri did the damage. She lifted a sac fly in the first inning and added a two-run single in the second as Immaculate Conception jumped out to a 4-0 lead after one-and-a-half innings of play.
The Rams were coming off just their second close game of the season on Friday, with a 2-0 win over Vernon in the North 1, Group 2 state sectional semifinals. Despite another adverse situation, they never flinched and it was the bottom of the order that got the Rams going in the right direction. Morgan Sweeney and Dani Dougherty both singled before Olivia Sebastian, the No. 9 batter, stroked a single to bring home courtesy runner Kaitlin Houser to get Ramsey on the scoreboard and put runners at the corners with two outs.
That brought up Victoria Sebastian in a pressure situation. Even with a base open, the Blue Wolves elected to pitch to Sebastian and that proved costly as the sweet-swinging lefty kept her hands inside the ball and went the other way with an outside fastball. She slugged it to left-center for a three-run homer that not only tied the game at 4, but re-energized the Ramsey dugout.
"After I walked so many batters in the first two innings, I knew I had to relax and my teammates really picked me up," said Victoria Sebastian. "When I was at bat I knew I couldn't carry what had already happened into the field with me. I just wanted to get a base hit and it turned out for the better. The best part of the homerun that I was able to help get those four runs back that I gave up in the first inning."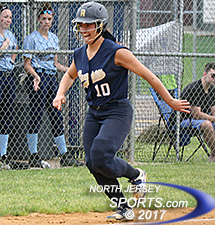 Ramsey sophomore Victoria Sebastian heading home after her three-run home run tied the game at 4.
In the bottom half of the third inning, the Rams' bottom half of the order was at it again. This time it was Marchisin providing the big blow by driving a two-run single to right that scored two runs for a 6-4 Ramsey lead.
"I was thinking one pitch, one zone that was really it," said Marchisin. "I was trying to get a good swing, move the runners up, and set up the next hitter (Dani Daugherty) with runners on base. I think pitchers often underestimate the bottom of the lineup and figure that they are mostly bunters. From Victoria down to Olivia, we can really hit the ball and I think that has an effect on teams we play."
The score remained that way until the fifth when the Rams broke the game wide open. After a run scored on an error, the bases were loaded with senior captain McKenzie Bishop at the plate. As she has throughout her four-year varsity career, Bishop delivered when it counted most. Her double brought home two runs when a throw to the plate got kicked away. Fellow senior Maddie Taradash alertly dashed for home plate and used a head-first slide to sneak under the tag of IC pitcher Caylee English for a commanding 11-4 lead.
The Rams tacked on two more insurance runs but did not need them as Victoria Sebastian settled down in the circle after a rough start to pick up the win. The southpaw did not allow another run and the defense made all the plays behind her as Ramsey won its first Bergen County crown in 23 years and the sixth in the program's history.
"Once we got the lead I just had to throw strikes and trust my defense to make the plays behind me like they have been all season," said Victoria Sebastian.
Both Sebastian sisters shined at the plate, each going 4-for-4 to lead Ramsey (27-0). Victoria hit her ninth homerun of the season and allowed just four hits with one earned run in the circle. Olivia had a career-best four hits with an RBI and a run scored. Six of the nine starters collected at least two hits.
Camilleri provided most of the offensive production driving in three of the four runs for Immaculate Conception (26-4).
Ramsey will now have its sights set on a North 1 Group 2 title on Tuesday in a duel with third-seeded Jefferson. But for now, the Rams are going to celebrate not only being champions but also doing something that very few teams have done in recent memory. On top of having a fantastic season that has been nothing short of perfect thus far, the Rams became the first small public school (Groups 1 and 2) to win a Bergen County title since River Dell did it 20 years ago. It is a source of pride for girls who have played together and stuck together since they started playing softball back in elementary school.
"07446, that's our zip code here and we love that we've grown up here, started playing softball at a young age, and we were playing for Ramsey today just as we always do," added Marchisin. "It's been an insane ride. We're such a close team and we have fun all the time. But that comes with working hard every day and believing in one another. We knew coming into the season if we worked hard every day and we worked together that we'd have a chance to do something special."