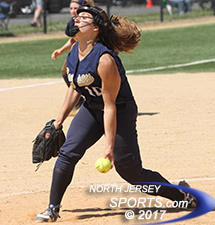 Sophomore Victoria Sebastian threw five shutout innings in the circle and also had two hits for Ramsey, which reached the Bergen County final for the first time since 1994 with a 10-0 win over Dumont.
PALISADES PARK -- The sound that a softball makes when it is concussed at the point of contact where it meets a violent swing is distinct one. Different than the one a baseball makes, where it is more of a high-pitched ping, a well-struck softball makes more of a heavy thud. This kind of observation is one that comes to mind while watching the undefeated Ramsey softball team play offense. It's one heavy thud after another.
Up against Dumont in the semifinals of the Bergen County Tournament on Sunday at Overpeck Park, Ramsey sent 11 hitters to the plate in the very first inning, scored six times and pounded its way to a 10-0 victory that ended after four-and-a-half innings at Overpeck Park in Palisades Park. The Rams thumped their way to their first county tournament championship game since 1994 by pounding out 11 hits in their four turns at bat.
"I know it semi-looked easy out there, but it wasn't. Dumont is a very good team. They have a very good lineup, they have a very good pitcher and we have a massive amount of respect for them. They are in this spot because they are good," said Ramsey head coach Chris Caserta. "So we knew that we had to be good, too."
Ramsey was good indeed as it worked its way out of the only trouble spot it found itself in in the top of the first inning and then never looked back. Dumont's Courtney Deloughery opened the game with an infield single and Lauren Naveo followed with a sacrifice bunt attempt that turned into a base hit to put two Huskies on with no outs.
Ramsey's starting pitcher, the left-handed sophomore Victoria Sebastian, got the next three hitters in order without either of the runners moving up a base and then she kick-started the offensive in the bottom half of the inning with a leadoff double to deep centerfield. Emma Cunningham, McKenzie Bishop, Maddie Taradash and Dani Dougherty all had hits, Morgan Sweeney and Olivia Sebastian each drew walks and Gabby Marchisin added a sacrifice fly as the Rams sent 11 hitters to the plate in the six-run opening inning. Cunningham, in fact, had two hits in the opening inning to go with an RBI and a run scored.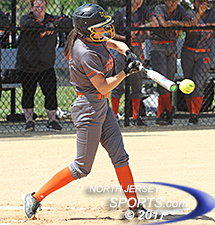 Courtney Deloughery had a perfect 3-for-3 day at the plate for Dumont, which will host Pequnnock in the North 1, Group 2 state sectional quarterfinals as soon as the weather allows.
"It definitely took a lot of the pressure off of me. Six runs in the first inning is a nice cushion to work with, but, honestly, we didn't feel like those six runs were enough," said Victoria Sebastian, who reached safely in both of her first inning plate appearances. "Dumont has good enough batters where they could make something happen, they had a lot of hits and got on a lot, but our defense played well and made the plays when they needed to."
Ryan Henry, Ramsey's junior catcher who is already committed to play at Division 1 Fordham for the 2019 season, led off the bottom of the second with a single and her courtesy runner, Alexa Kerr, stole second. Sweeney (1-for-2, 2 RBI, 2 R) then made it 7-0 with a double to right and Ramsey got to the 10-run threshold with three more runs in the bottom of the third. Instead of starting the rally this time, Henry (2-for-3, HR, 2 RBI) finished it with a two-run blast that landed well beyond the left field fence right after Bishop (2-for-3, 2 RBI, 2 2B) had driven in the Rams' eighth run with a double.
Even with all that came after it, Henry pointed back to the top of the first inning when the Rams escaped the two-on, no-out situation with no resulting damage as the turning point of the game.
"They got those two runners on and our defense was like, whoa, we have two runners on and Jen Sweeney up, one of the best hitters in the state and in the county. We had to buckle down and get our defense in check," said Henry. "With the energy that this team has, we have an amazing connection that we can get out of those situations and we trust each other to make those plays. Having a situation like that right away, we all got amped up and those experiences are the ones you live for."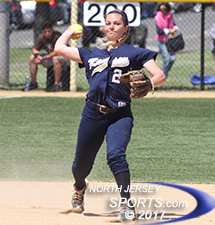 McKenzie Bishop had two doubles and two RBI for Ramsey, which will play Immaculate Conception in the county final next Saturday in Mahwah.
If allowing an infield single and a bunt base hit in the first inning are what Ramsey had to search for to find some type of negative then it is obvious that it was a pretty good game for the Rams. And while it was not the best one that Dumont has played this year, the Huskies exit the Bergen County Tournament having added to history that the program is in the process of making. Dumont had never been to the Final 4 in its history before last season and it walked off on Sunday having made it in back to back years and are now 22-4 heading into the North 1, Group 2 state sectional quarterfinals having already won their opener. Dumont is the No. 2 seed and will host No. 7 Pequannock in the next round.
"It is a magical thing to be able to get back and play in the Bergen County semifinals for the second straight year. Obviously it was not the outcome that we were hoping for, but we were able to get back her by working hard all year and hopefully we will be able to keep that going in the states," said Dumont head coach Kendal George. "We need to be able to grow from this and move on. It hurts and we will feel it a little bit today, but then we have to let it go and continue to believe that we are a good team and be better for the experience of making it this far."
Ramsey has now swept all three games it has played against Dumont this year, they swept a three-game set against another good team in Mahwah, who the Rams beat in the quarterfinals on Saturday and they are a road grater right now in search of a state and county titles.
"I really have to enjoy this [win] first. This is the farthest that we have ever gone [in the county tournament] in my tenure. I know that Ramsey has a pretty illustrious history in Bergen County, but in my time here this is the farthest we have gone," said Caserta. "I love coaching these girls. They are super athletes and they are tremendous teammates, so we are just looking to throw our hat in the ring next week and have some fun. If we can play like I know we can, I think we will be in it at the end, but we are just going to enjoy this right now. These girls have worked so hard for this moment, so we will enjoy this and then go back to work."