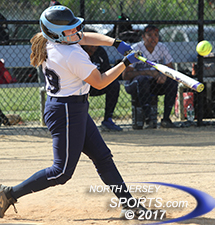 Freshman Faith Camilleri cracking the bases loaded triple that gave Immaculate Conception the lead for good in a 6-3 win over Fair Lawn in the semifinals of the Bergen County Tournament.
PALISADES PARK – Jeff Horohonich has built the Immaculate Conception softball program into a powerhouse, at least when it comes to state tournament success. The Blue Wolves have won the last four Non-Public B state titles and are the No. 1 seed again this year, the favorite to make it five straight. But all of that postseason success has not translated so well in to the Bergen County Tournament where IC has been knocked out, more often than not, before its seed suggested it should have. In each of the last three years it lost to Northern Highlands while wearing the white jerseys of the higher seed, twice in the semifinals and in the quarterfinals last season.
"The county tournament usually has not been one of our favorite tournaments to be in," said Horohonich. "This group, though, it is different this year."
It is different because Horohonich was talking to a small group of reporters after his team had just scored three runs in the fifth inning to take the lead and two more in the sixth to cement its 6-3 victory over Fair Lawn in the Bergen County Tournament semifinals on Sunday at Overpeck Park. For the first time in program history, the third-seeded Blue Wolves are going to play in the county championship game where they will get a shot at top-seeded and undefeated Ramsey on Saturday at Mahwah High School.
"This team always comes back and it always fights. I left a couple of pitches out there that they hit and we got behind, but my team has my back and I knew they would find a way to come back," said Caylee English, IC's sophomore starting pitcher who held Fair Lawn scoreless over the final five innings. "It is all about the team. Even if I pitched a perfect game, my teammates would have to make the plays behind me and the bats would have to score if we were going to win even on my best day. We stick together and we are really looking forward to the final."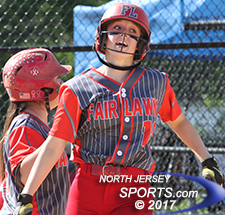 Lauren Burke drove in a run and scored another during Fair Lawn's three-run second inning.
Fair Lawn, the No. 7 seed, was working on its own piece of history. Although exact number were hard to pin down, it has been a long time since the Cutters, riding a 19-game winning streak, were this far in the Bergen County Tournament and they were coming off one of the biggest wins in program history, a 1-0 victory over second-seeded and defending champion IHA on Saturday. It looked like the magic was going to continue when Fair Lawn started whacking the ball around in the top of the second inning.
IC had taken the lead with on an RBI double by Allison Moran in the bottom of the first inning, but Danielle Burke led off the top of the frame with a ringing double that one-hopped the outfield fence and, two batters later, Kira Meerholz (1-for-4, RBI, R) cracked a triple to tie the game. Lauren Burke (2-for-3, RBI, R) made it three extra base hits in the inning with her double and Courtney Kopf (2-for-3) kept the carousel turning with a single. English worked around Danielle Jurcevic to load the bases and Amanda Kopf's (1-for-4, RBI) single up the middle made it 3-0.
In addition to its circular lineup that can start and sustain a rally from anywhere in it, Fair Lawn's success has also been driven by its defensive acuity. Starting pitcher Alyssa Schmidt is not the overpowering type, but she is a strike thrower that dares the opposition to try to find holes.
"This team has come together to play strong defense and we have had a strong attack all season. They are playing defense at the next level, we are throwing out top runners in the county on the bases and we are able to execute double plays," said Fair Lawn head coach Sue Benjamin. "We make those plays routinely and we make those plays often, but we were up against a team today in Immaculate Conception that kept getting hits and kept the pressure on us."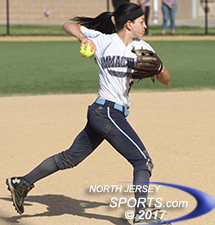 Immaculate Conception's senior shortstop Gabby Fredette was a perfect 4-for-4 with 2 RBI and 2 runs scored.
Down 3-1 in the bottom of the third, IC got three consecutive hits from Gabby Fredette, Angela Lignelli and Allison Moran, but came away with nothing to show for it. Fair Lawn's Raina Alexander cut down a runner trying to go first to third with a laser from right field and the Cutters' ended the inning with an 8-4 double play as centerfielder Bailey Hartman made a sliding catch and threw in behind the runner at second.
After giving up five hits in that second inning, English settled in nicely and gave up just three more hits the rest of the way, which gave Immaculate Conception plenty of time to mount its comeback and it finally broke through in the bottom of the fifth.
Fredette (4-for-4, 2 RBI, 2R), the Wolves' senior shortstop and legitimate All-County candidate, got it started with a one out single. Lignelli (2-for-3, R) singled and Moran (2-for-2, RBI, R) drew a walk to load the bases in front of freshman Faith Camilleri, who unloaded. Her triple to right-center cleared the bases and put IC in front for good at 4-3.
"I was just looking for a pitch to drive. I just wanted to get the ball out of the infield and get the runners in," said Camilleri. "[Schmidt] didn't throw that fast, but she had really good stuff. I was hard to get the right timing against her, but I just tried to see the ball and drive it. I wanted to hit it hard somewhere."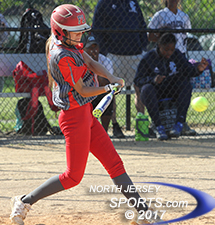 Courtney Knopf had two hits for Fair Lawn, which will host Livingston in the North 1, Group 4 state sectional quarterfinals.
Emily Meerholz came on for Fair Lawn to extinguish that rally with no more damage done, but IC got right back after it in the bottom of the sixth. Kayla Roberts (2-for-3, R) and Jaszmyn Mosely (1-for-3, R) each singled with one out in front of Fredette, who finished off her perfect day at the plate with a two-run double that made it 6-3. English (7 IP, 3 R, 3 ER, 8 H, 4 K, 1 BB), who threw a four-hitter in the Wolves' quarterfinal win over Indian Hills on Saturday, worked around two seventh inning errors and struck out the last hitter of the game to seal IC's first-ever trip to the county final.
"We are going to just keep doing what we have been doing. We have some things to tighten up. We came out a little slow today and then picked it up. Against Ramsey, you can't do that," said Horohonich. "The longer we can hang around, the better chance we are going to have."
Fair Lawn's Bergen County Tournament run, one of, if not the best, in school history is now over, but the Cutters ain't done yet. They are the No. 1 seed in the North 1, Group 4 state sectional tournament, they won their first round game against Morristown in impressive fashion and are set to host No. 9 Livingston on Monday, weather permitting, in the quarterfinals.
"We have to put today's game away and refocus. Just like after we beat IHA and had a good feeling, we had to put it away and play again. You have to move on to the next game. That is what this sport is all about," said Benjamin, whose team is now 22-3 on the season. "There is still a lot out there for us to accomplish in the state tournament and I am really excited for the opportunity that we have there."