Wednesday, April 21, 2010
By Rich Barton
NJS.com Staff Writer
Amy Cuccinelli had big hits in the fourth and sixth for St. Mary, which came back to post a 7-6 win over Wood-Ridge on Tuesday and grab first place in the BCSL-National.
RUTHERFORD – After a home loss to Wood-Ridge last year cost it the BCSL-National Division championship, the St. Mary (Rutherford) softball team was hoping for a measure of revenge on Tuesday, but the Gaels looked like they were headed for another disappointment down three runs heading into the bottom half of the seventh.
However, the ups and downs that most teams experience over the course of a whole season, the Gaels packed into a few innings with a shocking ending to a wild game.
Megan McCann's one-out single cut the lead to a run in the bottom of the seventh and the throw back into the infield sailed into the Wood-Ridge dugout, allowing two more runs to come home. That was the final play of the game as St. Mary survived a ton of errors to grab sole possession of first place in the BCSL-National Division with a wild 7-6 victory at Memorial Field in Rutherford.
"I'm thankful that we kept playing hard and found a way to pull out a win," said St. Mary's head coach Maria Fagan. "Not the prettiest game to win and we'll take it against a well-coached team like Wood-Ridge. A win is a win. Our errors are hurting us and they almost cost us today. We had to dig deep and we got some timely hits in the seventh inning."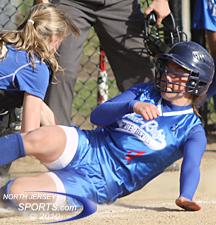 Johnna Trotter scoring the run that gave Wood-Ridge a 4-3 lead in the top of the seventh inning.
Wood-Ridge jumped in front by scoring in each of the first three innings. Ashley Lombardi drove in Dana Raleigh with a single in the second inning for a two-run lead. In the third, Hailey Barteck singled and came all the way around to score on a three-base error to pad the Blue Devils' lead to 3-0.
Wood-Ridge starter Alyssa McKhann was on cruise control until the fourth inning when Amy Cuccinelli slapped a two-out, seeing-eye single up the middle to plate Vanessa Romero for the Gaels' first run.
The Blue Devils were still ahead until Cuccinelli and a bad hop changed the complexion of the game. With two outs in the bottom of the sixth, Cuccinelli knocked in Romero with a single. But the ball skipped past the outfield defense with Cuccinelli coming all the way around to knot the score at 3.
"We needed a lift and Amy, being a leader, picked us up," added Fagan. "The intensity we showed in the last few innings we should have had the whole game. If Amy doesn't get those hits in the (fourth and sixth innings) I'm not sure we would have come back."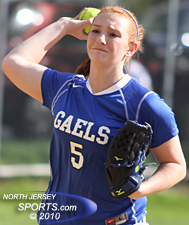 Megan Maffei was right in the middle of St. Mary's seventh inning comeback.
Wood-Ridge responded with a two-out rally of its own in the top of the seventh. With Johnna Trotter, who doubled to lead off the inning, on second base, Nicole Fleck poked a single to left and there was a play at the plate. The throw was right on line, but a hard slide by Trotter knocked the ball loose and she scored to put the Blue Devils back on top, 4-3. Senior Danielle Natoli followed with a two-run bomb to right-center to make it 6-3 going into the Gaels' last at-bat.
"We were definitely nervous that we let an opportunity slip away, but we still had one last chance to make up for it," said St. Mary's Megan McCann.
The furious comeback started with a pinch-hit double from Megan Macaluso to lead off the inning. Megan Maffei then struck out swinging on a ball in the dirt and took off for first. As she ran up the first-base line, Macaluso broke for third base to cause a moment of hesitation that was just enough to allow both runners to reach base safely. Luana Natalicio then followed with an RBI single to cut the lead to 6-4 and Romero looped a single to right to lead the bases for McCann.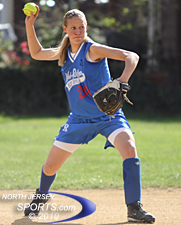 Nicole Fleck had an RBI in Wood-Ridge's three-run seventh inning.
McCann drilled a 2-1 pitch to left field to knock in Maffei to trim the lead to 6-5. Natalicio took a turn around third base and Romero around second before Natalicio went back towards the bag. The throw from left field sailed off the top of the fence and into dead ball territory, which allowed both Natalicio and Romero to come home as the tying and game-winning runs.
"I knew it was now or never and I had to knock in some runs," added McCann. "I didn't have good at-bats in my first few times up and I wanted to make up for it. I got a good pitch to hit and just tried to drive it."
Romero led the way offensively going 3-for-4 with three runs scored for St. Mary's (5-4). Cuccinelli went 2-for-3 with two RBIs and a run scored. Natalicio two hits and an RBI and Lauren Hozak picked up the win in the circle.
Natoli, Barteck, and Raleigh each had two hits for Wood-Ridge (4-7). The stunning loss knocked from contention for the Bergen County Tournament. For St. Mary's, its hopes of receiving a county tournament bid are bolstered by the win. They also moved a game ahead of Wood-Ridge and Secaucus into sole possession of first place in the BCSL-National Division.
"We had to pick up our intensity level and pull through for a win," said Natalicio. "We made a lot of errors, but we had to put it behind us and keep playing hard. It's nice to be in first place in the league. This is a great win, but we'll take in stride. We still have a long way to go and we'll take something from this game and try to improve for our next one."
FOR MORE PHOTOS OF THIS EVENT OR TO BUY A COLLECTOR'S PRINT OF THIS GAME STORY, PLEASE VISIT 4FeetGrafix.com.