Sunday, November 16, 2008
By Rich Barton
NJS.com Staff Writer
Caldwell celebrated its 32nd straight win of the season, a three-set victory over defending champion Bogota in the Group 1 state final.
WAYNE – Bogota knew that it would have to play a nearly perfect match to beat Caldwell. The Lady Chiefs came into the match as New Jersey's only unbeaten team. Even more impressive was that Caldwell had not dropped a single game in any of those 31 matches and possessed two of the state's best players in Megan Knott and Emily Carson. But for the first time all year, the Chiefs had to face adversity as Bogota clawed back to win the second game and force a third game to decide the Group 1 state champion.
However, the Bucs were unable to build on that momentum early in the third game. That was largely in part to Knott and Carson playing their best ball of the season at the most crucial time.
"We've been fortunate to have some great teams at Caldwell over the years and this is the best one we've ever had," said Caldwell co-head coach Jeff Stiefbold. "I just told Megan and Emily that they were my leaders and they couldn't play tentatively in the third game. I knew if they played well the rest of our team would follow their lead."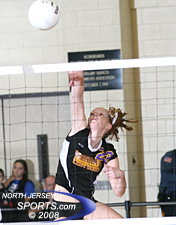 Janet Snell's outstanding career came to an end with 15 digs and 13 kills.
Both teams were on their games defensively in the back right from the outset. Neither team was able to gain an advantage until the Chiefs made two big defensive plays, this time at the net, in the midst of a game-closing run. Mia Riley and Carson had back-to-back blocks for a 21-19 lead. Caldwell closed out the game on an 8-0 run to win their 63rd straight game this season.
The Lady Bucs are known as one of the state's most stingy defensive units and showed it throughout the second game. Jaclyn Del Cid made numerous digs to keep points alive that the Bucs eventually won. It allowed them to tread water until the dangerous hitter-setter combination of Janet Snell and Allison Bal got going. Snell had three kills and Chelsea Buttner added two in an 8-2 run that put Bogota ahead 18-12. The Chiefs trimmed the six-point lead in half, but never got any closer as Bogota forced game No. 3.
"We know (Snell) is a very good player and Bogota is never going to give away a point," added Stiefbold. "All champions have to face adversity at some point to achieve great success. It came down to us playing better defense and hitting line with more success than we did in the first two games. I just told the girls to bounce back and play with confidence, which we did."
Caldwell won its first state championship since 2004.
Carson and Knott started off the third game with kills and Caldwell never trailed the rest of the way. Knott's ace capped a 5-0 spurt to make it 12-4 and the Chiefs ran away from there to their first state title since 2004.
Carson had a great all-around match for Caldwell (32-0) with 14 kills, 12 digs, and eight assists. Knott led all players with 18 kills to go along with 12 service points, and nine digs. Setter Alyssa Popola quietly had a solid effort with 18 assists and nine digs.
In her final match of a decorated high school career, Janet Snell had 15 digs and 13 kills for Bogota, who finished the season with a 30-3 record. Bal had 21 assists and Del Cid added 12 digs and 10 service points.
"We hoped to build off a great effort in the second game, but it didn't turn out that way," said Bogota head coach Brad DiRupo. "That is because of how well Caldwell played defensively. That was the one area where I felt coming in that we would be better than they were. But that wasn't the case. They played great defensively and they were better than we were. It's tough to lose these seniors, especially Janet (Snell), who is the best player we've ever had here at Bogota. We have nothing to hang our heads about and we played hard, Caldwell just played better than we did."
FOR MORE PHOTOS OF THIS EVENT OR TO BUY A COLLECTOR'S PRINT OF THIS GAME STORY, PLEASE VISIT 4FeetGrafix.com.