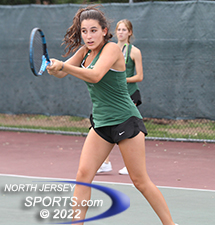 Giselle Sinoway was half of the winning second doubles team for Ramapo, which improved to 7-1 on the season with a 4-1 win over Pascack Hills on Tuesday.
FRANKLIN LAKES – Creating a competitive practice environment in tennis can be difficult in the varsity level. Even on the best teams, there is often a wide talent gap between the top one or two players and the rest of the roster. That has not been the case for Ramapo, however. What has made this season special already for longtime head coach Kim Marchese is the balance his team has showed up and down the lineup
Facing a tough Pascack Hills squad riding a six-match winning streak coming in, the Green Raiders showed they have what it takes to make some noise in both county and state tournament play.
Between second and third singles along with both doubles' flights, Ramapo dropped just six games combined to earn a 4-1 win on Tuesday afternoon over Pascack Hills in Franklin Lakes.
"With so many players of similar skill level it created some very tight challenge matches and a competitive atmosphere at practices," said Marchese. "This team doesn't have a true star player, but we have eight or nine really solid players that contribute to our success. That gives us flexibility in our lineup, but it also gives our team confidence going into every match knowing that we can get the necessary points from anyone in the lineup."
Junior Ella Saxton got the ball rolling early for the Green Raiders. The three-sport star is now at second singles after playing at first singles in 2021. That switch has only bolstered the Ramapo lineup. The 6-foot tall left-handed Saxton has added several miles per hour to her serve and a more aggressive approach from both beyond the baseline and at the net. She did not drop a game to notch the first point of the match and has lost just two games in her past three matches.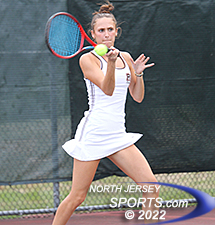 Izzy Benedict picked up Pascack Hills' point with a win at first singles.
"We're working hard every day and we're playing really well right now," said Saxton, who also plays basketball and softball. "When we beat Ridgewood in our first match of the season, that was where we really started to feel like we could achieve great things this season."
Further down the Ramapo lineup is where the depth is even more noticeable. Caroline Baker and Elizabeth Ring at first doubles along with Chloe Heller and Giselle Sinoway at second doubles both showed chemistry as if they have been playing together for years. They quickly followed one another off the court with straight-set victories to clinch a third straight win for the Green Raiders, whose lone loss of the season came against the No. 3 ranked team in New Jersey, Montclair Kimberley Academy. Olivia Ring had the other point for Ramapo (7-1) with a 6-3, 6-1 win at third singles.
Izzy Benedict has held the No. 1 perch for Pascack Hills (6-2) for the past three seasons. That match experienced helped her personally on this day as she won a first-set tiebreak then broke early in the second set to earn a 7-6 (7-4), 6-2 win over Cadie Sauter.
Olivia Ring and Ramapo should be in the mix for a county title in the large school division this weekend.
Pascack Hills will now prepare for the Bergen County small-schools tournament this upcoming weekend. Unfortunately, Holy Angels was dropped into the small schools bracket this year, which denied a potential meeting between the top two players in New Jersey, two-time state champ Stephanie Yakoff of Fort Lee and last year's Bergen County and state singles runner-up Erin Ha of Holy Angels. It also made Holy Angels the overwhelming favorite to win the small schools county title.
In the large schools' division, Ramapo will be in the mix along with Northern Valley/Demarest, Tenafly, and Ridgewood along with pre-tournament favorite Bergen Tech to fight it out for Bergen County supremacy. It is a challenge this team has been waiting for and will be a barometer of whether the Green Raiders can use that momentum towards a bid at a North 1 Group 3 state section title.
"This is a tough week for us as have three more matches before the county tournament this weekend," added Saxton. "Our team will go in with the right mindset for the counties and we'll give it everything we have."
FOR MORE PHOTOS FROM THIS EVENT PLEASE CLICK HERE. TO BUY A COLLECTOR'S PRINT OF THIS STORY PLEASE VISIT 4-FeetGrafix.com
---