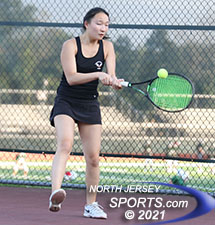 Megan Yi scored a key win at first singles for Tenafly, which needed over four hours to outlast Ramapo, 3-2, in the North 1, Group 3 state section final.
FRANKLIN LAKES – When five-star recruit and one of the nation's top players, Erin Ha, transferred before the season to Holy Angels it was widely perceived that the Tenafly girls' tennis program would take a big step back in its quest for a section title, but with plenty of talent left on the roster, the Tigers still had lots of fight in them.
Tenafly battled all the way to the North 1, Group 3 final, but it would take a long time, literally, to see of the Tigers could complete the journey on the road against top-seeded Ramapo.
Needing victories at first and second singles both Megan and Kristen Yi were down late in the third set, but the sisters saved their best play for the most important time of the season.
Megan and Kristen Yi each earned late breaks of serve to clinch the match as third-seeded Tenafly needed to go four hours and 20 minutes in what had to be one of the longest section finals in state history to earn the title with a 3-2 upset over Ramapo on Tuesday in Franklin Lakes.
Ramapo grabbed the lead with Catie Sauter using a steady game from the baseline to notch a 6-2, 6-2 win at third singles. Things looked even better for the Green Raiders thanks to one of the state's top doubles teams. Sofia Mosquera and Elizabeth Ring dominated the net in a 6-1, 6-2 win that gave them their 21st straight win without a loss and Ramapo a 2-0 lead. The duo also will participate in the NJSIAA state doubles tournament semifinals on Saturday.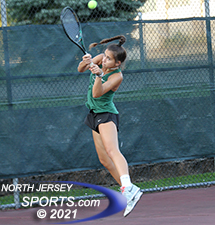 Sofia Mosquera helped Ramapo earn a point at first doubles.
"I knew this would be a battle, but I felt confident we'd be able to compete," said Anthony Zorovich, the longtime girls and boys tennis coach at Tenafly. "We have a lot of depth and that gives us the opportunity to win in many different ways. Even when we were down we kept fighting at first and second singles. They never gave up and things eventually went our way."
Tenafly got on the scoreboard at second doubles. Kay Considine was solid along the baseline and Sujin Park won some key points at the net as the Tiger duo grabbed a first-set tiebreaker en route to a 7-6 (7-3), 6-2 win.
Ramapo was still in good shape thanks to the meteoric rise of sophomore Ella Saxton. The 6-foot left-hander was expected to potentially challenge for a doubles slot heading into the season before winning one challenge match after another to earn the No. 1 singles position. Her strength was returning everything deep regardless of the pace in taking the first set.
Meanwhile, at second singles Kristen Yi won a long first-set tiebreaker before falling behind early and dropping the second set to Ramapo's Rochelle Kivotsky. Yi then fell behind 4-3 in the third set before finding enough left in the tank to reel off the final three games and square the match at 2.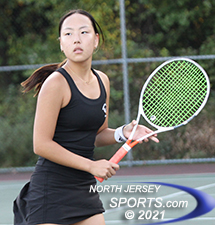 Sujin Park and Tenafly will play Princeton in the Group 3 semifinals on Thursday.
After dropping the first set, Megan Yi finally cashed in on her sixth set point to make it one set apiece. As the sky grew dark and the lights over the court brightened, everyone in attendance and especially the players on the court, knew they were witnessing something special. Like her sister did at second singles, Megan Yi fell behind 4-3 in the third set, a set that took two hours to complete.
In a match with incredibly long rallies, it was Yi who eventually took some chances on her powerful forehand. With Saxton hitting everything back, Yi had to take her time to set up points with that strategy being successful late in the match. After hitting her first shot of the match at exactly 4:00 p.m. Yi's final swing came at 8:20 p.m. as the Tigers finally got over the hump to win their first section title since 2009 and only their second in Zorovich's tenure in 15 appearances in a section final.
"That was a heck of a match," added Zorovich. "Neither player was willing to budge. You almost never see a rally that is 40 or 50 shots. In this match there were a ton of those, most of them coming late in the second and third sets with the match was on the line."
Tenafly will have to recover quickly as they head to Mercer County Park in West Windsor for the Group 3 state semifinals and potentially, the state championship match on Thursday. The Tigers will be a live underdog in a wide-open Group 3 as all four sections (North 1, North 2, Central, and South) saw the lower seed go on the road and pull the upset. The Tigers' quest for an over Group 3 state title will begin against Princeton in a 9:00 a.m start. Regardless of the outcome, the Tigers' goals for this season have been met.
Now it is time to have fun and see how far they can go.

"That match was one for the ages," added Zorovich. "It's as special win for our program. We rose to the occasion and played our best at the right time. Going down to Mercer County Park is always a special day for the best tennis teams in the state and one I am very happy this group will experience. We have nothing to lose, so we'll go down there, play our best, and see what happens."
FOR MORE PICTURES OF THIS EVENT PLEASE CLICK HERE. TO BUY A COLLECTOR'S PRINT OF THIS STORY PLEASE VISIT 4-FeetGrafix.com.