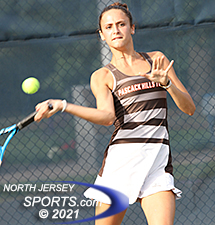 Izzie Benedict won in a walk-over for Pascack Hills, which just about sewed up a league title with a 4-1 win over Ramsey.
RAMSEY – Longtime Pascack Hills' head coach Eric Ganz has had his best teams over the last two-plus decades when they had balance up and down the lineup. After some up-and-down seasons in the past few years, Pascack Hills is on the rise once again and heading into his team's biggest week of the season to date with a league title at stake, the Broncos used a solid effort and a couple of fortunate breaks to stay on a hot streak.
Lindsay Fleishman closed out the match with a straight-set win at third singles as Pascack Hills won its third straight match and essentially locked up a repeat as Big North-Patriot Division champions with a 4-1 win over Ramsey on Tuesday afternoon in Ramsey.
The two teams locked in a tough duel to open the 2021 season with Pascack Hills earning a 3-2 win. The Rams hoped to return the favor, but those hopes were derailed in the first few minutes of the match.
"Coming off such a weird season last year it's great to see the bond we've created on and off the court," said Fleishman. "We're always happy to be in each other's presence and that definitely helps us relax when we're playing. I think I'm more confident this year at third singles than I was last year and I'm playing with a different style."
Both the Rams' first and second singles' players had to retire midway through the first set, which gave Pascack Hiils' Izzie Benedict and Chilli Coco Peeke walkover wins. Needing just one more point to secure the victory, the Broncos got it in short order from Fleishman. She showed off her entire arsenal from a powerful forehand to a backhand slice to vastly improved net play in a 6-1, 6-2 win.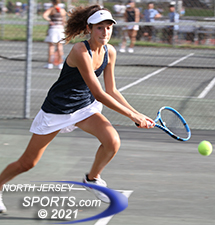 Martina Franck (pictured) and Emma Cohen won Ramsey's point at first doubles.
Pascack Hills (5-1) got its other point at second doubles with Dylan Cochin and Jillian Fleishman picking up a straight-set triumph.
"In the program we pride ourselves in winning a league title and just having a fun experience overall," said Ganz. "We've got a nice little singles lineup and we've got three girls that will battle out there and our doubles teams are both strong at the net. We've got five spots that are all solid and can look great on any given day. It's a good recipe for success coming county and state tournament time."
The only two losses of the season thus far for Ramsey (4-2) have both come at the hands of the Broncos. The Rams received their lone point at first doubles in the most entertaining match of the afternoon. Pascack Hills' Lily Traub served out the first set and a forehand winner by teammate Krisha Sampat gave them a 3-0 lead in the second set. Ramsey's duo of Martina Franck and Emma Cohen never wavered and roared all the way to win six straight games and then 10-4 in the third-set super tiebreak to avert the shutout.
The win is a positive first step for Pascack Hills amidst its biggest week of the season. They face a tough test today against neighboring rival Pascack Valley before tilts against red-hot Ramapo and a Fort Lee team that has arguably the best girls' player ever to play high school tennis in New Jersey, Stephanie Yakoff, before heading into the Bergen County Small Schools Tournament this weekend against traditional small school powers Leonia and Dwight-Englewood. It is a strong challenge ahead but one the Broncos have mentally prepared themselves for.
"We feel pretty good going into counties knowing that every single spot has a chance at winning," added Fleishman. "Last time we played counties two years ago we were just happy to be up there with some of the other teams. It is a different atmosphere this time around. We are going in with so much more energy and excitement. We really feel like have a chance at winning, which is great. It's what you play for."
FOR MORE PICTURES OF THIS EVENT PLEASE CLICK HERE. TO BUY A COLLECTOR'S PRINT OF THIS STORY PLEASE VISIT 4-FeetGrafix.com.