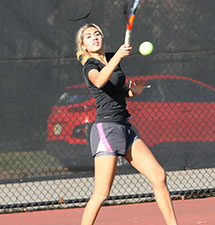 Leonia's Arya Ramalingan won 6-1, 6-0 at first singles to lead the Lady Lions to a 4-1 win over Glen Rock to repeat as state sectional champions and complete an undefeated season.
GLEN ROCK - After winning a Group 1 state title last fall with a host of players returning Leonia was excited for the prospect at another championship season. By the summer rolled around it was a question of whether the tightly-knit group would even get the opportunity to play this season. They kept in touch through texts and zoom calls to stay focused just in case the chance to play arose. When it was deemed that there would be a girls' tennis season this fall the Lady Lions set set out on making it a special one. As the season came to a close on Wednesday the season was not just a special one, it was perfect.
In a rematch of last year's North 1 Group 1 section final, Leonia once again had to travel to play a strong Glen Rock squad. While last year's section final was a nailbiter there would not be as much drama this time around. The Lady Lions cruised in all three singles matches and Leonia repeated as section champs with a 4-1 victory over Glen Rock to complete an undefeated season.
"What was really powerful was coming together through all of stuff going in the world with the safety precautions and such," said Leonia senior tri-captain Nyla Carter. "Planning those practices then playing our matches helped us get through it because we got through it all as a team."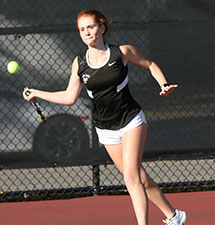 Glen Rock's Allie Eisenberg.
In her second season at first singles, Arya Ramalingan has developed from a player with raw talent to one of the best in Bergen County. Her three-set win over Glen Rock's Allie Eisenberg was the deciding point in last year's section final win. The two locked up again on Wednesday but this time it was all Ramalingan. She earned a break to start the match and never took her foot off the gas. The junior got her first serve in consistently and painted both corners with her devastating forehand throughout the match to get Leonia on the scoreboard first with a 6-1, 6-0 win.
"It was a really fun season, especially for our seniors, and we wanted to finish it as champions" said Ramalingan. "When I got an early break in my match it allowed me to be more aggressive and go for my shots more. Tennis is an individual sport. But this team really has a nice time together and it's nice to have that team aspect in high school sports."
Reanna Radu has been an outstanding singles player throughout her four-year run in a Leonia uniform. She concluded an absolutely dominant career with an identical 6-1, 6-0 triumph. She finished with a 68-3 career record. Remarkably, all 68 of her wins came in straight sets.
"There's a lot of love on this team and I wanted to come through for my teammates," said Radu. "It is an incredible feeling to work towards this goal and achieve it. When we got an email saying the season was cancelled we were really upset. But when we heard that we were going to play, our focus was on winning (our section) again."
Maya Naik notched the clinching point by controlling her match from the baseline. She won all the key points during the second set en route to a straight-set (6-0, 6-2) win as the Lady Lions continue to be the gold standard for Group 1 teams in New Jersey.
Eujin Choi and Prianka Ramalingan scored the other point at first doubles for Leonia (11-0).
Glen Rock (12-2) got its lone point at second doubles with Shiri Kazaz and Jamie Luo earning the closest win of the five matches yesterday, 7-5, 6-4.
With back-to-back section titles and six starters returning next year, the Lions are poised to kickstart a small-school dynasty. For now though they are happy with getting the opportunity to be together one last time as a team.
"We had fun while we could because we did not know if the season would be cancelled at any moment, but we took this seriously and took advantage of this opportunity," said Leonia's third tri-captain Avery DiMaria. "It was a really big adrenaline high to win it last year and we wanted that feeling again. To see all of us perform so beautifully when it mattered most is amazing and we are so proud of what we accomplished together."
FOR MORE PHOTOS FROM THIS EVENT CLICK HERE. TO BUY A COLLECTOR'S PRINT OF THIS STORY PLEASE VISIT 4-FeetGrafix.com.