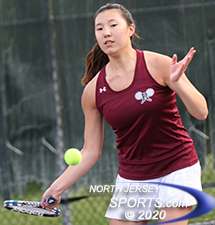 Eunice Cha won at second singles as a part of Ridgewood's 4.5-0.5 win at Ramapo on Monday afternoon.
FRANKLIN LAKES – Ridgewood's Alana Kerner is a high-level tennis player who competes all over the East Coast on the USTA tour, but the senior standout also relishes playing in a Ridgewood uniform with the friends and classmates that she grew up with. The 2020 season that is going to be like none other before it and Kerner and the Maroons are determined to make sure it is a special one.
Kerner set the tone at first singles with a hard-fought win as Ridgewood improved to 3-0 on the season with a 4.5-0.5 win over Ramapo on Monday afternoon in Franklin Lakes.
"We love the atmosphere of being on this team together and playing through tough matches like this," said Kerner.
After pulling away to take the first set Kerner had her serve broken by Ramapo's Shannon Cicero, a strong player in her own right, to open the second set. Game two of the second set proved to be a microcosm of Kerner's mental approach and the approach of her teammates as a whole.
The two players locked in a classic duel that included long rallies and exceptional shot making. Kerner saved six game points before earning the break that fueled her to eventually win in straight sets, 6-3, 6-2. The marathon second game of set No. 2 featured 9 deuces and lasted 20 minutes.
"(Cicero) is a tough player who gets to everything, I had to wait for the right time to be aggressive," added Kerner. "Games like that with a lot of deuces are key. If you win those it can really set the tone for the rest of the match."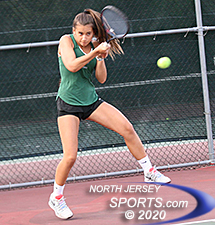 Sofia Mosquera grabbed Ramapo's half-point at third singles.
Ridgewood possesses three strong singles players at the top of the lineup. But it is their depth with their doubles players that sets them apart from most teams in Bergen County. Sophia Faherty and Anika Joshi faced a stern test from Brennan Tosney and Elizabeth Ring from Ramapo (3-1). It was close match throughout Faherty and Joshi won a majority of the key points in tight games to clinch the win for the Maroons with a 6-3, 6-4 victory.
"I think we were more competitive against Ridgewood then we were last year against them," said Ramapo head coach Kim Marchese. "The last four years Ridgewood and Northern Highlands have had our number, but we played well today and we're improving in a short span of time. I look forward to these kinds of challenges and we're excited to see how we do when we see Ridgewood again in two weeks."
Ridgewood (3-0) also received straight-set wins from Eunice Cha at second singles and the tandem of Caitlyn Wall and Millie Diamond at second doubles. The halved point came at third singles, where Christin Cha won a tiebreak (7-4) over Ramapo's Sofia Mosquera in a first set that took over 90 minutes to complete.
With this win along with one over defending Group 3 state champ Northern Highlands, the Maroons see the possibility of an undefeated season in their sights. That would include the ultimate prize of a North 1, Group 4 section title, which would be especially sweet for this senior class after losing (3-2) in the section final to Livingston last fall.
"We know that the Northern Highlands match and this match would give us an idea of what kind of season we're capable of having," said Kerner. "Something we pride ourselves on is never giving up and this team loves to face tough competition. We know we can have an undefeated season and I think we will. We're really playing well and we're really confident after these wins. Myself and the nine other seniors on this team would love to close out our tennis careers at Ridgewood that way."
FOR MORE PHOTOS FROM THIS EVENT CLICK HERE. TO BUY A COLLECTOR'S PRINT OF THIS STORY PLEASE VISIT 4-FeetGrafix.com.