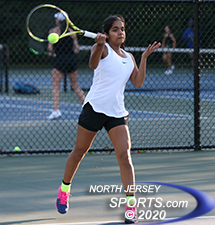 Priyanka Khubani won in straight sets at third singles, part of Demarest's impressive 4-1 win over Tenafly on opening day of high school sports 2020-21.
DEMAREST – Over the past decade Northern Valley/Demarest and Tenafly have been staples in the upper echelon of girls' tennis teams in Bergen County on the way to becoming state powers in the process. Last fall, the Norsewomen won a Group 2 state title and Tenafly advanced to the section final, losing a close section final to eventual Group 3 state champ Northern Highlands. With several key pieces of each team returning this year the goal for each was to win county, section, and state titles.
But when March rolled around, everything changed.
The Covid-19 pandemic hit hard. In terms of high school sports in New Jersey, the end of the winter season and the entire spring was shut down. A fall season looked bleak as late as July. Northern Valley/Demarest seniors Catie Frank and Julietta Ambartsoumian did not know if they would ever play in a Norsewomen uniform again.
When sports were cleared to resume, albeit with no chance to win a county or state title, athletes were excited just to feel some sense of normalcy. With the fall season finally upon them, the outcome was not nearly as important as the opportunity of merely getting to compete.
"We were really excited to get out and play," said Ambartsoumian. "When you think about how things were I think we're all happy that we could just be around each other as a team again."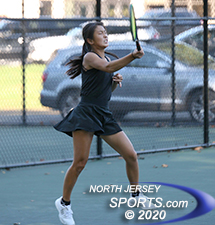 Erin Ha scored the lone point for Tenafly with her win at first singles.
The strength of the Norsewomen this season is the same as last fall's Group 2 state champ, depth. Ambartsoumian at first doubles and Frank at second doubles both were spark plugs as Northern Valley/Demarest opened the long-awaited season with an impressive 4-1 triumph over Tenafly on Wednesday afternoon at Northern Valley/Demarest High School.
Yahli Noy is one of, if not the, strongest second-singles players in New Jersey. She showed no signs of rust and her full arsenal was on display in dropping just one game to grab the first point of the season for the Norsewomen.
Ambartsoumian and first doubles partner Alissa Hsu cruised through the first set before getting tested early in the second set by Tenafly's Carly Schwartz and Maddie Cho. The Tigers grabbed the first game of the second set and had four break points during the second game. Ambartsoumian and Hsu never wavered though to save all four of those points to win the game. They did not drop another game to give Demarest a 2-0 lead.
Catie Frank and Zoe Karageorge were locked in a tight first set before securing a break late to gain control of the match. That carried over into the second set as the duo grew strong as the match went on en route to a 6-4, 6-1 victory as Demarest opened its defense of its North 1, Group 2 title with a win.
Priyanka Khubani scored the other point at third singles for Northern Valley/Demarest (1-0) with a 6-2, 6-2 win over Kristen Yi.
The lone point for Tenafly (0-1) came at first singles. Erin Ha is one of the state's top players and gives the Tigers an automatic point nearly every time she steps on the court. However, she showed her mental toughness on this afternoon by rallying from a 4-1 deficit in the first set to eventually score a 7-5, 6-3 quality win over Anna Chow.
"We came up on the short end of things today, but it happened against a great team and we're happy to be playing tennis more than anything else," said Tenafly head coach Anthony Zorovich. "In July and August, we didn't even know if we'd have any games. It's a different feeling but once the matches started it felt like any other match. We have a loaded section but we feel like we'll be a tough out by the time the state tournament rolls around."
With the first win in the books, the Norsewomen will look to put all of the craziness in the world the last few months in the rear-view mirror and continue to work towards their singular focus of repeating as North 1 Group 2 section champs.
"It was all up in the air even up until a month ago if there was even going to be a season, but we prepared as if there was going to be one," said Frank. "At first there were some nerves. But once you get that first set in the excitement kicks in and it feels like another great season has started. We can't win a state title this year but we still want to win our section again since that's how far we can go. Our goal is to continue that legacy that's been here and keep it going for the underclassmen to build on."
FOR MORE PHOTOS FROM THIS EVENT CLICK HERE. TO BUY A COLLECTOR'S PRINT OF THIS STORY PLEASE VISIT 4-FeetGrafix.com.