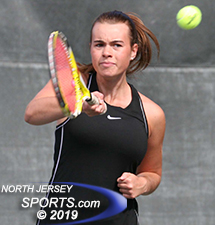 Jamie Newman earned the decisive point for Glen Ridge, which advanced to the North 2, Group 1 semifinals with a 3-2 victory over Rutherford on Friday.
GLEN RIDGE – Tennis is all about adapting. Whether it is the opponent, the weather, the courts, etc., a tennis player has to deal with factors that make each match a unique one in its own way. So it was for Rutherford on Friday afternoon when it traveled to Glen Ridge with a semifinal berth in the North 2, Group 1 state tournament on the line.
Glen Ridge had a true home-court advantage as the only team in New Jersey that plays on clay, but the Ridgers had to do some adapting of their own. With a third singles player out on a college visit, second-doubles player Jamie Newman stepped into the role and stepped up for the Ridgers.
Her deciding point in the closest match of the day allowed fourth-seeded Glen Ridge to advance with a 3-2 triumph over No. 5 seed Rutherford in the North 2, Group 1 quarterfinals at Freeman Courts in Glen Ridge.
"This has been a great season for us, we just came up a little short today," said Rutherford head coach David Padilla. "We would have liked to win but from my perspective it's not about the wins and losses. It's about playing hard, being respectful, and getting better every day. I think it was fun for the girls to play on the clay courts and we enjoyed the opportunity."
Rutherford has leaned on the Kanefu sisters all year and once again they came up big. Nyabwija, a senior, won the first 10 points of the match and did not drop a game to get the Bulldogs on the board quickly. Her sister, sophomore Nyakirri, was equally as effective with her serve and from the baseline in scoring a 6-0, 6-1 win to put Rutherford (9-4) ahead 2-0.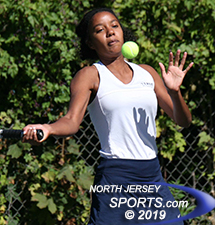 Senior Nyabwi Kanefu did not drop a game in earning Rutherford a point at first singles.
The Ridgers battled back with solid doubles play. Macy Eaton and Erin Hirsch won the final four games of the second set for a 6-1, 6-3 win over Emily Feza and Andreia Mendonce to get the Ridgers on the scoreboard. Mia Ehatamm took Newman's place and played well in her first varsity match. She teamed with Charlotte Keany, who was a force at the net all match long. They won the final eight games of their match for a 6-2, 6-0 to make it 2-2. This left Newman and Rutherford's Amelia Perlmutter left as the only two players on the court with the winner deciding which teamed would advance.
Newman did not feel comfortable and fell behind a break early, but as her confidence grew so did her level of play. She fought off a set point and broke in the 10th game before using two straight forehand winners on her return of serve to break again in the 12th game to win the first set. The match was on serve in the second set before a drop shot by Newman helped score a late break of serve en route to a 7-5, 6-3 win that clinched the biggest win of the season for Glen Ridge (6-9).
"I was nervous with it being a state match, me being a better doubles player, and the match coming down to me," said Newman. "I am normally a pretty consistent player so the coaches told me I had to get back to doing what I do well, keeping the ball deep."
Glen Ridge will take on top-seeded Leonia for a spot in the North 2, Group 1 championship match. But now that the Ridgers have exceeded their expectations for this year, the pressure is off and they can simply enjoy the experience.
"This match definitely motivates to play again in the states," added Newman, a senior. "I'm excited to go back to playing doubles again. This was a good test for our team and we did well. We're excited to go (to Leonia) and play next week."
FOR MORE PHOTOS FROM THIS EVENT PLEASE CLICK HERE. TO BUY A COLLECTOR'S PRINT OF THIS STORY PLEASE VISIT 4-FeetGrafix.com.