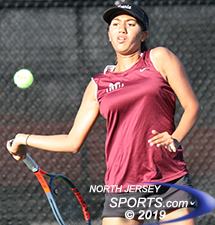 Arya Ramalingham won at first singles for Leonia, which improved to 12-0 on the season with a 4-1 victory over River Dell.
ORADELL – Under the tutelage of longtime head coach Tim Cullen, who recently notched his 500th career win, Leonia has been a Group 1 powerhouse that competes for championships year after year.
Nobody knows that better than the most successful player ever to come out of Leonia. Katherine Arlak, a 2006 graduate, twice won Bergen County first-singles titles, led her team to a pair of state sectional titles and the lone Group 1 state championship in school history. Now the head coach at River Dell, Arlak is looking to build a successful program of her own and looked forward to a showdown with her alma mater.
River Dell fought hard the whole way, but the depth of the Leonia lineup was too much to overcome. The Lions swept all three singles flights to remain as one of only three unbeaten teams left in Bergen County with a 4-1 victory over River Dell on Wednesday in Oradell.
"It seems like just yesterday that I was at Leonia playing in all of those big matches," said Arlak. "We always had high expectations when I was at Leonia and I have those same high expectations for the girls here. Last year, we made the section semifinals and we're motivating each other to build a similar type of program here and the future is looking bright."
Coming off of a huge 3-2 win over Bergen County Small Schools champ Dwight-Englewood, the Lions kept it rolling with Arya Ramalingam and Rea Radu setting the tone at first and third singles, respectively. They combined to drop just one game to give Leonia a 2-0 lead.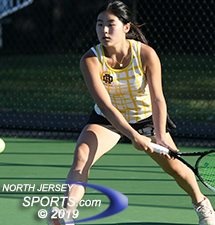 Joanna Song was half of the first doubles team that gave River Dell its lone point.
The third point was tougher to come by. The matches at both doubles flights along with second singles had long first sets. Maya Naik won a Bergen County title at third singles this past weekend and was pushed up to second singles for this match. Naik fought off two set points and battled to win the last five games of the first set en route to a match-clinching 7-5, 6-3 victory.
"Our mentality as a team is to make every shot your best shot," said Ester Gim. "We all pick each other up and we have faith in each other to win these kind of matches."
Leonia (12-0) received its other point at second doubles with Morgan Suh and Gloria Park scoring a 7-5, 6-2 win.
River Dell (6-6) scored its lone point at first doubles. Joanna Song and Jacqueline Yang squandered a 5-1 lead in the third-set super tiebreaker before holding on a 4-6, 6-4, (10-8) victory.
With the state tournament approaching the Lions feel they are in top form and ready to make another run at a North 1 Group 1 section title.
"We have the team ready to compete at those big state matches," said Suh. "We want to finish strong and give it everything we've got over the next couple of week. As seniors and as captains, this is our last shot and we feel like it's our time."
FOR MORE PHOTOS FROM THIS EVENT PLEASE CLICK HERE. TO BUY A COLLECTOR'S PRINT OF THIS STORY PLEASE VISIT 4-FeetGrafix.com.