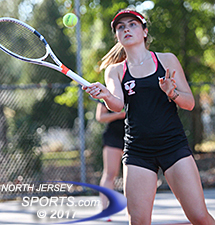 Charlotte Hagan has been a part of four straight section titles at Northern Highlands, including Tuesday's 5-0 sweep of Old Tappan in the North 1, Group 3 final.
ALLENDALE – As many matches as high school tennis players play these days it is still their senior year that they always remember most. Mainly because of how quickly those four years go by.
When Chloe Decker and Charlotte Hagan were freshmen they were merely happy to be in the lineup as Northern Highlands celebrated winning a section title. Fast forward to Tuesday afternoon where they were smack in the middle of a dynasty. Playing in the last home match of their careers with both a perfect record and a section title on the line it was only fitting that the duo scored the clinching point to cap their four years in Highlanders uniform in style.
After falling behind in the second set, Decker and Hagan buckled down and rattled off the final five games of their match at first doubles as top-seeded Northern Highlands did not drop a set in winning its fourth straight North 1, Group 3 section title with a 5-0 victory over second-seeded Northern Valley/Tappan in Allendale.
"It's crazy. What a surprise it was to go down there as a freshman and now we expect to go down there every year," said Decker. "Our expectations are higher now but we also have a stronger team now. We all have confidence in each other and that makes it a more relaxed vibe."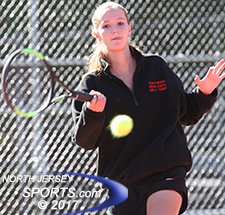 Freshman Hannah Apsey won in straight sets at second singles.
Sarah Apsey got things going by taking control of her match at third singles. She served well late in the first half and dictated points from the baseline in cruising to a 6-2, 6-0 victory to get the Highlanders on the scoreboard first. The senior was quickly followed by Camille Licini and Sarah Rimland at second doubles with a straight-set win as the Highlanders went up 2-0.
After winning the first set, Decker and Hagan both had their serve broken and were down 2-1 in the second set against the Golden Knights' Emma Bandazian and Gabby Bedrosian. The experienced duo battled back by keeping the ball deep and then putting the pressure on their opponents at the net. That strategy worked once again as they broke right back to even the set and did not drop another game on their way to a 6-1, 6-2 win that put the finishing touches on a fourth straight section crown, all under head coach Chris Broking.
"We wanted to play well and win this match with it being our last match on these courts," said Hagan. "We had a few tough games early in the second set, but we kept battling and played our way through it. It hasn't really settled in that I won't be playing any more matches on this court. It seemed like just yesterday that I was excited just to get here as a freshman for tryouts."
Northern Highlands (18-0) is a senior-laden team but also has plenty of talented young players. Sophomore Riya Ravi and freshman Hannah Apsey got tested but finished strong for straight-set wins at first and second singles, respectively.
The reward for a section title is a trip to Mercer County Park for a chance to win a state title. However, in Group 3 that means having to face the six-time reigning Tournament of Champions winner Millburn and its state record of 125 wins in a row. Each of the Highlanders' last two runs ended with convincing 5-0 losses at the hands of Millburn. While the task is still a huge one, the depth of this year's Highlander squad gives them a puncher's chance.
"I think it is a different feeling going down there this year than in the past three years," added Hagan. "We felt like we had nothing to lose if we ran into Millburn. This year, we feel like we have a chance. It's the deepest lineup that we've had since I've been here. Last two years we just hoped that we would play well. We feel like if there is a team that can beat them, we have just as good of a shot as anyone."
TO BUY A COLLECTOR'S PRINT OF THIS STORY PLEASE VISIT 4-FeetGrafix.com. FOR MORE PHOTOS FROM THIS GAME CLICK HERE!