Tuesday, October 25, 2016
By Rich Barton
NJS.com Staff Writer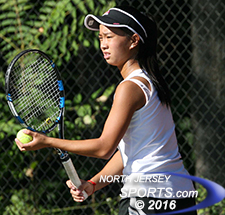 Sophomore Andrea Cerdan became Paramus Catholic's first ever state singles tennis champion after her 6-3, 6-2 win over Stephanie Schrage of Millburn on Monday in West Windsor.
WEST WINDSOR – Andrea Cerdan remembers the feeling well and it is not such a pleasant memory. Walking off the court after losing 6-4, 6-4 to eventual state champion Stephanie Schrage of Millburn in the semifinals of the NJSIAA state singles tournament last fall, Cerdan was bowed but not broken. She worked tirelessly for hours every day to hone her craft with a singular goal in mind for her sophomore year: To win the state singles title.
As fate would have it, Cerdan reached the state final and got another crack at Schrage with supremacy as New Jersey's No. 1 player on the line in a battle of unbeaten players. It is something Cerdan has dreamed about for over a year and now that dream has become reality.
Cerdan raced out to an early lead and never looked back. She broke in the first game of both sets and never trailed in becoming Paramus Catholic's first-ever NJSIAA state singles champion by defeating Schrage in straight sets, 6-3, 6-2, on Monday afternoon at Mercer County Park in West Windsor.
Bright sunshine and swirling winds made conditions difficult to get adjusted to early on. Cerdan made a tweak to her game and it allowed her to break Schrage's first two service games to jump out to a 3-0 lead.
"I was pretty nervous all day and it being so windy at the beginning of the match did not help matters," said Cerdan. "Coach (Ray Zorovich) told me to focus on my shot selection and being a bit more conservative with my gameplan. I think that helped me stay calm and get a couple of breaks early."
Schrage broke back to cut her deficit to 3-2 but Cerdan was still up a break and still in control. The diminutive sophomore played much bigger than her 5-foot-2 frame. She came up with big shots at crucial times to hold serve before battling back from a 40-0 deficit to win five straight points and earn a third break of serve to grab the opening set.
"After taking the first set, I had to stay aggressive but also still make smart shots and pick my spots," added Cerdan. "I practice with (Schrage) a lot and we have the same coach, so we know each other's game pretty well. Even though we were playing for a state title I tried to treat it as it was just another practice session hitting around with her."
Cerdan attacked Schrage's serve the way no player in New Jersey has throughout Schrage's illustrious career. After trading breaks early, Cerdan broke Schrage again in the fifth game of the second set to seize control of the match with a 4-1 lead. After a long year of thinking about this match, the sophomore finished off a perfect season with a backhand winner to win her first state title and hand Schrage her first loss since losing in the 2014 state singles final. She is just the fifth player from Bergen County and the first from Paramus Catholic to win a state singles title in the 43-year history of the tournament.
With two county titles under her belt, a state singles crown and two years of high school still remaining, Cerdan has a chance to expand her already impressive resume and become of the best high school players ever to come out of New Jersey. For now though, she will take some time to savor this win before getting right back to work and looking forward to defending her title.

"I learned so much from last year's match when I lost to Stephanie in the semifinals. That was my driving motivation for this year," said Cerdan. "It drove me to work harder and become a better all-around player. Finishing the season undefeated and being a state champion were my number one goals and it feels great to have achieved them."
TO BUY A COLLECTOR'S PRINT OF THIS STORY, PLEASE VISIT 4FeetGrafix.com.