Wednesday, October 19, 2016
By Rich Barton
NJS.com Staff Writer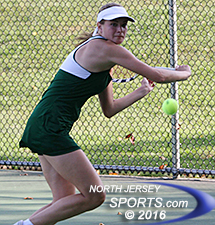 Jessilyn Crispyn won her match at third singles for the final point of Montville's 4-1 win over Tenafly in the North 1, Group 3 state sectional final.
MONTVILLE – After losing two matches in short order against Montville in the North 1 Group 2 section final it looked like Tenafly's season was all but over. But when all three of the remaining matches went to a third set, the Tigers suddenly had life and a belief that they could win those matches and pull off the upset. Despite a valiant fight to the end, Tenafly never got over the hump and saw its championship aspirations along with its season come to a heartbreaking close.
Montville's second double tandem of Jane Meng and Amanda Zhang battled back from a 4-1 deficit in the third set to win the final five games for a three-set win that clinched the North 1, Group 3 section title as top-seeded Montville pulled out a 4-1 win on Tuesday at Montville High School.
"This is what we've wanted all season and it feels great to win it," said Zhang. "We had to give it our all and step up at the end. With us down 4-1 in the third set, we had to be more aggressive. It was a really nerve-wracking match and we're really excited that we got the win."
Montville came into the section final as hot as any team in the state. The Mustangs had not suffered a loss in over a month and did not drop a set in any of their three state tournament wins coming into the showdown with Tenafly.
Caitlin Laufer was half of the first doubles team that gave Tenafly its point.
The Mustangs quickly set the tone with first-singles player Alice Li needing less than 30 minutes to notch the first point with a 6-0, 6-0 win. Jane-Marie Lai win her match 6-2, 6-2 over Emma Kin in straight sets to give Montville a 2-0 lead. The third point would be an elusive one as the Tigers did not let their season end without a fight.
Tenafly got on the scoreboard with a three-set win at first doubles. Caitlin Laufer and Sami Bugner won an entertaining third set with an early break of serve holding up in a 6-4, 1-6, 6-4 victory to cut the deficit to 2-1.
It looked as if Tenafly would even the match at 2 thanks to the baseline play of Silvia Acosta and Ally Balakian. They battled back from being down 5-1 in the first set to reel off six straight games to steal the first set. Montville's Meng and Zhang showed some resiliency of their own. Down two breaks of serve in the second set (4-1), Meng and Zhang started to play like they had nothing to lose. Suddenly, everything started to click, especially at the net where they scored several big points by poaching to cut off the middle of the court en route to a 5-7, 6-2, 6-4 win that sealed the victory.
"We knew we had to make something happen fast late in the third set. It was now or never," said Meng. "The key thing to winning this match was to be consistent and not have any errors. We got off to such a good start in the first set and we just tried to get back to playing that way. We were both nervous at the end, but I think we held it together pretty well."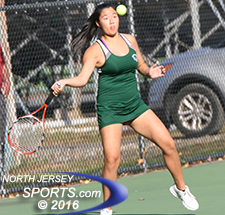 Amanda Zhang (above) and Jane Meng scored Montville a point a second doubles as the Mustangs won their third section title in the last six years.
The Mustangs' other point came from Jessilyn Crispyn, who had a 6-2, 4-6, 6-2 win over Tenafly's Nikki Gerber. The section title was the third for Montville (16-1) in the past six years. They will face South Jersey power Haddonfield in the Group 2 semifinals at Mercer County Park in West Windsor on Thursday.
Our girls really stepped up today and this group of seniors are as resilient as I've had in my 30-plus years of coaching," said Montville head coach Ken Sachs. "I think we started seeing patterns and getting a feel for how they played. This is we play the whole season. Going down to Mercer County Park is like the World Series for us, so we're going to have fun."
The loss was a tough one for Tenafly whose season ended with a 13-5 record. But with five starters returning for next year, head coach Anthony Zorovich hopes this is motivation for those returning players to be the ones celebrating next fall.
"I thought we really struggled out of the gate and we fought back as hard as we could have," said Zorovich. "We're disappointed and this is a tough loss. Hopefully the girls coming back will learn from this one and it will make us mentally stronger for next year, but right now it hurts and they outplayed us enough to get the win."
CLICK HERE FOR MORE PHOTOS FROM THIS GAME. TO BUY A COLLECTOR'S PRINT OF THIS STORY, PLEASE VISIT 4FeetGrafix.com.