Tuesday, September 13, 2016
By Rich Barton
NJS.com Staff Writer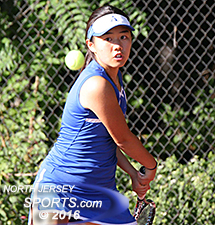 Alison Kim won at second singles for Holy Angels, which improved to 4-1 on the season with a 4-1 win at Paramus Catholic on Monday afternoon.
PARAMUS – Paramus Catholic's Andrea Cerdan and Holy Angels' Ashley Hess both took the state by storm as freshmen last year. The duo immediately solidified themselves as the top two players in North Jersey. Now with a year of experience under their belt, they clashed on Monday for the first of what it likely to be several matches between the two this season.
Cerdan was quite impressive in dropping only one game at first singles, a win that will likely get her a top seed down the line in the state tournament. But it was Holy Angels that cruised through the remaining matches to grab a 4-1 win at Paramus Catholic High School on Monday afternoon.
The first set showed off the strengths of both Cerdan and Hess. Hess used her height and wing span to get to shots most players simply cannot get to. Cerdan does not possess the height of most of her opponents, let alone the 5-foot-9 Hess. But she more than makes up for it with beyond-her-years footwork and punishing ground strokes. Most of the games in the first set were close. Cerdan consistently won the big points, though, and took the first set, 6-1.
The second set was a different story as Hess appeared to tire. Cerdan pounced and became the aggressor in seemingly every point. Only two of the six games in the second set reached deuce with Cerdan scoring a victory that kept her undefeated on the season and will earn her the top seed in the upcoming Bergen County Groups 3-4 Tournament.
"I come into every match with a gameplan and try to stick to my strategy," said Cerdan. "I know Ashley is a tough player and I had to break her serve early to gain some confidence. When I'm on, I'm getting my first serve in and returning serve well. I'm pretty sure I'll see Ashley again both in counties and states. My goal is to win counties and states, but it's great to be part of a team atmosphere as well."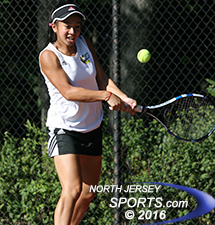 Paramus Catholic's Andrea Cerdan won the marquis match at first singles in straight sets.
For all of Cerdan's individual talent it was the depth of Holy Angels that allowed it to be victorious. Lisa Harootunian evened the match at third singles, dropping just two games in her match. Moments later, Isabel Ascensio and Abigail Williams closed out their match at first doubles. Alison Kim has had an adjustment period after moving up from being an unsung hero on Holy Angels' first-ever state championship tennis team at third singles last year to second singles this season. She is catching up to the speed of play as evidenced by her 6-1, 6-1 victory over PC's Dana Englander to clinch the win for Holy Angels (4-1).
"I think after the year we had last year a lot of teams are looking at us as a big match," said Kim. "We know we're a different team and we have to raise our level of play. I know playing stronger and more experienced opponents this year was going to be a challenge. I just try to play my game, keep the ball in play, and stay strong mentally."
The Angels look to keep their winning ways going against Wayne Valley today before a big showdown with Ramapo on Thursday. Last year, Holy Angels was top-heavy with most of the big matches being decided by how well the singles players performed. This year it has flip-flopped with the success of Holy Angels largely focused on how well the doubles teams round into form.
"I'm starting to see some chemistry with our doubles teams and that definitely gives us a positive outlook for things to come," said Holy Angels head coach Jessica Leto. "We know that we set the bar extremely high last year. The dynamic of our lineup has changed drastically and it's something we are dealing with. How well we adjust to that for the big matches will make or break our season."
CLICK HERE FOR MORE PHOTOS FROM THIS GAME. TO BUY A COLLECTOR'S PRINT OF THIS STORY, PLEASE VISIT 4FeetGrafix.com.