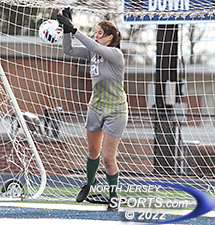 Maddie Kellogg making the final save in the sudden death penalty kick shootout that finsihed of Ramapo's 3-3 (6-5 PKs) victory over Cherry Hill West in the Group 3 state final at Kean University.
UNION – Normally a penalty kick shootout in which a goalie makes a save in the final round to keep her team's season alive and then another in sudden death two rounds later would be the craziest part of a state championship  soccer match. On Sunday morning at Kean University, that drama was kind of just another thing in a wild Group 3 state final between Ramapo and Cherry Hill West.
After a scoreless first half, the fun ramped up quickly. Less than three minutes into the second half Cherry Hill West scored twice in the span of six minutes to take a commanding lead. Then it was Ramapo's turn as Kate Langfelder scored twice in the space of less than three minutes to tie the game, Cassie Tafuri DelVeccio put the Green Raiders in front for the first time with just under 14 minutes to play and they held that led into the final minute of regulation.
It would have been too easy to see out the final 55 seconds and start the celebration of Ramapo's first outright state championship since 2015, but…nooooo!
Racing off of her line against a half-a-breakaway that probably would have been Cherry Hills West's last chance, Ramapo keeper Maddie Kellogg, who would later go on to save the game and then win it, slid out and committed a foul that gave the Lions a penalty kick that was converted by Kennedy Erdman and forced the game into two 'Golden Goal' overtimes that included zero golden goals.
It was not until the final round of the penalty kick shootout that Ramapo was finally able to retake the momentum. Kellogg dove to her right to snuff to save a PK after Cherry Hill West had converted its four. That pushed shootout into two sudden death rounds. Ramapo's Megan Twomey and Abby Hendrickson converted theirs and Kellogg held her ground and kept out CHW's do-or-die attempt to finally close out a 3-3 (6-5 PKs) victory.
Turns out, a celebration delayed was not a celebration denied.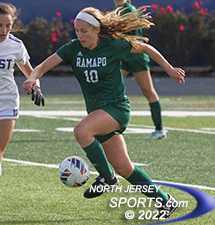 Kate Langfelder scored twice in the span of 3 minutes to get Ramapo even at 2 in the second half.
"You can't dwell on it. If you keep thinking about the mistakes you make then you are going to keep messing up," said Kellogg. "Heading into the shootout I was just thinking about what a great season it has been, how far we have come and how unfair it would be for me to get in my own head and throw away everything the team has worked for."
So many times a shootout comes at the end of a drab game in which both teams are afraid to lose. This was not that as both sides went for it from the opening whistle until the last one. Both teams had the lead at some point of the second half and neither thought that stacking the box was the right way to close out the game.
"You get this far in the season and you want to play good soccer, you want to compete and you want it to be a good match for the whole time," said Ramapo head coach Maddie Gibbs. "You put the ball in their court, you take the ball in our court and you see what you can do. We weren't going to pack the box. On the big stage you want to put your girls out there and see what they are capable of. Now we know."
The first half was back-and-forth with a few almosts for both sides, but everything changed when Cherry Hill West cashed its first and second chances after halftime. Running right to left along the top of the box in pursuit of a rolling service played out in front of her, CHW senior Ava Hawk cracked a left-footed line drive into the left side of the net for a 1-0 lead in the 43rd minute. In the 49th minute, senior Reilly McGlinn dispossessed a Raider in the midfield, raced up the left side with possession and scored into the upper right to give the Lions a 2-0 lead.
Enter Kate Langfelder, the Ramapo left-sided midfielder, who took over. Abby Hendrickson, who wore out the right flank with repeated runs and crosses, did so masterfully in the 54th minute. She outraced a defender to the endline, hooked her foot around the ball and served one in with spin. The ball took a sideways bounce around CHW keeper Abigail Leporati and Langfelder was in the perfect position to guide the ball into the net to make it 2-1.
Not even three minutes later Langfelder pulled off an even prettier trip when the right-footed player hit a left-footed screamer off the underside of the crossbar and in to tie the game at 2 with 23:52 left in regulation.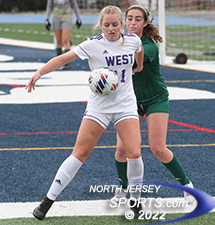 Reilly McGlinn's goal just over 8 minutes into the second half gave Cherry Hill West a 2-0 lead..
"In the [Group 3 semifinal} against Chatham the same thing happened as on the first goal today. Abby [Hendrickson] crossed it in and I got a head on it in the last game and today she crossed it in and I got my foot on it. That was awesome because we were talking about doing it again and it came true," said Langfelder, a junior. "For the second one, we knew we had plenty of time left, we had the mojo going. [The defender] was forcing me left so I just took that space and smashed it with my left-foot."
Ramapo had all the momentum, CHW's defense looked gassed and a pair of Ramapo juniors played a cheeky little one-two to score what looked like was going to be the game-winning and state title winning goal through open play. In traffic, Tafuri DelVeccio back-heeled the ball to Carolina Mosquera, who immediately played a through ball right up the seam in the middle of the field. Tafuri DelVeccio wriggled through a crowd of three and put Ramapo up 3-2 with 13:46 left in regulation.
"We had really been trying to stretch them out to open up the middle. Once we started winning the endline, the middle opened up a little bit so I could drive through. Carolina got me that pass and put me in 1-v-1 against the goalie and I just had to make sure I hit the net," said Tafuri DelVeccio. "We have been down 2-0 before and we knew it was possible to comeback. It sounds insane, but we always knew we were going to make it and that we were going to win."
It looked like that would happen in the allotted 80 minutes, but in the last one Kellogg committed the foul that came with a yellow card. That meant Erdman would take the PK against junior keeper Bridget Carr, who came in cold but almost got a glove on the spot kick. The ball barely found its way over Carr and under the crossbar to set the table for the two free-flowing but ultimately fruitless overtime sessions.
Then it was on to the shootout where Cherry Hill West's first four kick-takers – Erdman, Erena Kotsedakis, Kassidy Phillips and McGlinn – all converted their opportunities, while Leporati's save in the third round meant that Kellogg needed to come up big in Round 5 or it was all over in favor of the Lions. Kellogg decided to change things up. Instead of picking a side, she would wait until the ball was kicked and then try to save it.

It worked as she got to her right in time to extend the festivities and then, after Twomey and Phillips matched makes in the sixth round, Hendrickson converted to give Ramapo the edge in the top of the seventh. Kellogg then stuck with her new plan.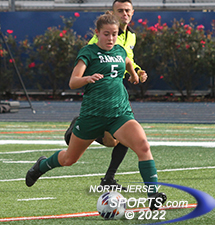 Cassie Tafuri DelVeccio scored the goal that gave Ramapo a 3-2 lead
"I kind of lost myself in the noise. I knew I had to make a save [in the fifth round] or it was over. It was do-or-die and I did not guess that time because I did not want the season to end on a 50/50 chance. I did not want to flip a coin for the state championship. I waited to see, she went right, I went right and it was pretty crazy," said Kellogg, a senior. "On the last one I decided I was done guessing. If I would have guessed I probably would have gone down and the ball would have gone right over me. I just stayed on my feet."

Kellogg upright in the center for the goal when the ball was struck and barely had to move to turn away the Lions last shot of what was for them also a brilliant 2022 season. In the end, however, it was Ramapo that was in the pile celebrating the state championship, its first in seven years and its first in Group 3, its traditional classification, since 2008. (That stat courtesy of Ramapo assistant coach Becca Cooke, who was a key player on that team of 14 years ago.)
"The thing with our season is I really do feel like we have seen it all. We have had a lot of adversity and a lot of positives that really prepared us for any moment. It takes a perfect storm to get this far and then to capitalize on it, you have to be prepared for any and every situation," said Gibbs, who has ended two of her three seasons as Ramapo's head coach with a win. "I don't think we played a great first half, but when we got behind in the second half we showed up and still had the attitude that we could do this and at the end we did."
Ramapo will miss its five senior starters (Grace Galucci, Carolyne Edwards, Paige Elleo, Kellogg and Twomey, who will play next season at Seton Hall University) for sure, but Langfelder, Tafuri DelVeccio, Mosquera and Carr are all juniors, Hendrickson and Kaitlyn Arnold were starters as sophomores and Grace Saxton and Ashley DeLeo were key contributors as freshmen in the first 11.
"I am just really happy for the girls. It is not every year that you get this far, it's not even every four years. There are no guarantees. You could be a freshman on this team and never get back here again," said Gibbs. "That is why I am so happy that they get to experience this, to take it all in. It is a feeling that you take with you for the rest of your life."
FOR MORE PHOTOS FROM THIS EVENT PLEASE CLICK HERE. TO BUY A COLLECTOR'S PRINT OF THIS STORY PLEASE VISIT 4-FeetGrafix.com.