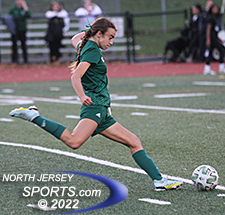 Carolina Mosquera had a goal and an assist for Ramapo, which cruised to a 6-0 victory of Sparta in the North 1, Group 3 state sectional final on Saturday.
FRANKLIN LAKES – It has not been that long since Ramapo, one of the New Jersey's premier girls soccer programs, has won a state sectional title, but what a weird stretch it has been since they last hoisted the trophy in 2019.
The Green Raiders ended the 2020 season on a win, but that quarterfinal victory was the last game of their season as COVID brought it to an early conclusion. Last year the Raiders were the top seed in North 1, Group 3 before being upset by old rival Northern Highlands, a team they beat twice in the regular season, in the quarterfinal round.
On Saturday night Ramapo had a chance to change its postseason luck and this time there was little drama and zero disappointment. Senior Grace Galucci scored direct from a corner kick, bending the ball inside the back post just seven minutes into the game and the rout was on.
Top-seeded Ramapo scored three times in the first half and three times in the second in a resounding 6-0 win over No. 2 Sparta in Franklin Lakes.
"We wanted to go out strong right from the beginning because we knew that this could potentially be our last game," said Galucci. "As a senior I definitely wanted to win because we have come so close in the past. This is my final year, my last chance so I went out there trying to get that goal right away and it happened."
Seven minutes after it went in front, Ramapo doubled its lead with some pretty passing. Galucci hooked up with Megan Twomey who then played Galucci back into space. Galucci then picked out Carolina Mosquera, the junior who was just on as a sub, picked the lower left to make it 2-0 just 14 minutes into the game.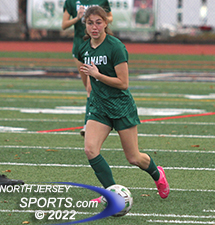 Senior Grace Galucci scored directly off a corner kick 7 minutes in to give Ramapo the lead for good.
"Megan [Twomey] played it back to Grace and Grace unselfishly passed the ball to me in the middle. I just put it to the right of the goalie," said Mosquera, who had a goal and an assist in the first half. "It feels amazing to be in the final and then to win it 6-0 is really great. We worked so hard for this."
Everyone chipped in for Ramapo. Senior goalkeeper Maddie Kellogg as the backline of Paige Elleo, Carolyne Edwards and Kaitlyn Arnold did solid work in winning balls and then not just kicking them without a plan, but finding feet and allowing the Raiders' attacking players to get forward with shape. Twomey ran roughshod through the midfield and freshman Grace Saxton also was solid in support.
"I am a first year varsity player, so being in the starting in the beginning was crazy for me. I am so happy to be a part of this," said Elleo. "We've put in the work the whole entire season and I think we played our best tonight. We stayed together and communicated well."
The third goal came at the end of another well-coordinated combination as Ashley DeLeo switched the play with a high ball into the area from the left and Mosquera headed it down into the path of Kate Langfelder, who finished into the lower left to give Ramapo the 3-0 lead it took into the intermission.
Rather than ease off after the break, the Raiders got right back after it. Junior Cassie Tafuri DelVeccio scored three minutes into the second half to make it 4-0. Galucci, who finished with two goals and an assist, made it 5-0 off a feed from sophomore Abby Hendrickson with 11:17 left in the game.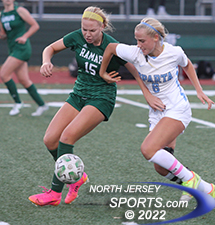 Carolyne Edwards (left) and the Ramapo defense made it hard on the Sparta attack.
Sparta, which had allowed just one goal in its previous three state tournament games, had its best chance to break up the shutout in the 70th minute when Uma Kowalski floated one on goal, but Kellogg retreated quickly and got up to guide the ball over the bar. Two minutes later Arnold came up and banked one off the keeper to cap the scoring with 8:39 left to play.
Ramapo improved to 17-3 on the season as it heads into the Group 3 state semifinal on Tuesday. Because the NJSIAA now alternates that round between the sections on a year in year out basis, Ramapo will be the host when it takes on North 2 champion Chatham, which slipped past Scotch Plains-Fanwood, 2-1, in the North 2 final.
"What I really wanted to do this year was really mentally prepare my team that anything can happen. We saw it with COVID and last year [against Highlands]. Anything can happen if you don't play every single minute and it can easily end up going in the other direction," said Ramapo head coach Maddie Gibbs. "Going into the second half my team knew it was 0-0. There was no way we were going relax going into the second half. They had the wind, so we had to stay disciplined and stay consistent. Three-nothing did not feel comfortable against that team, so I am happy with the way our girls went out and finished the game."
FOR MORE PHOTOS FROM THIS EVENT PLEASE CLICK HERE. TO BUY A COLLECTOR'S PRINT OF THIS STORY PLEASE VISIT 4-FeetGrafix.com.