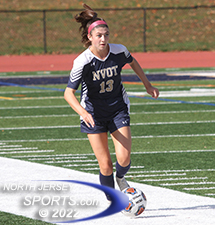 Jamie Farrington's goal in the 29th minute put NV/Old Tappan ahead for good in a 2-0 win over Westwood in the opening round of the North 1, Group 2 state sectional tournament on Wednesday.
OLD TAPPAN – In the state tournament seeds are misleading and every opponent is dangerous. Westwood had the No. 12 next to its name in the bracket, but the Cardinals came out flying on Wednesday on the road at Northern Valley/Old Tappan, the No. 5 seed in the North 1, Group 2 state sectional playoffs.
With Westwood's Fiona Doyle, Eva Wofse and Morgan Hornidge composed, connecting passes and causing problems in the final third Old Tappan started off on the back foot. The culmination of the Cardinals' early pressure was a free ball off a corner kick that fell to Doyle, who got off an open shot that whistled just high of the crossbar.
"The first 10 minutes were a little rough," Marin DeGennaro. NV/OT's senior central defender. "But by the middle of the first half we were clearing the ball better and working together as a team. The key for the defense is communication, when to step and when not to. We started to figure that out and it got better from there."
The advantage was tilting in Old Tappan's direction when the second ball off a corner kick bounced back to an unmarked Jamie Farrington, who picked the top right corner to put the Golden Knights in front for good in a 2-0 first round victory that move them into Saturday's quarterfinal round. Old Tappan will visit No. 4 Pascack Hills, a 2-1 winner of No. 13 Lakeland.
"Olivia Connell took the corner [kick] and the ball hit off Nicole Klepowitz and I was right behind her. I just kicked it in," said Farrington, whose goal came with 11:07 left in the first half. "I think that we were all relieved that we could put one in before halftime. It gave us the confidence to look for more."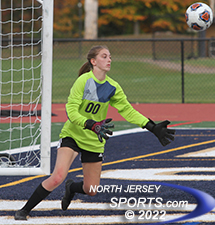 Senior Haley Adkins made 12 saves for Westwood..
Westwood (7-10-1), a double digit seed but a side that played a competitive schedule in a tough league, had two chances inside the first five minutes of the second half, either one of which might have swung momentum in the Cardinals' direction. Hornidge got an open look when a cross rolled through traffic and on to her foot at the back post, but Old Tappan keeper Mackenzie Ward got out quickly enough to cut the angle and force the shot high. In the 46th minute, Ashlyn Geipel ran through a contested ball and created enough space to get off a shot, but it trickled just wide of the left post.
It was shortly thereafter that the speed of Old Tappan's Abby Dennis started to become blatantly obvious. Dennis, a track and field stand out who went globally viral on social media last spring when she fell after hitting the second hurdle and then got up and won her trial heat at the Bergen County championships, started to stretch the Westwood defense with her long strides up the flanks.
Dennis was the recipient of a pass from Natalie Carril, who won a 50/50 ball at the top of the area in the 49th minute. Westwood keeper Haley Adkins, who finished with 12 saves in a busy day between the pipes, won that 1-v-1 battle by taking Dennis' shot in the midsection, but Old Tappan was just starting to ramp up the pressure.
With Juliana Morrissey and Jessica Jong working the middle of the field and Dennis pulling defenders to her side, there was room for others and Old Tappan (10-6-1) put the game away with 26 minutes left in regulation courtesy of Carril, who ran on to a short pass down the channel by Dennis. Carril was in a foot race of opposite directions with Adkins, who slid out hard, but Carril was able to touch it past the on-rushing goalie and into the net to cap the scoring.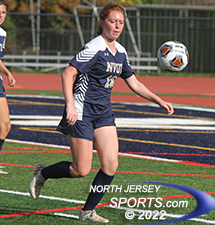 Senior central defender Marin DeGennaro helped the Old Tappan defense pitch the shutout.
"Abby is the fastest girl we have and she sent in a great ball. I was fortunate to be in the right place at the right time and get it in," said Carril, one of Old Tappan's 11 seniors and a captain. "We have had some ups and downs this season, but what helps the most is that we are all best friends on and off the field. We have that bond, we've grown up playing together and it has been great. We are really excited to get this win and we want to keep moving forward."
North 1, Group 2 is one of the state's most competitive public school brackets and it only gets tougher from here with Pascack Hills on the road next up. There is one unlikely scenario that could see Old Tappan get one more home game in the semifinals, but this was most likely the Knight's final run on their own turf and going out with a win was important to head coach Laela Henriquez (nee Brock), the former Paramus High School standout who is coaching with a due date of December 23.
"I have had this group of seniors since they were freshmen so this class is very important to me and I wanted them to walk off with a win today," said Henriquez. "We struggled in the middle of our season with injuries, sickness, but we are finally all back and healthy and the girls showed that we can make an impact in the states."
FOR MORE PHOTOS FROM THIS EVENT PLEASE CLICK HERE. TO BUY A COLLECTOR'S PRINT OF THIS STORY PLEASE VISIT 4-FeetGrafix.com.