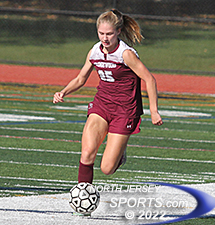 Junior Jessica Kaye hit a thumper from 30 yards out inside the final three minutes of regulation to giver Ridgewood a 3-2 victory over IHA and a second straight Bergen County championship.
RIVER EDGE – Ridgewood could really not have asked for more as it attempted to repeat as Bergen County champion on Saturday afternoon. The undefeated and top-seeded Maroons signaled their intentions with a goal in the eighth minute, they doubled their advantage with a goal six minutes before halftime and looked to be in complete control of the game against No. 3 IHA at River Dell High School.
Looks can be deceiving.
"2-0 is the most dangerous score because it can change so quickly," said Ridgewood head coach Peter Day. "Especially when you are playing against talented players."
IHA has talented players and not only made things interesting in the second half, it turned this year's county final into one of the best of the last decade. The Blue Eagles scored early in the second half and then again late to tie the score before one moment of brilliance by Jessica Kaye turned it back around.
On a counterattack after yet another sequence in which IHA pressured the Ridgewood goal, junior forward Jessica Kaye took a pass from Isabella Winn on the left side and, when she got in range, let go a thumper from about 30 yards out that whistled in the upper right had corner.
"It was exciting. It was a different experience for me. I am usually maybe make the pass before the goal and it was fun to be the one scoring this time," said Kaye. "It was a super-fast transition and a lot of credit to our back line. It has to go through everybody to get up to the front line. Bella passed it to me and I just put my head down and ran and whacked it. It was on cage."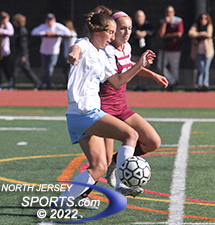 Olivia Tacconi's goal with just under 10 minutes to play in regulation got IHA even at 2.
On cage indeed. That goal came with 2:50 left in regulation and was the difference in Ridgewood's 3-2 victory that gave the Maroons their second straight county championship.
"Jess [Kaye] and I have grown up together, we are always around each other, we have played together our whole lives, so seeing her being able to pull that play when it mattered the most, she definitely deserved that moment," said Winn. "For Jess to just take it herself and know that in that moment it was her time, I am just so proud of her and she deserves the glory of it."
Winn is one of the state's best playmakers, but she wasn't even on the field when the Maroons went ahead early in the game. Nursing a foot injury, she was getting a re-tape when Kaye fed a diagonal ball into the path of senior Kat Slott, the imposing striker who is a handful in the middle of the field. Slott, stepped on the ball, let a defender slide by and then cracked a shot into the top right to make it 1-0 in the eighth minute.
Winn returned with about 15 minutes to go in the first half and made her presence felt yet again with a burst up the left side. She strode by a defender and, from a tough angle, scored into the opposite corner to make it 2-0 with 6:20 left in the first half.
Lost in the two-goal deficit from the IHA perspective was that the Eagles were creating chances. With Alex Barry's determination in front of goal, IHA had a legitimate counter balance to Ridgewood's creativity and then the Eagles even started to disrupt the Maroons' free-flowing, keep-it-on-the-carpet style that usually runs opponents ragged.
Lindsay Ford, Cathryn Cunningham and Barry more than once forced Ridgewood keeper Katie Bisgrove on more the few occasions before the curtain came down on the first half.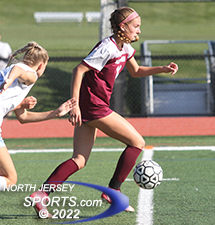 Junior Isabella Winn scored a goal and assisted on the game-winner for Ridgewood..
"We never give up and the girls really have that mentality down pat. Ridgewood is an undefeated team for a reason, they came out strong against us in the first half as we expected," said IHA head coach Eric Pfeifer. "We had some chances, we were a little unlucky, a little not as composed as we wanted to be. In the second half we calmed down and once we were able to keep possession of the ball, the chances opened up."
Alex Barry cashed the first of those chances, hammering home from in close to make it 2-1 with still 34:05 to play in regulation. Four minutes later, Bisgrove barely got a fingertip to a Barry header off a set piece that almost tied the game.
"The sun was so bad [at that end of the field]," said Bisgrove. "It was a total reaction save and I didn't even know I made it until I saw it go outside [the post]."
Having side-stepped plenty of danger, Ridgewood was 10 minutes away from seeing out the game, but IHA had a few cards left to play. One was Olivia Tacconi, who came off the bench and used her speed to tie the game. Running onto a ball in the middle of the field, she shouldered past the last defender and finished inside the right post to tie the game at 2 with 9:54 to play.
IHA was still pressing for the game-winner when the ball headed in the other direction on the foot of Winn, who fed Kaye, who then ended the festivities with the kind of shot worthy of winning a county championship.
"I was a little shy for most of the game. I thought, you know what? This could be my time. What is there to lose?" said Kaye, who deflected most of the credit to the Maroons' defense, which has been a subtle strength of a team that has yet to lose a game heading into the North 1, Group 4 state sectional tournament. "Last season our whole defense graduated, so nobody was really sure how this defense was going to be. It all starts from the back with Kira Collum, Lindsey Devir, Tess Goldberg, Lauren Shin and Katie Bisgrove. They really came in with a lot of energy and have helped us a lot."
FOR MORE PHOTOS FROM THIS EVENT PLEASE CLICK HERE. TO BUY A COLLECTOR'S PRINT OF THIS STORY PLEASE VISIT 4-FeetGrafix.com.