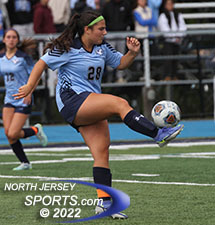 Maddie Testa corner kick led to the first goal of the game for Wayne Valley, the defending Passaic County champion, in a 2-0 win over Hawthorne in this year's quarterfinal round..
WAYNE – Clinging to a one-goal lead in the Passaic County Tournament quarterfinals against a tougher than expected Hawthorne side, Wayne Valley head coach Kathy Sinram implored her team to shoot the ball. The Indians finally took that advice and were rewarded for it.
Gabby Hammer's shot from a tough angle took a funny bounce and popped free. With a defender draped all over her, Danielle Joyner alertly back-heeled the ball out of the air then watched it trickle over the goal line in the 64th minute to help top-seeded and defending Passaic County champion Wayne Valley into the PCT semis with a hard-fought 2-0 triumph over No. 8 seed Hawthorne on Saturday afternoon at Wayne Valley High School.
Hawthorne came into this game with nothing to lose and played like a team looking to pull one of the biggest upsets in the history of the PCT. They knocked the ball around and had its share of opportunities in the first half. However, as the teams went to halftime it was the Indians who held the lead. Late in the half, Tori Ryan headed home a corner kick from Maddie Testa for a 1-0 lead.
With the Indians' offensive firepower, it seemed like a late first-half goal might break the game open. But the Lady Bears' defense held firm in the defensive third. The Indians had several instances where they could have gotten off a quality shot on net but did not take the chance.
"There were times where we just took extra touch and it happened too many times, in a one-goal game we have to be more assertive around the box," said Sinram. "Hawthorne was playing like a team that wants to win and they were right there to recover defensively when we didn't take advantage of some chances that we had."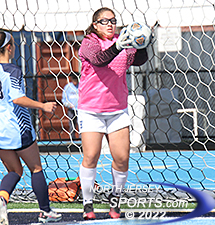 Hawthorne keeper Sophia Sancho finsihed with 10 saves for the Bears.
Hawthorne had a pair of chances to tie the game less than two minutes apart early in the second half. Sydney Hansen struck a hard shot, but it was right at Wayne Valley netminder Brianna Starling. Then a long cross skipped through the goalmouth, but no Hawthorne player was able to get a touch on it as it went harmlessly out of bounds.
Wayne Valley got some production off the bench from Jess Lee and Hammer to help set up the all-important insurance goal. Lee won a ball in the midfield and set it through up the left flank for Hammer, who beat a defender and ripped a shot from a tough angle. The initial save was made by Hawthorne keeper Sofia Sancho (10 saves) but took a tricky hop and popped loose. With a defender right on her hip and the ball directly in front of her, Joyner alertly did not try to settle the ball. The senior backheeled the ball out of mid-air then watched as it spun over the goal line to make it 2-0 with 16 minutes to play in regulation.
"I saw the shot was going on net and I tried to get in good position for a rebound," said Joyner, a senior striker who now has six goals on the season. "I got enough of my foot on it and it had enough spin on it to go in. We're all still getting used to each other on the field and we're getting better with making quicker adjustments. In the attacking third it's still a work in progress. But we're working through it as a team and we're getting better every game."
Hawthorne (7-3) continued to push forward late, only to be turned away by Starling. She made four of her five saves in the second half to lock up her seventh shutout of the season for Wayne Valley (10-2).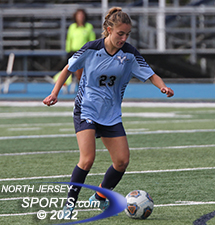 Tori Ryan scored the first goal of the game for Wayne Valley.
"I was really proud of when we were down a goal and even when we were down (2-0), we never stopped playing hard and trying to win every 50-50 ball," said Hawthorne head coach Gus Schell. "In a 1 seed versus an 8 seed, those games tend to be blowouts. We didn't lose this game. Wayne Valley won it and they deserved to win, but we made them earn it. Our section for the state tournament is tough. But we're not going to face any teams in that section that are as strong as Wayne Valley is, so this should give us a lot of confidence moving through the rest of our season."
Wayne Valley moves into next weekend's Passaic County Tournament semifinals. There the Indians will face the winner of fourth-seeded Lakeland and No. 5 seed Passaic County Tech. For years Wayne Valley was always the team chasing championships. Now as the reigning Passaic County Tournament and Group 3 state champion, it is the Indians with the target on their back whenever they take the pitch.
"We know what we're up against every game," added Sinram. "We have the target on us, and we've been talking about how to manage that. We were happy to be the 1 seed and that makes the target that much bigger. Fortunately, we practice the way we play and we're competitive. That prepares us for these types of games. When we work the ball quick and stay composed we're showing that we're still a dangerous team."
FOR MORE PHOTOS FROM THIS EVENT PLEASE CLICK HERE. TO BUY A COLLECTOR'S PRINT OF THIS STORY PLEASE VISIT 4-FeetGrafix.com
---