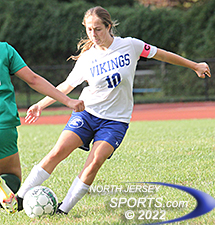 Arancha Antunes scored North Arlinton's second goal and set up its third in an 8-0 win over Midland Park on Monday.
MIDLAND PARK – Last year, North Arlington was Bergen County's biggest surprise on the girls soccer scene as it finished with a 16-4-1 record. The Vikings may no longer be able to sneak up on the competition, the winning has continued thanks to a relentless offensive attack. With a showdown looming against Northern Highlands in the Bergen County Tournament on Sunday, North Arlington showed that it is clicking on all cylinders heading into the long-anticipated matchup.
The Vikings shook off a slow start and found their rhythm. They showed their diverse offensive attack with four different players finding the back of the net in the first half alone on the way to an 8-0 win over Midland Park on Monday afternoon at Midland Park High School.
"It's been fantastic the way this team has come together and bought into a new system," said North Arlington head coach Mike Vivino. "There are always things we can improve on and we're finding ways to get better every time we step on the field whether it's for training or in a game. Every game is a little different and our girls have to be ready for every situation. It's something we've gotten much better at, and when we're at our best we feel we can compete with the best teams in Bergen County.
Midland Park (1-6) came into the game depleted with just 12 available players and seven freshmen in the lineup. In a rebuilding mode under one of Bergen County's all-time best coaches, former long-time Ridgewood skipper Jeff Yearing, the Panthers moved the ball effectively and had the better of play over the first 10 minutes of the game. They nearly took the lead when a volley from Alexa Hermanns trickled just wide of the right post in the 6th minute.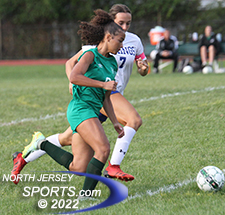 Midland Park's Alexa Hermanns had the game's first real scoring chance.
Playing on a smaller, grass field was an adjustment the Vikings needed to adapt to. Once they found their footing though, it was all North Arlington from there on. After an own goal opened the scoring, Arancha Antunes ran onto a through ball from Laurynn Teixiera and scored a minute later. Soon after, Teixiera flicked a header off an Antunes corner into the side netting to make it 3-0. Lia Cruz and Lyndsay Gilbert added goals late in the first half to give North Arlington a commanding 5-0 lead.
"A lot of our games we've gotten off to a rocky start, but we trust each other that we'll come together," said North Arlington senior sweeper Brenna Sullivan. "Last year, we really connected as a team and we're even closer this season. We never stop working and we work together as a team to get the result we want."
Cruz, a junior, netted two more goals for her second hat trick of the season and the fifth of her career for North Arlington (7-0). Teixiera scored a pair of goals and leads the team with 12 on the season. Antunes dished off a career-best four assists and Maddie Goncalves added an assist. Freshman goalie Daliana Rojas needed to make just two saves to preserve her fourth shutout of the season.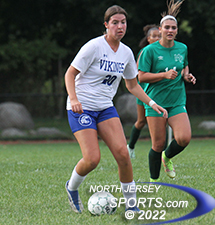 Laurynn Teixiera and North Arlington will get to test themselves against Northern Highlands in the Bergen County Tournament this weekend..
North Arlington has a game with Harrison on Thursday before getting some much-needed rest ahead of Round of 16 game against Northern Highlands. It is an opportunity this team has been waiting for all season and now their moment to show what a small school from Southern Bergen County can do has finally arrived.
"We know what we're up against playing a team like Northern Highlands," said Antunes. "We have nothing to lose, we have to play 100-percent every minute to compete with them. Our team has been looking forward to playing a big school in the county tournament all season. It's finally our time to prove ourselves and show what we've got. We've been put on a pedestal a bit because of the season we're having this year but now is chance to prove that we belong."
FOR MORE PHOTOS FROM THIS EVENT PLEASE CLICK HERE. TO BUY A COLLECTOR'S PRINT OF THIS STORY PLEASE VISIT 4-FeetGrafix.com
---