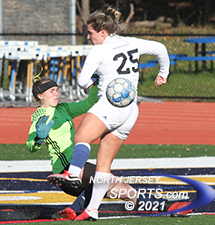 Ramsey keeper Lily Dinning making a key save in the second half before standing strong in the penalty kick shootout as the Rams advanced to the North 1, Group 2 state sectional semifinals with a 0-0 (3-1 PKs) win over Demarest
RAMSEY – There is a winning tradition inside the Ramsey girls soccer program and it is never far from the surface. In fact, it was at the forefront of goalkeeper Lily Dinning's thoughts as she took to the line for a penalty kick shootout in the North 1, Group 2 state sectional quarterfinals against Northern Valley/Demarest.
"First of all I think of my team and coming through for them after they just sweated out 100 minutes, but I was also thinking of all of the people that have come before me and all of the goalies that have come through Ramsey High School," said Dinning, a junior. "I just felt like they were all with me at that moment."
Dinning did not need much help, however, as she did not allow any of the last three Demarest shooters to hit the net as Ramsey advanced with 3-1 advantage in penalty kicks after 100 minutes of scoreless soccer. The fourth-seeded Rams, the three-time defending state sectional champions, will visit No. 1 Sparta on Tuesday looking to keep their amazing run of postseason success going.
This run started four years ago under Kevin Sabella, who is now the Ramsey athletic director. He took over for George Wright, who had a long and successful tenure, before passing it on to Drew Strohmeyer, who has won two straight section titles
"Before the game today we had four of our captains from years past speak to the girls about our culture and I think that pulled us through and made the difference," said Strohmeyer. "Caroline Schwanewede, whose younger sister Riley had a great game in the back today, Bri McEntee, Maya Bender and Emily Peters, two captains from last year and two from the year before, spoke to the girls about what Ramsey soccer meant to them and their message got through."
Except for last year's COVID-altered playoff format that left Demarest out altogether and Ramsey playing in some made up bracket called North East C, which it won, these two programs and their senior classes have matched up against each other in the state playoffs and each game was decided on razor thin margins.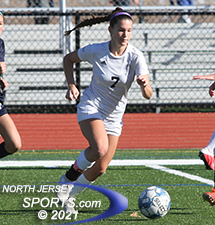 Victoria Constantine created many of Demarest's best scoring chances.
In 2018, Ramsey won in penalty kicks after a wild 3-3 tie over the course of 100 minutes in the section final. It was the aforementioned Caroline Schwanewede that hit the winning PK in that contest. In 2019 they met in the semifinals with now junior Alexis Burrow scoring the lone goal of the game on her 15th birthday.
The one constant is Helene Tyburczy, the senior central defender and Auburn University-bound captain, who has been through the wars as a four-year starter for the Rams. She is at the heart of the Rams' defense and also the one who starts the offense with her distribution from the back.
"It was [a defensive struggle today]. I definitely agree with that. We made an adjustment in the second half because they have that fast girl [Victoria Constantine] outside, so we man marked her to slow her down," said Tyburczy. "They did a great job defending on their end, too. We broke them down a couple of times but they are a great opponent. This is the grittiest we have played all season and it was what was necessary today."
This time around it was pretty much a stalemate from the start with quality scoring chances hard to come by during regulation and the overtimes. Constantine has the first one of the game as she sped up the right hand side, got a step on a defender and put a shot on frame, but right at Dinning, who handled it confidently in the fifth minute. Ramsey's best chance to score in the first half came with just over 14 minutes to go when Tyburczy twisted a free kick from the left into the scrum at the six yard box, but Demarest keeper Maya Rehav came out to grab it in the crowd.
Demarest had the last go of the first half with build-up play of six passes that led to Constantine swooping in from the left, but her shot from the angle scooted just wide of the right post. The rest of the 8 or so minutes of the opening half passed rather uneventfully as did about the first 20 of the second.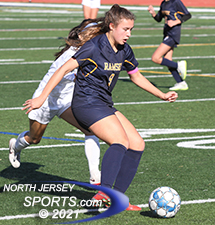 Alexis Barrow converted one of three PKthat Ramsey needed to book its place in the semifinals opposite top-seeded Sparta.
Constantine has never met an on-field collision that she does not want to take part in and she made her presence known in a five minute span of the second half in which she participated in a three-player pileup that went unwhistled, won a free kick on the left that wound up landing harmlessly and got a shot off in traffic that was saved by Dinning.
Each team had one chance inside the final 10 minutes of regulation. Demarest's was created by Sarah Slowikowski, who had a defender on her back and headed the ball over and chased it into space. She arrived at just about the same time as Dinning, who slid out to make a bang-bang save with nine minutes left.
Ramsey's chance was generated by Barrow inside the final two minutes. She sent in a cross toward freshman Maggie Sauer, who was nudged off by Demarest defender Grace Hamlin. The ball fell harmlessly and play moved to the other end, but at the next stoppage of play, the referee and linesman came together to discuss the earlier contact. They let the no-call stand and it was off to overtime.
Dinning made one routine save in the first overtime and Rehav made two in the second. With just over two minutes left Maggie Haskell got in deep and hooked a shot before going to ground, but Rehav went low to meet it. She also turned away the final shot of the free flowing portion of the game she snuffed a Sara Capuano attempt with 1:28 remaining.
Capuano, however, would return the favor in the shootout, which started well enough for Demarest. Constantine buried her attempt into the lower right corner to start things off, but then three straight Ramsey shooters – Barrow, Tyburczy and Capuano -- connected on their attempts, while the next three Demarest shots all missed the mark. Ramsey did not even need to take its last two attempts before the celebration began.
"I was a little nervous, but also really confident because we have been practicing [PKs] and I just tried to stick with what we have practiced," said Capuano, who made the last shot Ramsey took. "Usually I look from side to side so the goalie does not know which way I am going to go, but this time I looked straight at the goalie and I just banged it into one side."
That done, Ramsey booked its place in the semifinals while Demarest saw its season end against the same opponent for the third time in the last four years. The Norsewomen exited both the state and county tournaments without giving up a goal from open play in either game. They lost in PKs to Old Tappan in the Bergen County quarterfinals also in PKs and this brings an end to the careers of a solid senior class led by Elizabeth Argenziano, Emily Holzer, Constantine and Hamlin, the four captains.
"This is the way their freshman season ended as well and I was hoping that it might be a different outcome this time. The loss I can deal with, but I feel bad for these girls because they just want to continue to be together," said Demarest head coach Brandon Silva. "We wanted to keep practicing because we just wanted to be together. I am going to miss spending time with them. This has been an awesome group to be around."
FOR MORE PHOTOS FROM THIS EVENT PLEASE CLICK HERE. TO BUY A COLLECTOR'S PRINT OF THIS STORY PLEASE VISIT 4-FeetGrafix.com.