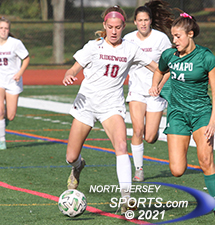 Sophomore Isabella Winn scored with 14:36 left in the second half to give Ridgewood a 1-0 win over Ramapo and its first Bergen County championship since 1994.
ORADELL – The 2020 Bergen County Girls Soccer Tournament was wiped out by COVID, so the last time a championship match was played was in 2019. Ridgewood's Paisley Tornatore was a sophomore and the starting goalkeeper on a night that did not go as well as hoped for. The Maroons walked off the field on the short end of a 3-1 score against a loaded Ramapo squad.
It was that disappointment that made Saturday's rematch in the same round at the same place all the sweeter for Tornatore and her teammates.
"There were eight of us that were sophomores [in 2019] and those eight are starters for us this year," said Tornatore. "To come back here against the same team, to be on the same field and get a different outcome, I just think we have worked so hard and we deserved it as a team."
The different outcome this time around was a 1-0 victory over Ramapo at River Dell High School that gave Ridgewood its first Bergen County championship since it won back to back titles in 1993 and 1994.
"My athletic director was doing the banners at school this past week. He was updating them and we happened to be in there. We looked up and saw '94 next to County and we knew it would be cool if we could change that," said Ridgewood head coach Pete Kay. "Twenty seven years is quite a bit of time and we are happy to be the ones that were able to accomplish this."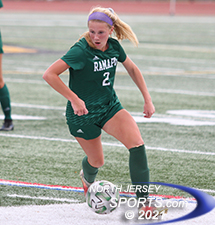 Mary Cochran helped Ramapo build up a 10-3 advantage in shots on goal.
Getting it done took a staunch defensive effort against Ramapo, which has a bevy of skilled offensive players and one brilliant combination play to crack the Green Raiders' steady back line. Cate Cardew sent Isabella Winn down the middle of the pitch and the junior midfielder made the most of the opportunity. Winn split two defenders and left Ramapo keeper Maddie Kellogg with no chance as she chose the lower right corner to score the game's lone goal just north of the midway point of the second half.
"Cate gave it to me, she sent a ball over. I had player on my back and I heard someone tell me to 'Turn,' so I turned and went. I just trusted what they said and went towards goal," said Winn. "I just tried to stay composed and put it in the back of the net."
With the lead and 21:41 left in the second half, the onus fell back on the Ridgewood defense to see out the game. The Maroons absorbed the pressure with its experienced back line bolstered by Tornatore, who was quick off her line to reel in over-weighted through balls and crosses played in from the flanks.
"Carly Anzalone and Charlotte Reis are the two center defenders and they have been the starting defenders in front of me for as long as I can remember. They kind of run the show and I am just there to help out," said Tornatore. "We pass out of the back. We try not to let these important games change the way we play. Ramapo is an amazing team and sometimes we might psyche ourselves out and start playing kick and run, but they do a great job controlling everyone and saying, 'Hey, let's play our way.' Then we also have Cate Cardew and Lily Johnson. They are our outside backs and they do a great job of playing with an offensive mindset, but they are always sprinting back and hustling their butts off."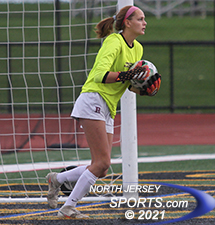 Paisley Tornatore kept a clean sheet for Ridgewood, which will open its state tournament run on Friday as the top seed in North 1, Group 4.
It was against that set up that Ramapo was forced to try to find the equalizer. The Green Raiders had the possession advantage in the game overall, especially after Ridgewood pulled ahead, and lived in the final third, but could not find the final ball that might have solved the puzzle. Mary Cochran. Lily Johnson, Megan Twomey and Cassie Tafuri Del Vecchio took their turns trying to break through and senior Madison Schiller put a shot on net from 25 yards out only to see Tornatore corral it with relative ease with less than four minutes to play.
The Raiders' last best chance at the equalizer came in the 78th minute when Tafuri Del Vecchio bullied her way inside the penalty area and Kate Langfelder, up in support, blazed one over the bar with a defender closing fast.
It was not to be and Ramapo lost for just the second time this season and both times it was to Ridgewood.
"It's a bummer. Ultimately [Ridgewood] is a really good team and my girls fought hard. We had more opportunities on net and it did not go our way today. That is the game," said Ramapo head coach Maddie Gibbs, whose team outshot Ridgewood 10-3 by one unofficial count. "Tuesday is our first state game and I know these girls. They will bounce back better than ever. We are just getting over some injuries and hopefully we will be all healed and ready to go full-fledged into the state tournament."
Ramapo is the top seed in North 1, Group 3 and will host Cliffside Park in the first round on Tuesday, but Ridgewood will have a little more time to savor the county championship and rest up. The top seed in North 1, Group 4, the Maroons have an opening round bye and will host the winner of Morristown/Bergen Tech on Friday.
FOR MORE PHOTOS FROM THIS EVENT PLEASE CLICK HERE. TO BUY A COLLECTOR'S PRINT OF THIS STORY PLEASE VISIT 4-FeetGrafix.com.